Surf Nazis Must Die
Leave it to the folks at Troma Team Video to deliver a surf film that gives new meaning to the phrase "wipe out." In true low-budget Troma fashion, "Surf Nazis Must Die" delivers the goods, and the interactive DVD delivers not only the goods, but a lot more. In the near future, the California coastline has been wiped out by a major earthquake.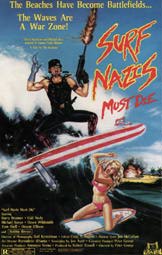 Forget your Crips and Bloods. The new gang to rule the turf are the notorious Surf Nazis, who will do anything to anyone who get in their way. That only leaves Leroy's Mama, a tough black woman, to do the gang in. If you thought it was tough to get a good spot on the beach before, check this flick out.
COMPLETE CHECK-UP
VISION: [ ] EXCELLENT [ ] GOOD [ X ] RESUSCITATE [ ] D.O.A.
Pretty much what you would expect. Presented in the pan-and-scan format, "Surf Nazi's Must Die" will never win any awards for it's dazzling cinematography, and that low-grade graininess is captured in all of its glory here.
HEARING: [ ] EXCELLENT [ X ] GOOD [ ] RESUSCITATE [ ] D.O.A.
Stereo tracks presented in Ultra Stereo get the job done, but no reason to hook up that new stereo system if you haven't done so already.
ORAL: [ ] EXCELLENT [ ] GOOD [ ] RESUSCITATE [ X ] D.O.A.
No captions or sub-titles.
COORDINATION: [ ] EXCELLENT [ X ] GOOD [ ] RESUSCITATE [ ] D.O.A.
Okay, forget the fact that the film isn't presented in letterbox, or that the Ultra Stereo presentation doesn't tax your $3,000 sound system. It's the extras that make this Troma Digital Video DVD so much fun. While the film is a hoot, stick around for some interactive playtime. You'll get the standard scene selections and trailers, but high on the list is the Troma Intelligence Test. It's a trivia game unlike any you've ever played. The questions deal with Troma Team Video releases like "Toxic Avenger" and "Sgt. Kabukiman, N.Y.P.D." You get the question right, and you're rewarded with a sexy clip. You get the question wrong, and you get a scene of extreme violence. A lot of fun. There's also an alternate audio track featuring comments from director Peter George and producer Robert Tinnell. There are a lot of little hidden extras, including a tour of Troma Studios. This exclusive director's cut features additional "surf mayhem."
PROGNOSIS: [ ] EXCELLENT [ X ] GOOD [ ] RESUSCITATE [ ] D.O.A.
Come for the film, stay for the extras.
VITALS: $29.98/Not Rated/83 Min./Color/9 Chapters/Keepcase/#9820ATTENDING RESIDENT: John Larsen
PATIENT: SURF NAZIS MUST DIEBIRTH DATE: 1987
HMO: Troma Digital Video