Sphere DVD
Actor Dustin Hoffman and director Barry Levinson recently teamed up for two movies. One was the exceptional black comedy "Wag the Dog." The other was the water-logged undersea thriller "Sphere." "Sphere" the film is an exasperating experience.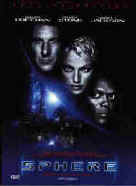 It comes with such a high pedigree, and still, there's something not right with "Sphere." It's probably because it's based on a novel by Michael Crichton, whose fast food novels run hot and cold. Despite a high rent cast, director and a budget big enough to guarantee state-of-the-art special and visual effects, "Sphere" never really comes alive.
When it does, it's very predictable, and that's the rub. Still, it's fun to watch actors like Hoffman, Sharon Stone and Samuel L. Jackson muddle through the pretense. They play part of a team of experts who have been summoned to the middle of the Pacific Ocean by the government to make sense of a recently discovered alien aircraft, buried under 300 years of coral on the ocean floor. The trio is joined by Liev Schreiber and Peter Coyote, and once aboard the underwater laboratory, set out to explore the craft. Thanks to expert digital composites and superior production design, it's easy to believe that these mere mortals actually exist in the same frame with the massive craft. Inside the craft the group discovers a giant orb that seems to be alive.
When Jackson enters the "Sphere," he becomes a conduit between the alien life forms and the humans. Unfortunately, when he's asleep, he also becomes a conduit to everyone else's nightmares, which he manufactures in his dreams. It's the old "Forbidden Planet" scenario all over again, all done up in dazzling special effects and taking place in inner space. There are some truly harrowing moments in "Sphere," and the performers manage to say some pretty dumb things with conviction. The problem lies in the horrible ending, and the clunky dialogue that keeps seasoned pros from sounding like seasoned pros. Director Levinson had much better luck with Crichton's "Disclosure." At least in that film, the only spheres you had to fear belonged to Demi Moore.
COMPLETE CHECK-UP
VISION: [ x ] EXCELLENT [ ] GOOD [ ] RESUSCITATE [ ] D.O.A.
One of the best things about "Sphere" was Adam Greenberg's gorgeous cinematography. Thanks to a superb transfer, it arrives on DVD without any trace of noise or artifacts. The colors are rich and pure, the blacks solid. The special edition RSDL DVD only features the 2.35:1 widescreen version, but I've also got the pan-and-scan tape, and I'll take this one over the other any day. It's also 16×9 enhanced for widescreen TVs.
HEARING: [ x ] EXCELLENT [ ] GOOD [ ] RESUSCITATE [ ] D.O.A.
No wax build-up here. The 5.1 Dolby Digital soundtrack rocks. The highly defined stereo split takes what it basically a chamber drama and pumps it up to the max. The voices are clear and distinguished, while Elliot Goldenthal's eerie soundtrack gets a real workout. The bass booms and the high end frequencies shiver your timbers. The soundtrack features a low pulse bass beat that vibrates every bone in your body when cranked up. The DVD also features a French Dolby Surround track.
ORAL: [ x ] EXCELLENT [ ] GOOD [ ] RESUSCITATE [ ] D.O.A.
The usual grouping of subtitles in English, French and Spanish.
COORDINATION: [ x ] EXCELLENT [ ] GOOD [ ] RESUSCITATE [ ] D.O.A.
Here's another prime example of a mediocre movie getting the royal treatment on DVD. "Sphere" may not be great, but the extras Warner has added to the DVD sure are. First and foremost is the running audio commentary courtesy of Jackson and Hoffman. I list Jackson first because he was obviously the only one who watched the film while providing insights. Hoffman's remarks seem like they were recorded somewhere else and spliced in later. It's pretty cheesy, but I prefer Jackson's colorful commentary. He actually seems interested in what he's saying, and manages to open a window for those of us who weren't there. Especially interesting are his observations about working on a big special effects film. That leads to the behind-the-scenes documentary, "Shaping the Sphere: The Art of the Visual Effects Supervisor." I love this stuff. I like to see how the special effects were achieved, and this addition is informative and entertaining. The DVD also features 3 television spots, and the usual extras like scene access, production notes and interactive menus.
PROGNOSIS: [ ] EXCELLENT [ x ] GOOD [ ] RESUSCITATE [ ] D.O.A.
A nice package for a film that should have been better.
VITALS: $19.95/Rated PG-13/135 Min./Color/43 Chapter Stops/Snapcase/#15331
ATTENDING RESIDENT: John Larsen
PATIENT: SPHERE
BIRTH DATE: 1998
HMO: Warner Home Video