The Sons of Katie Elder
It was raining the night I saw "The Sons of Katie Elder" with my mom at the Drive-In back in 1965. She didn't care. It was a John Wayne movie, and she had to see it. My mom was a huge John Wayne fan, and even got to sit in his lap when she was younger. When I was growing up she would always pull out a box of photos and show me the one of him that he autographed to her.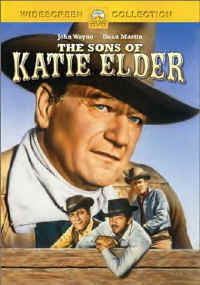 I still have that photo, and I still have the memories of sitting in the rain and watching "The Sons of Katie Elder" at the drive-in. It's hard to believe that was over 35 years ago, yet the memory is still fresh. I doubt it was the film, because as far as Wayne westerns go, "Katie Elder" was average. Maybe it was the film's message of brotherhood, sticking to your guns and standing up for what you believe is right.
Or maybe it was because the snack bar had popcorn and candy. Who knows. After sitting through "The Sons of Katie Elder" again on DVD, I can say that it wasn't just the popcorn and candy. There's a decent movie here, a wonderful tale of four brothers who honor their dead mother's request to take back their land from an evil land baron.
The plot is extremely pedestrian, yet director Henry Hathaway manages to squeeze just enough action and pathos from the proceedings to make it worth a look.
Released in 1965, "The Sons of the Katie Elder" was one of three films starring John Wayne released that year. Wayne starred in the epic war drama "In Harm's Way,"and popped up in "The Greatest Story Ever Told" later that year. In-between the two was this western starring most of Wayne's friends and regulars.
Indeed, "The Sons of Katie Elder" features such Wayne stalwarts as Dean Martin, Earl Holliman, Paul Fix, James Gregory, and George Kennedy. It's like a family reunion.
Wayne plays the oldest son of Katie Elder, whose death reunites her sons Tom (Dean Martin), Matt (Earl Holliman) and Bud (Michael Anderson Jr.). Despite their family's presence in Clearwater, Texas for years, the brothers find themselves outcasts.
They eventually learn that their mother was forced to give up the family property to a land baron (James Gregory), who may have also been responsible for their father's death.
Even though they bring years of baggage with them, the Elder brothers plan to unpack and do a little damage before they leave. That means proving who killed their father and then punishing them for the crime.
Wayne stands tall as a man who understands that going the distance might mean losing everything, including his brothers. Martin, Holliman and Anderson Jr. all seem to act and interact like brothers, while the villains are painted with broad strokes. George Kennedy is especially menacing as Curly, the gunslinger hired to get rid of the Elder situation.
I think mature audiences will appreciate the film's straightforward storytelling and characters. "The Sons of Katie Elder" is a reminder of how durable John Wayne remains as a presence. Long after the film ends, his character stays with you. The film isn't nearly as memorable, although it did look a lot better without the windshield wipers going back and forth.
COMPLETE CHECK-UP
VISION: Good

2.35:1 Widescreen

16:9 Enhanced
Better-than-average digital transfer for such an older catalog title. I was pleasantly surprised at how well the original negative has held up over the years. There's hardly a trace of age wear and tear. The digital transfer captures the film's original widescreen frame with sharp images, decent colors and solid blacks. Colors are true but not exactly vibrant. There's no bleeding or fading, and hardly a trace of any digital artifacts. Flesh tones are realistic yet subtle, while shadows show good detail. Depth of field isn't deep, but the horizons do look three dimensional. Minor edge enhancement, but nothing so serious as to detract from the overall viewing experience.
HEARING: Okay

Dolby Digital Mono in English & French
Not much to report here. The soundtrack gets the job done without any obvious noise or distortion. Dialogue mix remains strong, while low and high ends are limited in their ability to thrill.
ORAL: Okay

Closed Captions for the Hard of Hearing in English
COORDINATION: Clumsy

The film's original theatrical trailer presented in widescreen.

Handsome main and scene access menus.
PROGNOSIS: Fit

"The Sons of Katie Elder" isn't great Wayne, but if it holds a special place in your heart, then by all means add a copy to your library.
VITALS:

$29.98/Not Rated/121 Minutes/Color/16 Chapter Stops/Keepcase
ATTENDING RESIDENT: John Larsen
PATIENT: THE SONS OF KATIE ELDER
BIRTH DATE: 1965
HMO: Paramount Home Video