Smokey And The Bandit
Smokey and the Bandit didn't start the non-stop car chase craze that followed in it's wake. Hal Needham's 1977 action-comedy came a full year after Roger Corman and American International Pictures delivered "Cannonball," "Eat My Dust" and "The Gumball Rally," and two years after "Death Race 2000." Thanks to the star power of Burt Reynolds, Sally Field, and Jackie Gleason, "Smokey and the Bandit" took the genre mainstream, leaping from triple bills at the local drive-in to major box office revenue.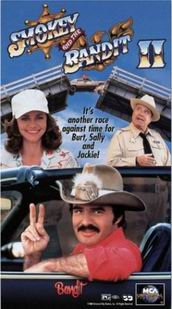 Made for a paltry $4.5 million, "Smokey and the Bandit" grossed more than $200 million in the United States and Canada. It made major players of Reynolds, Field, co-star Jerry Reed, and re-launched the career of Jackie Gleason. It also made it clear that audience's were hungry for such fare, and kick- started a lengthy list of pale imitations. What made "Smokey and the Bandit" more than just the bottom half of a double bill at the drive-in? It was the first time Reynolds and Field shared the screen together, and their chemistry feel right. You didn't mind spending and hour-and-a-half in the front seat of a speeding Trans Am with this good old boy and this sassy city girl. Director Needham, a former stuntman who often doubled for Reynolds, made his director's debut with this action-packed road movie that's as playful as it is exciting. Needham knows how to stage action, and yet the film is also sweet and charming.
Reynolds is top notch as Bandit, the legendary truck driver who can outrun any situation. Bandit's life gets exciting when he agrees to a sucker bet that he can bring back 400 cases of Coors Beer from Texas to Georgia in 18 hours. The payday is $80,000, so it's only a sucker bet if he loses. Bandit engages his best friend Snowman (Jerry Reed) to drive the truck while he runs flank in a souped-up Trans Am. With Snowman's trusty bloodhound Fred in tow, the two are on their way to Texas. Getting there is no problem. It's the trip back that poses the most threat. After all, transporting Coors Beer over state lines is illegal. Things are going smoothly until Bandit encounters a runaway bride blocking the road. He reluctantly picks her up, not knowing that she ditched the son of stubborn Texas sheriff Burford T. Justice (Gleason) at the altar.
Now Justice and his dimwit son are hot on her trail, which means they're also hot on the Bandit's trail. The pursuit leads to all sorts of wild chases that usually end up with various state trooper cars wrecked or under water. Of course Bandit and Snowman beat the deadline, but not before Bandit and Frog (Field) fall in love. I've seen "Smokey and the Bandit" numerous times, and I never get tired of it. Field makes me laugh every time with her wry comebacks, especially the smoking scene where she tries to declare her love of the habit. Sure "Smokey and the Bandit" is played out on the broadest canvas possible, but it's still an enjoyable romp. Now pass the pork rinds and fetch me a beer.
COMPLETE CHECK-UP
VISION: GOOD
Decent digital transfer in the film's original 1.85:1 aspect ratio. Strong, striking colors, excellent saturation, pleasing flesh tones and concrete blacks combine for a stunning presentation. There is a problem with some of the content of scenes 9-11. Every now and then, the scene looks like it was shot through glass. Use the slow motion feature on the player to see how horrible these scenes look. However, I'm not sure if it's a compression problem, or a problem with the original film. It only occurs during certain angles, while the scenes that bookend the problem scenes look perfect. So I'm not sure if it's grainy film stock, or random compression problems. On the whole, the DVD looks good.
HEARING: GOOD
The Dolby Digital 2.0 Mono soundtrack (also available in French and Spanish) is crisp and clear. It's no big deal, but the dialogue is distinct.
ORAL: GOOD
Closed Captions in English, subtitles in Spanish.
COORDINATION: GOOD
The DVD features the customary main and scene access menus, production notes, cast and crew bios and theatrical trailer.
PROGNOSIS: GOOD
The fuzzy scenes annoyed me at first, but I decided not to let them get the best of me. The rest of the film looks great, and it's always a lot of fun to watch.
BIRTH DATE: 1977
HMO: Universal Studios Home Video
ATTENDING RESIDENT: John Larsen