Slap Shot
If you're a regular reader of my reviews, then you know that I keep a journal of my favorite lines from films. I started this practice back in 1977, and among the entries are two lines from director George Roy Hill's "Slap Shot." They both involve star Paul Newman and a four letter "C" word that some might use to describe a male chicken.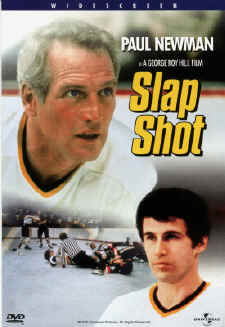 It wasn't a word you normally heard in movies, well, at least in movies without an "X" rating. There are a lot of dirty words in "Slap Shot," a raw, raunchy and ultimately hilarious comedy that shocked America with it's bold dialogue and sexual hi-jinks. Surprisingly, the script for "Slap Shot" came from Nancy Dowd, a 31-year-old woman whose brother played hockey for the local team. After spending a month with the team on the road and taping their conversations, Dowd was able to accurately capture and then put down on paper the ribald world of professional hockey.
Even at it's most coarse, "Slap Shot" always rings true. We've always suspected players talked like this, yet this was the first time that Hollywood was willing to play it as it lays. While "Who's Afraid of Virginia Woolf?" and Hal Ashby's "The Last Detail" opened the door for on-screen profanity, audiences weren't prepared for the constant barrage that awaited them in "Slap Shot." Especially for a Paul Newman movie. The worst thing that had come out of his mouth was yelling a four-letter fudge-factory word as he and Robert Redford jumped off a cliff in "Butch Cassidy and the Sundance Kid." This was Newman's third film with director George Roy Hill, following "Butch Cassidy" and "The Sting." Imagine following those two films with a violent, darkly comic tale of a losing hockey team that would rather drink and screw than score a goal.
I heard that grandmothers were shocked and dismayed whenever someone opened their mouth, especially Newman, who had no problem verbalizing his character's feelings. I loved "Slap Shot" because it doesn't pretend to be anything more than it is: adult entertainment. Oh sure it would have been easy to make a PG hockey film with Newman, but it wouldn't have been the same film. Hockey is a brutal sport, and the guys who play hockey don't mince words.
None of the characters in "Slap Shot" mince words, especially Newman's Reggie Dunlop, the elder statesman on the Charleston Chiefs. Dunlop realizes that his career is coming to an end, and unless he can turn the team around, his chances of getting a coaching job somewhere else are nil. The mill town is town is dying, and along with it the spirit of the team. Even the team's manager Joe McGrath (Strother Martin, another member of the "Butch Cassidy" cast) is secretly looking for work. In a last ditch effort to put a fire under the team, Dunlop begins a rumor that the team might be sold to an investment group in Florida.
That news and the addition of a trio of bone- crushing brothers named Hanson (MmmmBop) invigorates the other team members, who cop and new attitude and get tough on the ice. The only weary team member is Ned Braden (Michael Ontkean), who suspects that Dunlop's news isn't on the up-and-up. Still, the Chiefs start winning games (more like brawls), and their winning streak helps kick-start the town. Pretty soon, everyone is talking about the Chiefs, including Dunlop's ex-wife (Jennifer Warren) and Braden's separated wife (Lindsay Crouse).
Now all Dunlop has to do is find the owner and convince them to sell while the team is hot. Dowd's screenplay is filled with exciting, colorful characters who are well defined. Even though the film lacks the modern day technical razzle dazzle like puck cameras, it's never boring or outdated. Director George Roy Hill gets strong performances from everyone, including Melinda Dillon as a rival player's lesbian wife Dunlop sleeps with. You can tell Dillon is excited about being in bed with Newman. If she wasn't careful she could poke out his baby blues.
On the ice, in the locker or bed room or on the road, "Slap Shot" never lets up. It's filled with memorable dialogue and characters, and exciting hockey action that culminates with a rather unorthodox strip show. The DVD features the film's original song score, which was altered on the video version when MCA (now Universal) couldn't secure the rights.
COMPLETE CHECK-UP
VISION: [ ] 20/20 [ X ] Good [ ] Cataracts [ ] Blind
Pleasing but not definitive 1.85:1 widescreen digital transfer displays good color saturation and attractive flesh tones. The blacks and whites are industry standard, while the images look sharp despite a lack of depth. There are some compression artifacts, but they're not consistent or distracting. The DVD has been enhanced at 16:9 for widescreen televisions.
HEARING: [ ] Excellent [ X ] Minor Hearing Loss [ ] Needs Hearing Aid [ ] Deaf
Serviceable 2-Channel Mono soundtrack is functional but nothing to get your sound system all hot about. In it's favor, the sound is crisp and clean, while the dialogue mix is more than acceptable. So you don't get to hear the sound of pucks flying over your head. Live with it. The soundtrack is also available in French and Spanish.
ORAL: [ ] Excellent [ X ] Good [ ] Poor
Closed captions in English for the hard of hearing, subtitles in Spanish.
COORDINATION: [ ] Excellent [ X ] Good [ ] Clumsy [ ] Weak
Handsome yet ordinary main and scene access menus, plus the film's original theatrical trailer (which is just horrid) and cast & crew bios and filmographies.
PROGNOSIS: [ ] Excellent [ X ] Fit [ ] Will Live [ ] Resuscitate [ ] Terminal
Released in an era of "Bad News Bears," "Slap Shot" was an adult sports comedy that maintains its edge 22 years later. Now shut the puck up and go score a copy!
VITALS: $24.98/Rated R/123 Minutes/Color/18 Chapter Stops/Keepcase/#20328
ATTENDING RESIDENT: John Larsen
PATIENT: SLAP SHOT
BIRTH DATE: 1977
HMO: Universal Studios Home Video