Santa Clause 2
The candle wax inside the Halloween pumpkin isn't even cold yet and the early signs of Christmas are already encroaching. Thanksgiving turkey roasting pans share shelf space with eggnog mix and fruitcake, while Christmas tree forests have sprung up on empty lots and in front of grocery stores.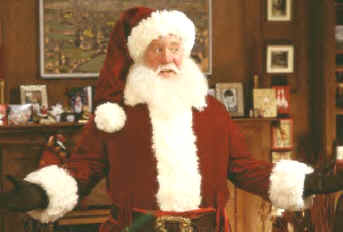 Now comes our annual cinematic Christmas goose, "The Santa Clause 2," a sufficiently agreeable but belated sequel that isn't nearly as charming or as heartfelt as the 1994 original. What was once simple and sweet now seems forced and contrived, the result of seven writers trying to reinvent the wheel. The new model has all of the bells and whistles of the first, but none of the heart. The toys in the workshop aren't the only things in "The Santa Clause 2" that appear manufactured.
Though it was corny and conventional, I liked "The Santa Clause." While both films benefit from the pleasing performance of Tim Allen, "The Santa Clause 2" lacks the warmth and sentimentality of director John Pasquin, who worked with Allen on "Home Improvement" and knew how to bring out the best in his star in the first film.
Director Michael Lembeck, who like Pasquin, was a well-regarded sit-com director before leaping to the big screen with "The Santa Clause 2," gets as much mileage as he can out of the flimsy screenplay that works much harder than it needs to. Writers Don Rhymer, Cinco Paul, Ken Daurio, Ed Decter, and John J. Strauss, (working from a story by original writers Leo Benvenuti and Steve Rudnick) are under the notion that bigger is better, but they're wrong.
The main plot, involving Santa's 28-day search for a Mrs. Clause or face a future without Christmas, is ripe enough, but the writers spoil the fun by layering the script with an unnecessary sub-plot about a Santa clone on a holiday rampage. The second layer takes away from the first and slows down the pace.
Allen is enjoyable as Scott Calvert, former toy salesman turned Santa. After eight years on the job, Scott really digs the gig. Imagine Santa's shock and surprise when he's reminded of "The Mrs. Clause." He has 28 days to find a Mrs. Claus or Christmas as we know it will end. Compounding matters, Scott's son, Charlie (Eric Lloyd) has wound up on Santa's naughty list, forcing Scott to take a leave of absence for some important family time.
Slowing morphing into his old self, Scott uses his time home to get Charlie back on course and woo his school principal, Carol Newman (Elizabeth Mitchell). Even though she shows no interest in him, we know it's just a matter of time before Scott wins her over.
Back at the North Pole, a Santa clone (created to keep the elves on schedule) has become a dictator, keeping the elves busy building an army of toy soldiers to execute his evil plan.
Not only does this silly sub-plot steal time away from the central complication, it feels totally out of place. With two dependable and responsible senior elves on staff, why would Santa feel the need to clone himself? We see this diversion for what it is, an unnecessary attempt to make the sequel bigger and different.
Maybe it's a necessary evil, but is an "evil twin" sub-plot the best they could come up with after eight years? The writers show more promise in a very funny moment where Santa and his colleagues (the Easter Bunny, Mother Nature, etc.) gather for a council meeting. More of this motley crew (including a stone faced Art LeFleur as the Tooth Fairy) and less of Santa's evil clone would have made for a better film.
None of this stops Allen from having a good time, even when he's being dwarfed by the larger than life production design. Allen has grown as an actor, and gives Santa/Scott maturity. Allen is more comfortable ("The Santa Clause" was his first film) in front of the camera, and it's his at- ease attitude that makes "The Santa Clause 2" as much fun as it can be.
Most of the original cast is back, including Wendy Crewson as Scott's ex-wife Laura, and Judge Reinhold as her touchy-feely husband Neal. David Krumholtz is back as head elf Bernard, whose common sense keeps Santa and the other elves in line. Elizabeth Mitchell has the hardest role in the film, playing the disbelieving principal who, like Santa, is forced to make life changing decisions in just 28 days. Mitchell is such a good actress that we almost believe her hasty transformation.
"The Santa Clause 2" won't be a holiday perennial, but it should please audiences looking for a Hollywood snow job.
CLAUSE FOR CONCERNTim Allen is back for another sleigh ride
SANTA CLAUSE 2
Tim Allen, Elizabeth Mitchell, David Krumholtz, Eric Lloyd, Wendy Crewson, Judge Reinhold. Directed by Michael Lembeck.
LARSEN RATING: $5.00