Run Silent, Run Deep
After the critical success of "The Sweet Smell of Success," actor-producer Burt Lancaster wanted his company to make something more commercial. He chose the submarine thriller "Run Silent, Run Deep," based on the novel by Captain Edward L. Beach, and adapted for the screen by John Gay.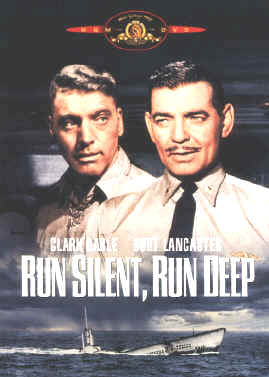 Aware that the script called for two commanding leading men, Lancaster recruited Clark Gable into service, and allowed Gable to take top billing. It was a wise move, as the film not only became a box office success, it also marked the only time these two stars appeared together in films. Gable and Lancaster are excellent as two submarine commanders who clash during an intense search for a Japanese destroyer noted for sinking American submarines.
As Commander Richardson, Gable shows us a man who is haunted by his past who realizes that he has only one chance to redeem himself. As the film opens, Richardson loses one sub and its crew to the Japanese destroyer, and finds himself assigned to land duty. Lieutenant Jim Bledsoe (Lancaster) is still reeling over his recent assignment as submarine Commander.
His elation is short lived when Richardson takes over command of the sub, and with Bledsoe as his Chief Officer, leads the sub and its crew on a series of mysterious maneuvers. Unbeknownst to Bledsoe and the crew, Richardson is planning to disobey orders and find the destroyer that sunk his former submarine. Like in "Crimson Tide," Richardson's deceit and obsession creates a rift between the two men, which in turn causes the crew to lose their edge.
When they are caught off guard by an air attack, three of the crew are killed. Desperate to escape the depth charges being dropped on them, Richardson orders that personal belongings and the three dead men be placed in the torpedo shafts and jettisoned to the surface to make the enemy think they have sunk the sub. As loyalties rise and fall, Bledsoe is forced to make some tough decisions, and with the Commander incapacitated due to a knock on the head, has to decide whether to return home or sink the target Richardson trained them to sink.
It's hairy stuff, even for a 1958 film. The scene where one of the crew members is killed by a falling torpedo is harrowing, and the decision to place the dead men in the torpedo shafts is agonizing to watch. Lancaster shines as a man who has lived his life by the book so long he's afraid to turn the page.
Director Robert Wise does a grand job of making all this matter, including mixing live and sound stage images seamlessly together. Wise wisely populates the submarine with a great cast of supporting characters, including Jack warden, Don Rickles and Brad Dexter. There's a lot to admire about "Run Silent, Run Deep," but the calling card is the film's two leads, who prove what acting is all about.
COMPLETE CHECK-UP
VISION: [ ] 20/20 [ X ] Good [ ] Cataracts [ ] Blind
Generally agreeable black and white transfer, available in both a 1.66:1 widescreen ratio and a standard version. The image in quite good, considering that the film is over 40 years old. The print shows some signs of aging, including a couple of scratches and a few glitches. The image is solid, with no fade out. Minute trace of compression artifacts aren't even worth discussing. Instead, I marveled at the strong shadows and blacks that hold up even under the most dire of circumstance. There are a lot of low lit moments in the film, and not once does the digital transfer flinch.
HEARING: [ ] Excellent [ X ] Minor Hearing Loss [ ] Needs Hearing Aid [ ] Deaf
Standard issue Dolby Digital mono soundtrack more than gets the job done. It came, it saw and it conquered.
ORAL: [ ] Excellent [ X ] Good [ ] Poor
Closed captions in English for the Hard of Hearing and subtitles in French.
COORDINATION: [ ] Excellent [ X ] Good [ ] Clumsy [ ] Weak
The DVD features handsome main and scene access menus, the original theatrical trailer (which has seen better days), and an 8-page booklet with fascinating information about the making of the film.
PROGNOSIS: [ X ] Excellent [ ] Fit [ ] Will Live [ ] Resuscitate [ ] Terminal
"Run Silent, Run Deep" is a submarine war movie that isn't all wet.
VITALS: $24.99/Not Rated/93 Minutes/B&W/32 Chapter Stops/Keepcase/#907500
ATTENDING RESIDENT: John Larsen
PATIENT: RUN SILENT, RUN DEEP
BIRTH DATE: 1958
HMO: MGM Home Entertainment