Romancing the Stone
Fifteen years ago when "Romancing the Stone" arrived on the scene, who would have suspected that it would prove to be a launching pad for all involved.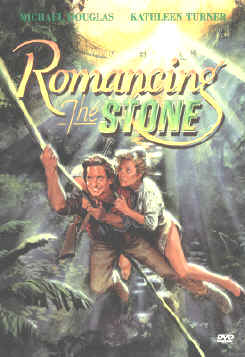 Granted, most of the talent had proven themselves in previous vehicles, yet it was "Romancing the Stone" that cemented their reputations. "Romancing the Stone" was also the only film that tried to capture the spirit and adventure of "Raiders of the Lost Ark" and get it right.
Director Robert Zemeckis came to "Romancing the Stone" after "Used Cars," which was a hilarious film but not a box office success. Star Michael Douglas cashed in on his "China Syndrome" good will, while Kathleen Turner had just heated up the screen in "Body Heat," "The Man with Two Brains" and "Crimes of Passion." Co-star Danny DeVito had been doing films for several years, yet "Romancing the Stone" was the only one to allow DeVito to capitalize on his "Taxi" personality.
So popular was this gathering that it spawned a sequel ("Jewel of the Nile") and another film starring all three leads, "War of the Roses." Yet in 1984, all eyes were on this smartly written romantic adventure that honored all that came before it without sacrificing its own identity. I remember seeing "Romancing the Stone" in a theater four or five times when it came out, but it has been a while since I have had the pleasure of sitting down and watching it from beginning to end. The new DVD provided me with a reason, and you know what? After fifteen years and dozens of imitations, "Romancing the Stone" still holds up. As a matter of fact, it holds up now as well as it did then. The dialogue, the razor sharp performances and the playful direction all stand up to the test of time. I found myself rolling over in laughter at the comic antics, while waiting for the big payoffs. There are numerous payoffs in this tale of a mousey romance novelist named Joan Wilder (Turner at her most engaging), who can write about affairs of the heart yet lives alone with her cat Romeo in a comfortable, lonely apartment in New York. When "Romancing the Stone" opens, we find ourselves in one of Wilder's novels, a western melodrama that is as funny as it is exciting. It's a clever opening, one of many clever ideas in the script by Diane Thomas, who died in an automobile accident shortly after the film was released. In Wilder, Thomas has created a strong female lead who starts off as a mouse but eventually turns into a tiger, and it is a pleasure watching Turner go through the transformation. Wilder's quiet life is interrupted when her sister Elaine (Mary Ellen Trainor) calls from Columbia. It seems Elaine has been abducted by some ruthless men who seek the treasure map that Elaine's husband owned. He mailed it to Joan in New York before he died, and Elaine needs for Joan to bring it to her in Columbia or she will be killed. Desperate to help her sister, Joan battles her phobias (she gets sick in planes, on boats, on buses) and heads for Columbia, unaware that she is being followed by a ruthless antiquities agent. Once in Columbia, Joan finds herself on the wrong bus, and then finds herself stranded in the middle of nowhere with the agent. Just when it looks like curtains, Joan is saved by fortune hunter Jack Colton (Michael Douglas). He agrees to take her to her destination, but changes his mind when the antiquities agent returns with reinforcements. On the run, Colton learns why Joan is in Columbia, and agrees to help him in exchange for a share of the booty. Their journey is filled with all sorts of close-calls and encounters with bad guys (including Alligator-loving leader Zack Norman and his sassy side-kick Danny DeVito), and a budding romance for the novelist. What I particularly loved about "Romancing the Stone" was the filmmaker's ability to take conventional movie cliches and themes and rework them into something original. Zemeckis and Thomas do it all, including tossing a cat onto Joan when she returns to her ransacked apartment to create a jump, and then ringing the phone seconds later. It is done with tongue firmly planted in cheek (how else can you get past a bad guy who wants "one last big score" before calling it quits?), yet the actors never wink at the screen. They invest themselves 100% in their characters, and the effort really shows. Turner makes it easy for us to believe someone so sexy and seductive could be so lonely. Douglas is a real scoundrel, one part Indiana Jones, one part Burt Reynolds. As jack Colton, he's a lot of fun to hang out with. His reaction after Joan and Jack tumble down the side of a mountain in a mudslide is priceless. DeVito provides great comic relief, while the bad guys are well represented in Norman and Manuel Ojeda. Dean Cundey puts his imprint on the proceedings with his gorgeous cinematography, while Alan Silvestri's musical score compliments the on-screen action. Truly a one-of-a-kind experience, "Romancing the Stone" is the type of film that would feel at home in any home library.
COMPLETE CHECK-UP
VISION: [ X ] 20/20 [ ] Good [ ] Cataracts [ ] Blind
Outstanding 2.35:1 widescreen transfer. Truly outstanding. The colors are rich and pure, the flesh tones natural. Strong, solid blacks hold up under the most demanding circumstances, while the whites and shadows are clean. I was expecting a nightmare (jungle scenes are always hard to nail, look at "Predator" and "Rambo: First Blood 2"), yet every scene was as sharp and vivid as they come. Strong depth of field and attention to detail makes the images spring to life. There was one minor problem with a patterned hat, but it was really a minor annoyance.
HEARING: [ ] Excellent [ X ] Minor Hearing Loss [ ] Needs Hearing Aid [ ] Deaf
Buoyant Dolby Digital Surround soundtrack is filled with exceptional stereo effects and frisky ambient noise. The music by Alan Silvestri pours out of the speakers with authority, while the low and high ends sounds clean and honest, with no noticeable hiss or distortion. My only complaint was that the dialogue mix seemed low, so I had to compensate by turning up the volume.
ORAL: [ ] Excellent [ X ] Good [ ] Poor
Closed captions in English for the hard of hearing, subtitles in Spanish.
COORDINATION: [ ] Excellent [ X ] Good [ ] Clumsy [ ] Weak
Nicely rendered main access menu that is a treasure map, plus standard issue but easy to navigate scene access menus. There is also the film's original theatrical trailer.
PROGNOSIS: [ X ] Excellent [ ] Fit [ ] Will Live [ ] Resuscitate [ ] Terminal
"Romancing the Stone" is as exciting and engaging as it was 15 years ago.
VITALS: $29.98/Rated PG/106 Minutes/Color/28 Chapter Stops/Keepcase/#4110401
ATTENDING RESIDENT: John Larsen
PATIENT: ROMANCING THE STONE
BIRTH DATE: 1984
HMO: 20th Century Fox Home Entertainment