The Rocky Horror Show DVD
Flashback. 1974. I was a junior in high school. I was also among those privileged to catch "The Rocky Horror Show" at the Roxy Theater on Sunset Boulevard in Hollywood. Way too young to appreciate the freak show that made up the audience, but old enough to appreciate the freak show on stage.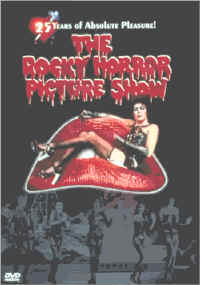 My friends and I went back several times to see Rocky Horror on stage, and each time fell under it's spell. We weren't bold enough to show up in fishnet stockings and make-up, but we were bold enough to appreciate the outrageous antics of Dr. Frank "n" Furter, the sweet transvestite from Transsexual, Transylvania.
A year later, after playing off Broadway, Rocky Horror became a movie. A big flop of a movie. 20th Century Fox couldn't give the film away. They booked it on the bottom half of some odd double features, virtually insuring that the film would disappear without a trace.
Then something amazing happened. "The Rocky Horror Picture Show" found new life at the Waverly Theater in New York, where it became a midnight sensation. Fans of the film, dressed in costumes from the film and shouting dialogue back to the screen, made the film a cult hit. A big cult hit. It wasn't long before screens all over American were screening "Rocky Horror" to sold out midnight crowds.
"The Rocky Horror Picture Show" and I are old friends. I've seen the film hundreds of times, and even hosted one theater's Halloween show. I dressed up like Meatloaf's Eddie. My fondest memory of the evening came when several girls approached me to check out my ass to see if I measured up to Meatloaf. I guess I did. Lucky me.
The first time "Rocky Horror" was released on video, we held a midnight showing at a friend's house. That was over ten years ago, and his wife still complains about finding rice in the shag carpet.
What was once a tax write off for 20th century Fox became one of their biggest grossing films, and still plays midnight shows around the country. The new DVD release of the film perfectly recreates the midnight experience. It provides all of the necessary tools to complete the experience.
Freshly scrubbed newcomers Barry Bostwick and Susan Sarandon (a real life couple at the time) play naive couple Brad Majors and Janet Weiss, whose car breaks down outside a foreboding castle. Seeking shelter and a phone, Brad and Janet head for the castle, unaware that the current occupants are creatures from outer space.
Once inside, the couple meet servant Riff Raff (play creator Richard O'Brien) and his sister, Magenta, the maid. They're exposed to some unusual "square dancing" by the locals, and then meet their host, Dr. Frank "n" Furter (Tim Curry). Frank has gathered his friends to unveil his latest creation, Rocky, the perfect man. Swept up in the celebration, Brad and Janet find their every belief compromised as the evening progresses.
Filled with a raucous rock and roll score and exaggerated production design, "The Rocky Horror Show" is an audible and visual delight. There's always something going on. The cast couldn't be better, especially Curry, who makes Frank "n" Furter his own. Bostwick and Sarandon bring just the right amount of Middle America naivety to their roles, while the rest of the cast couldn't be more decadent.
The best thing about "Rocky Horror" is how well it holds up without all of the Sturm und Drang. You don't need props to enjoy the experience. The film is the party. The props are just favors.
COMPLETE CHECK-UP
VISION: 20/20

1.66:1 Widescreen

16:9 Enhanced
It's been a long time since "Rocky Horror" has looked so good. Most of the revival prints were so poor they should have been destroyed. The film's imaginative color design remains intact, with not a trace of bleeding. The colors are so vivid they're almost 3-D. Flesh tones look terrific, while the DVD benefits from a new master print that is virtually free of dirt and scratches. No noticeable pixelation or strobing. Depth of field is impressive considering the limitations of the set, while attention to detail is amazing. You can actually count the sequins on Columbia's vest. Whites are pure, while shadows and blacks are firm. The film lives and breathes on its atmosphere, and even under the toughest conditions (smoke, rain) the digital transfer never wavers. Outstanding job.
HEARING: Minor Hearing Loss

English Dolby Digital 5.1 Surround

English Mono
The film's original mono soundtrack has been reformatted to qualify as 5.1 Surround, but the effort isn't totally satisfying. There are obvious attempts to improve upon the original soundtrack, including the occasional surround effect or ambient noise. The effort is appreciated, and sounds clean. There isn't any noticeable hiss or distortion, but there isn't much surround action either. The front sound field gets the most workout, and the dialogue mix is strong and to the point. Rear speakers make good advantage of the musical numbers, but basses are gimmicky at best. Middle and high ends purr. Not a bad effort, but not all encompassing.
ORAL: Good

Closed Captions in English for the Hard of Hearing

Subtitles in Spanish
COORDINATION: Excellent

Feature-length audio commentary with star-creator Richard O'Brien and star Patricia Quinn. Riff Raff and Magenta wax eloquent about their participation in the little film that could. Their insights are solid and interesting. I've heard most of this before, and yet I was still fascinated by the exchange of dialogue.

Two versions of the film: The U.S. Theatrical Release and the expanded U.K. Theatrical Release. Need I say more?

Theatrical Experience that allows you to click back and forth between the film and the audience participation shot at the Waverly Theater. While this segment is fun, it's almost impossible to understand what these folks are saying. Anyone familiar with the live experience will be able to decipher the rowdy crowd, but virgins will have a tough time.

An audience participation prompter that alerts you when to use your props. get those lighters and newspapers ready.

Exclusive excerpts and never-before-seen outtakes from the VH1 Behind the Music special, featuring interviews with Susan Sarandon, Barry Bostwick, Richard O'Brien, Patricia Quinn and Meatloaf. O'Brien also takes us on a tour of the castle and sings some songs from the score. You'll learn a lot about how difficult it was to make "Rocky Horror." Lots of history here, including some major revelations.

The VH1 Pop-Up Video of "Hot Patootie" featuring Meatloaf. I love pop-up videos, so this was a pleasure to sit through.

An Easter Egg that allows you the opportunity to see the film as it was originally intended.

Numerous theatrical trailers, stills and posters, including a banned radio advertisement.

Documentary "Rocky Horror Double Feature" video show that takes us on a nostalgic journey from the play's meager origins to its cult status today. Fans will appreciate this time warp that provides a definitive background check on the Rocky Horror phenomenon. The footage is extremely revealing and nostalgic.

DVD-ROM games, trivia and more.
PROGNOSIS: Excellent
It's alive!
VITALS:
$29.99/Rated R/100 Minutes/Color/36 Chapter Stops/Special Sleeve
ATTENDING RESIDENT: John Larsen
PATIENT: THE ROCKY HORROR PICTURE SHOW
BIRTH DATE: 1975
HMO: 20th Century Fox Home Entertainment