Road to Perdition
Painted with the brush strokes of a master, "Road to Perdition" emerges as the best film of the year so far, a dark, stormy tale of fathers and sons and how the fine line between loyalty and betrayal can blur at a moments notice.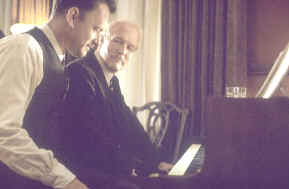 Samuel Johnson once wrote "there must always be a struggle between a father and a son, while one aims at power and the other at independence." Those words echo through the engrossing screenplay by David Self (based on the graphic novel by Max Allan Collins and Richard Piers Rayner), a tightly woven Depression-era gangster film that features Tom Hanks in one of his best, most tormented performances.
Hanks plays Michael Sullivan, an enforcer and hit man for the Chicago mob, who works for fatherly boss John Rooney (Paul Newman), a straightforward businessman who took Michael in and raised him like his own son Connor (Daniel Craig), who waits impatiently to inherit the family business.
When he's not with the "family," Michael makes time for his real family, wife Annie (a very simple, effective Jennifer Jason Leigh), older son Michael Jr. (Tyler Hoechlin) and youngest son Peter (Liam Aiken). On a dare, Michael Jr. sneaks into the back of his father's car to see what he does for a living. After he witnesses Michael Sr. participate in a mob hit, his presence puts both Michael Jr. and his family into jeopardy.
Even though Michael insists his son will stay quiet, Connor isn't so sure and puts out a hit on Michael and his family. When his wife and youngest son are killed, Michael scoops up Michael Jr. and hightails it to Chicago, where he seeks the mob's blessing to avenge the death of his family. Fearing Michael as a liability, mob enforcer Frank Nitti (a riveting Stanley Tucci) puts out his own contract, hiring a crime photographer/hit man (Jude Law, slick as oil) to finish the job.
There is so much to admire about "Road to Perdition," the sophomore effort of director Sam Mendes ("American Beauty"). Self's screenplay, which takes the graphic novel in a different yet equally satisfying direction, is filled with incisive, sagacious dialogue that vividly brings the characters and situations to life.
Self's screenplay explores the father-son dynamic with honesty and fortitude. Michael Sr. is closer to Rooney than he is Michael Jr., and it takes a horrific act to wake him up to that fact. The events in "Road to Perdition" change each and every characters life, creating a multi-level storyline that surges with unpredictable pretense. Every word, every syllable leaves an impact.
So do the performances, especially Hanks as a man who knows that he has sold his soul to the devil and must now pay the price, and Newman, who plays Rooney with a quiet dignity and self- assurance. Every line in Hank's face, every emphatic stare show us a man who has lived life, even if it wasn't on his own terms. It's a change of pace role for Hanks, who seems equally at home playing a dark, disturbed anti-hero.
Hoechlin, making his screen debut, stands tall as young Michael Jr., a boy who is forced to become a man in the time it takes his father to reach the safety of his aunt's home in Perdition. The relationship between Hanks and Hoechlin feels natural, like there's more history between them than the written word. When Michael Jr. asks his father if Peter was his favorite, the inquiry comes from the heart.
As Nitti's somewhat twisted enforcer and hit man, Jude Law displays a wicked streak. Maguire (Law) mixes business with pleasure, taking photographs of his victims to sell for profit. When he finally meets up with Michael Sr. and Jr. at a small diner, Michael Sr. have no idea who the stranger is. Law is nerve-wracking as he carries on a conversation with his intended victim, wallowing in his premature victory.
"Road to Perdition" perfectly captures the period with its cold, almost desolate look. Behind the camera, Oscar-winner Conrad Hall creates indelible images that stay with you long after the film has ended. The look is stark and foreboding, with constant rain and sharp contrasts. Every frame of the film is picture perfect, an excellent showcase for the detailed work of production designer Dennis Gassner, the stylish costumes of designer Albert Wolsky, and the haunting but lyrical music of Thomas Newman.
Director Mendes brings everything together into a smart and engaging film that will hopefully be on voter's mind come Oscar time. Like with "American Beauty," the former stage director evokes strong, penetrating performances from each and every member of the cast. From the first frame we are drawn into the story, and immediately become part of the experience rather than an observer.
ROAD LESS TRAVELED Hanks and Mendes deliver another American Beauty
ROAD TO PERDITION
Tom Hanks, Paul Newman, Tyler Hoechlin, Jude Law, Jennifer Jason Leigh, Daniel Craig, Stanley Tucci, Anthony LaPaglia. Directed by Sam Mendes. Rated R. 118 Minutes.
LARSEN RATING: $8.00