Ringu 2
Hollywood becomes engaged to the Japanese horror market with The Ring, a remake of Ringu, the hit thriller directed by Hideo Nakata. The Americanized Ring also becomes a hit, and Hollywood wants more. Fortunately Nakata shot a Japanese sequel, Ringu 2.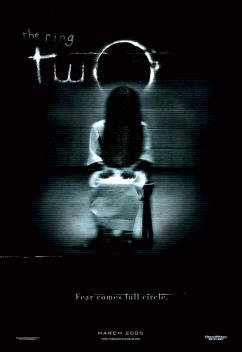 Unfortunately, The Ring director Gore Verbinski opts for bigger gold by directing Pirates of the Carribean, passing on The Ring 2. No fear, the studio hires original director Nakata for the continuation, which has been written by Ehren Kruger and has nothing to do with Ringu 2.
Are you still with me? Has your head exploded? Even though it managed to grip audiences, I wasn=t a fan of the original American version of The Ring. The Ring 2 picks up after the horrific events of the first film, when an investigative reporter (Naomi Watts) stumbled across a videotape that left viewers dead seven days after watching it. For Rachel (Watts), it was just a story until her young son Aidan (David Dorfman) watched the tape, thus setting into motion a desperate week-long search for the truth and a way to stop the chain of death.
After outrunning the spectral figure of Samara in the first film, the tortured little girl whose death created the video, Rachel and Aidan believe a change of scenery will do them good. They land in a small coastal alcove of Oregon, where Rachel works for a small newspaper while trying to keep an eye on Aidan. It= s not long before America= s Deadliest Home Videos starts making its way back up the ratings, forcing Rachel to confront the evil Samara once and for all.
Played out with concrete conviction, The Ring 2 isn= t much fun. Director Nakata embellishes the film with wild flourishes of cinematic contrivance, but they do little to raise the scare factor. New characters are introduced then dispatched, plus original story arcs are raised even higher to accommodate Kruger= s white elephant of a screenplay. What was once borderline plausible becomes outrageously impotent.
Watts is back for more, but her mother hen routine begins to wear out its welcome. It must be difficult to maintain that look of constipation take after take. Watts is surely talented (21 Grams), but can= t rise above the restrictions of the role. It= s all action and reaction. At least Nakata is good at creating tension where none exists. You just wish he could make a better film where none exists.
Ring Sequel Goes In CirclesOriginal Director Creates a Well of a Tale
RING 2Naomi Watts, Simon Baker, David Dorfman, Sissy Spacek, Elizabeth Perkins. Directed by Hideo Nakata. Rated PG-13. 111 Minutes.
$3.00