Psycho
The first question is why. Why do people pay $45 to see four guys imitate The Beatles? Why is one of the longest running shows in Las Vegas a revue of celebrity impersonators? Is it because people feel the need to connect with their nostalgic roots?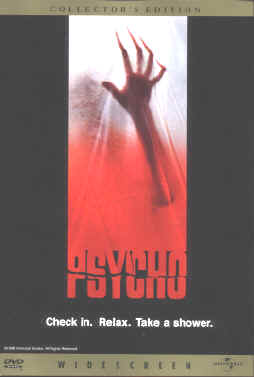 Are people so desperate for just one more taste of something they can't have that they're willing to accept an imitation? So that brings us back to the big question. Why? Why would someone want to do a remake of Alfred Hitchcock's "Psycho"? Not just a remake, but a literal shot-by-shot recreation in color.
I'm sure the age old argument about Generation X's not being interested in a black and white classic so why not remake it in color came up more than once. I'm sure Alfred Hitchcock spun in his grave more than once. Not that remaking Hitchcock is a bad thing. It's been done before, most recently with "A Perfect Murder." Hitchcock has also been ripe for comedy, hence "Throw Momma from the Train," "High Anxiety" and "Foul Play." Yet, for some reason, and even though it's shower scene has been often imitated, "Psycho" has been off limits.
It's almost as if the film is so revered that it would be sacrilege to tamper with or remake it. There have been sequels and prequels, and even numerous imitators, yet there is only one "Psycho." Now thanks to director Gus Van Sant, there are two "Psychos." Does the world really need another "Psycho"? Does the world really need a "Psycho" in color? Are Generation X moviegoers so unsophisticated that the only way to get them to see a classic is to remake it in color and slap and "R" rating on it? So the second big question is, is the damn thing any good? Technically, "Psycho" is a remarkable tribute to the original film. Director of photography Chris Doyle and director Van Sant do an excellent job of matching Hitchcock shot for shot.
Their recreation of Hitchcock's classic style does create a sense of nostalgia. So does Tom Foden's production design, which offers a different take on the Bates house yet still evokes horrific memories. The film even incorporates Bernard Herrmann's original musical score of haunting strings, updated and orchestrated by Danny Elfman, and Saul Bass' original credits. It's all very nostalgic, and Van Sant has recruited a study cast to pull off the familiar characters. Still, there's no sense of wonderment or discovery. It's too familiar.
While original screenwriter Joseph Stefano has modernized the script, and the film includes more nudity and sexual content than the original, the film never hits its stride. Vince Vaughn is appropriately creepy as motel manager Norman Bates, the ultimate momma's boy. Vaughn, hair closely cropped and wild eyed, does just fine as Bates. He's shy, he's handsome, and he's a lady killer. Anne Heche takes off her clothes once again (I've seen her naked more times than Ellen) as thief with a heart of gold Marion Crane, who winds up at the Bates Motel while on the run with $400,000 of her boss' money.
Marion is on her way to meet her boyfriend Sam (Viggo Mortensen), and hopes that the money will buy them a new life. Marion never makes it to her destination. She takes that infamous shower, and becomes another victim of bad Motel management. Van Sant uses the "R" rating to go further than Hitchcock was allowed to go back in 1960. In the original, when Norman Bates peeks in on Marion getting undressed for her shower, the act was treated as nothing more than voyeurism. In the new film, Van Sant makes no mystery of what Norman is doing while he watches Marion. William H. Macy shines as the private detective hired to find Marion, while Julianne Moore is strong as Marion's determined sister.
Van Sant has filled many of the film's smaller roles with excellent character actors like Anne Haney, Robert Forster, Philip Baker Hall and Rance Howard. For all of their hard work, the performers are just killing time. Perhaps teenagers unfamiliar with the mechanics of the plot will find it scary and intense. I appreciated the effort, and admired the performers and the production values, yet found the film remote and distant. It just didn't have that urgency that I felt the first time I saw "Psycho." Perhaps Van Sant backed himself into a no win corner.
Either he pays homage to Hitchcock by shooting the film frame-by-frame, or he changes the film and gives it his own stamp. Whatever the choice, he's going to infuriate purists. Unfortunately, I'm one of those. I don't mind Hollywood tinkering with films that didn't work the first time. Do they really need to tinker with classic films that are so indelibly ingrained in our subconscious? I say if they can't bring anything new to the material, then leave my childhood memories alone. Just because you can do something doesn't necessarily mean you should do it.
Now, if they could have turned "Psycho" into holograph, that might have been different. As it stands, it's just a case of been there, done that.
COMPLETE CHECK-UP
VISION: [ X ] 20/20 [ ] Good [ ] Cataracts [ ] Blind
Breathtaking digital transfer in the film's original 1.85:1 widescreen ratio (enhanced at 16:9 for widescreen televisions) delivers stunning imagery and industrial strength blacks. The colors are as vibrant as any I have ever seen, with excellent saturation. The film starts off with a cold, flat look, and even here the depth of field is outstanding. Once Marian arrives at the Bates Motel, the colors become hot, and literally jump off the screen. Attention to detail is so precise that you can make out wallpaper patterns and small buttons on clothing. Flesh tones are especially flattering, and the whites and shadows are clean thanks to a pristine negative. Not on ounce of compression artifacts. Absolutely smashing transfer.
HEARING: [ X ] Excellent [ ] Minor Hearing Loss [ ] Needs Hearing Aid [ ] Deaf
Gripping 5.1 Dolby Digital Surround soundtrack is outstanding in every way. The icy shrills of the Bernard Herrmann musical score (adapted and arranged by Danny Elfman) creep out of the speakers with such clarity you would swear the orchestra was in the next room. Rumbling basses and definitive high ends combine for a complete aural experience that is second to none. Dialogue mix is outstanding, while the left-to-right stereo split is precise and effective. The front-to-rear spatial separation is honest to a fault, while the ambient noise is so exact it's creepy. The soundtrack is filled with surround effects, and they are stunning. The DVD also features a French language Dolby Surround soundtrack.
ORAL: [ ] Excellent [ X ] Good [ ] Poor
Closed captions in English for the hard of hearing.
COORDINATION: [ X ] Excellent [ ] Good [ ] Clumsy [ ] Weak

First and foremost I must single out the main and scene access menus. If you think the film is creepy, check out the disturbing menus that take the theme of "Psycho" and run with it. The folks who designed the DVD get a lot of mileage from the shower scene, and Norman's very large knife also gets a lot of play here. Outstanding menus through and through, including scene access menus featuring actual clips from each scene.

Check into "Psycho Path," a comprehensive look at remaking Hitchcock's classic thriller, with thoughts and commentary from those involved with the production, plus observations from notable filmmakers and performers. Everyone gets their say at the beginning of this fascinating glimpse into the filmmaking process. Some chide Gus Van Sant for even attempting a remake, while others congratulate him for the effort. Among those are Pat Hitchcock, Alfred's daughter, who claims that her father would have been flattered that Hollywood would want to remake his movies. The documentary goes behind the scenes of the film, showing us how they accomplished the shot-by-shot recreation of the original. You'll learn how the shower scene was filmed, plus how the old "Psycho" house got a facelift for the new film. The documentary also cleverly cuts back and forth from the original to the remake to show how closely the remake follows the original. I would have loved to have seen more of this (perhaps the original film on one layer and the remake on another so you could bounce back and forth…maybe one day). Everyone in the cast gets to take a turn relating how remaking a classic has affected them. Great stuff, extremely well done and presented.

The DVD also includes a feature-length alternate audio commentary with director Gus Van Sant, and stars Anne Heche and Vince Vaughn. While Heche is obviously the more animated of the three, everyone chimes in with expanded stories on making the film and their approach to tackling such sacred material.

Extensive production notes, plus a healthy assortment of cast and crew bios and filmographies.

A DVD-ROM screen saver from the film.

The original, disturbing theatrical trailer. So what's missing? Lack of theatrical trailers. Usually Universal manages to slip in a couple of extra trailers in the cast and crew filmographies, but the original theatrical trailer is all you get. Also, it would have been a nice extra to isolate the musical score, but I guess that is how you sell CDs.
PROGNOSIS: [ X ] Excellent [ ] Fit [ ] Will Live [ ] Resuscitate [ ] Terminal
Even if I didn't appreciate the remake as much as others, the DVD is so visually exciting and chock full of extras that adding a copy to your library isn't such an outlandish idea.
VITALS: $34.98/Rated R/104 Minutes/Color/18 Chapter Stops/Keepcase/#20538
PATIENT: PSYCHO 1998-COLLECTOR'S EDITION
BIRTH DATE: 1998HMO: Universal Studios Home Video