The Pledge
"The Pledge" begins with the brutal murder of a young girl in a small town. Across town, the local police help detective Jerry Black celebrate his pending retirement. With six hours left on the clock, Black requests to be part of the crime team.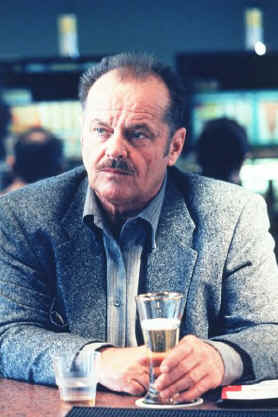 Tough stuff, the kind of crime that stays with you. None of the local cops want to tell the parents, so as his last official duty, Black agrees to the task. It's not easy. They're good folk, the kind of parents who can't understand how such a monster can exist. Black agrees, and desperate to help ease their pain, vows to find the killer.
It's a pledge that slowly takes its toll on Black, who becomes obsessed with the case. No one plays obsession better than Jack Nicholson, and as Jerry Black, he's on very familiar territory. Nicholson convinces us that Black is the sort of man who will do what ever it takes to make good on that pledge.
Too bad director Sean Penn isn't as dedicated. "The Pledge" is Penn's third turn behind the camera, and even though he has matured as a director, he still chooses material that's all talk and no show.
His characters rip through pages of thoughtful dialogue, but at the end of the day, they have no where to go. It's frustrating to invest yourself in characters, only to have the filmmakers abandon them.
Like Atom Egoyan's "The Sweet Hereafter," Penn's "The Pledge" is set in a small, snow-filled community where everyone knows everyone else. There's a real sense of community. You can see the history in their eyes and hear it in their words. It's easy to understand why the local cops would find it difficult to tell the parents, people they know and grew up with.
Black is different. He's a loner, a man who keeps people at a distance and with good reason. He's not very good company, but he is compassionate. When Black tells the parents about their little girl, he does so with the assurance of someone who is truly sorry. Nicholson keeps Black's emotions in check, leading us to believe the character possesses true inner strength.
It's just a facade, one that slowly peels away as Black methodically searches for the killer. Black's obsessive search turns him into another person. He becomes more calculated. While we're never sure what he's up to, Nicholson proves there's a method to his madness. His character mirrors the direction of the film. We're never sure where it's taking us, although we trust the director and writer to make the journey worth our time.
They fail. Which is a real pity, because I liked most of "The Pledge." Penn is blessed to have the brilliant Chris Menges behind the camera. The imagery is exciting and crisp, filled with contrast and shadow. One moment things are bleak and desperate, the next they're warm and hopeful. Hans Zimmer and Klaus Badelt furnish a haunting score that suggests more than writers Jerzy and Mary Olson-Kromolowski deliver.
The writers have based their script on Friedrich Durrenmatt's thin yet riveting novel. Their dialogue is stimulating, but the plot mechanics are weak. As a consummate actor, Penn knows how to get absorbing performances, but fails to connect with the film in general. It's lifeless and ultimately frustrating.
Don't blame the cast. They couldn't be better. Aaron Eckhart and Sam Shepard have some nice, human moments as Black's former colleagues, while Patricia Clarkson and Michael O'Keefe are heartbreaking as the grieving parents.
Robin Wright Penn fares best of all as the woman Black eventually opens up to. The actress is such a chameleon I didn't immediately recognize her. She has an uncanny talent of getting under a character's skin and becoming the person. Wright Penn proves a worthy competitor against the commanding Nicholson. You immediately know that this woman is capable of conquering Black.
That leaves it up to Nicholson to make us believe that he's capable of having a meaningful relationship with someone not connected to his obsession. Or is he? There's just the right amount of ambiguity in Nicholson's Black. When he ends up buying a ramshackle gas station, we suspect that it's more than an investment.
The undercurrent of ambiguity is the only thing that keeps the film alive. When we finally realize where Penn is taking us, the arrival is so anti-climatic that all that came before it is lost. It's always dangerous when a director betrays the characters and the audience.
Look fast enough and you'll see Helen Mirren, Benicio Del Toro, Mickey Rourke, Lois Smith and Vanessa Redgrave. Penn dots the landscape of "The Pledge" with interesting people. I just wish he gave them a movie worthy of their talents.
POISON PENN LETTERNicholson makes a disappointing Pledge
THE PLEDGE
Jack Nicholson, Robin Wright Penn, Aaron Eckhart, Sam Shepard, Vanessa Redgrave, Benicio Del Toro, Helen Mirren in a film directed by Sean Penn. Rated R. 124 Minutes.
LARSEN RATING: $3