Platoon
Director-writer Oliver Stone's searing, gut-wrenching take on the Vietnam War is one of Hollywood's most important films. Unflinching and merciless, Stone exposed the horrors of the war through the eyes of a green recruit, played Charlie Sheen.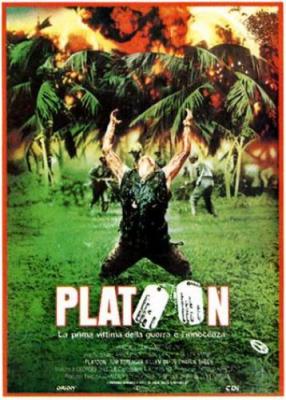 Dropped into the middle of hell, Chris Taylor (Sheen) not only has to contend with the enemy in the jungle but the enemy within. Tom Berenger and Willem Dafoe are excellent as the platoon leaders who share different views on the war.
When the two Sergeant's personal war carries over into the real battle, it leads to an act of betrayal that showcases man's ability to be inhumane to his fellow man. Gritty, tough, superbly filmed and edited, "Platoon" and it's Commander-in- Chief won Oscars for Best Picture and Best Director.
COMPLETE CHECK-UP
VISION: [ X ] EXCELLENT [ ] GOOD [ ] RESUSCITATE [ ] D.O.A.
Perfect. This THX approved transfer is as good as they get, retaining the film's original 1.85:1 aspect ratio. Considering the amount of rapid paced, hand-help imagery, one would expect some noise, but I didn't catch any. The dual-layered DVD brings the images vividly to life, capturing the sharp contrasts with aplomb. It shows that Stone had a hand in and approved this transfer.
HEARING: [ X ] EXCELLENT [ ] GOOD [ ] RESUSCITATE [ ] D.O.A.
Close the doors and windows and crank it up, because you're going to war. The Dolby Digital 5.1 soundtrack is superior. Lots of cross-talk, jungle noise and warfare combine to create an elaborate soundtrack, but I couldn't catch one misfire. The sound totally envelops you, and at times, catches you off guard. Good tones and strong bass make listening to this DVD a pleasure. Just don't play it back on your 19″ television speaker.
ORAL: [ ] EXCELLENT [ ] GOOD [ X ] RESUSCITATE [ ] D.O.A.
Closed-captioned in English.
COORDINATION: [ X ] EXCELLENT [ ] GOOD [ ] RESUSCITATE [ ] D.O.A.
First and foremost is Stone's running commentary on an alternate audio track. Never one to mince words, Stone's descriptive narrative is by far one of the best I've heard. You can feel his passion for the film and the experience the film afforded him. There's a lot of insight here, and it's a pleasure to see the film on those terms. Military advisor Captain Dale Dye also provides a running commentary on another track, but it's not nearly as decisive and entertaining as Stone's. For a look behind the scenes, "A Tour of the Inferno: Revisiting Platoon" is an excellent documentary that examines the painstaking task of recreating a war.
PROGNOSIS: [ X ] EXCELLENT [ ] GOOD [ ] RESUSCITATE [ ] D.O.A.
War is hell, and this excellent widescreen transfer puts you right in the middle of it. A must for any DVD collection.
VITALS: $29.95/Rated R/120 Min./Color/35 Chapters/Snapcase/#60454
ATTENDING RESIDENT: John Larsen
PATIENT: PLATOON
BIRTH DATE: 1986
HMO: LIVE (Artisan)