Nurse Betty DVD
"Nurse Betty" is just the prescription for anyone looking for a genuinely funny off-beat comedy.
Filled with delightful, eccentric characters and swift, sharp dialogue, this romantic comedy comes as an unexpected Valentine from director Neil LaBute.
LaBute's first two films, "In The Company of Men" and "Your Friends and Neighbors" were poison pen letters to the heart.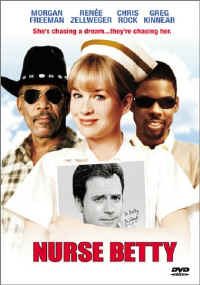 "Nurse Betty" is light and bubbly, and even when the film does sway into dangerous territory, it never betrays the story. LaBute wisely indulges himself just enough to make a point, but never sacrifices the film's sensibilities.
"Nurse Betty" features an Oscar-worthy performance by Renee Zellweger, perfectly capturing the spirit of a hopeful Kansas wife and waitress. Even when things are at their worst, there's always a sparkle in her eye. There's soul in Zellweger's performance, an honest interpretation of a woman who sees the world sunny side up.
It's important that we believe in Betty (Zellweger), because the writer's send her on a quest that requires total conviction in her character. LaBute masterfully guides Zellweger's Betty down the rabbit hole in search of her March Hare, who turns out to be an actor playing a doctor on an afternoon soap opera.
"A Reason To Love" is the soap, and Dr. David Ravell (Greg Kinnear) is the man who takes Betty away from the drudgery of her life one hour every weekday. Like other fans of the show, Betty enjoys getting lost in the show. She literally gets her wish when she witnesses the violent death of her husband at the hands of hit men.
The episode sends her into shock, where she believes she's on the soap. Completely unaware of her husband's death or that hit men are trailing her, a dazed Betty leaves Kansas for California where she hopes to find her fianc' Dr. David Ravell.
I like the way writers John C. Richards and James Flamberg tell two stories at the same time, one centering on Betty and her quest, the other focusing on the relationship between the two hit men, played by Morgan Freeman and Chris Rock. Some writers have trouble balancing one plot line, yet these two men skillfully twist and turn the plot until everything comes together in a well-thought out finale.
The writers give Betty not only thought and understanding, they gibe her purpose. They also line the scenes with interesting characters who help perpetuate Betty's delusion. When she arrives in Hollywood, Betty goes looking for the fictional Dr. David Ravell, much to the amusement of those around her. A series of mishaps and coincidences land her a roommate (the very funny Tia Texada) and a date with George McCord, the actor who plays Ravell.
Sweet and charming at almost every turn, "Nurse Betty" also displays a lot of heart. Zellweger makes Betty so believable you want her to succeed, even if she is living in a fantasy world. You root for the characters who play into her fantasy, allowing her a few moments of happiness.
She gets no respect from her loutish husband Del (Aaron Eckhart, LaBute's good luck piece), a car salesman who is so self-involved that he totally forgets Betty's birthday. When he munches down the cupcake the diner staff gave her, you want to club him over the head.
That would be a lot less painful than what Charlie (Freeman) and Wesley (Rock) do to him. Taking a tip from the Native Americans, Wesley provides Del with an extra close haircut. It's a shocking scene, the only one in the film, and necessary to help show us what it would take to send Betty into la-la land. LaBute is careful to pull back, but the effect is the same.
Freeman is absolutely endearing as the aged hit man who is ready to call it quits. Betty is his last hit, but only if he can bring himself to finish the job. Much to the dismay of his young partner, Charlie begins to develop feelings for Betty.
You can't blame him. It seems that no matter where Betty turns up, she brings a smile with her. Kinnear has one of those devilish smiles, which he uses to good advantage as the handsome actor who hides an ugly side. Allison Janney evokes laughs as the soap producer who sees potential in Betty, while Pruitt Taylor Vance and Crispin Glover team up for laughs as Kansas locals trying to solve Del's murder.
There isn't a bad performance in the bunch, a testament to the talent and a director who knows how to get the best out of them. "Nurse Betty" is a fairytale that necessitates that we buy into the premise. LaBute makes the task effortless. The film is such a cheerful experience you want to shout it from the rafters.
You're lucky if you can find one or two little moments in a film that stand out. "Nurse Betty" is filled with them. Little nuggets that are pure gold, like when Charlie romanticizes over Betty while at the Grand Canyon, or when Betty tells McCord about the day her mother died. Alone, these two moments are more than worth the price of admission.
Strung together these moments create an experience that stays with you. You become a better person having experienced these moments with these characters. That makes "Nurse Betty" one of the best films of the year.
COMPLETE CHECK-UP
VISION: 20/20

2.35:1 Widescreen

16:9 Enhanced
Bright, cheerful images look sensational. The colors are warm and inviting, while the saturation level is just perfect. No bleeding or fading going on here. Pristine print allows for clean whites and shadows, plus industrial strength blacks. Flesh tones are flattering. Depth of field and attention to detail is sharp, while the overall image is vivid.
HEARING: Good

5.1 & 2.0 Dolby Digital Surround
Playful soundtrack makes good use of all sound fields without showing off. The mix is just right, including a true stereo split on the front left-to-right channels. Dialogue mix is clean and strong, while bases are only used to make an impression, usually during the film's more sporadic moments like chases and gunfights. Rear speakers pump out the appropriate data, including strong musical cues and ambient noise that is both realistic and natural. Front-to-rear spatial separation is hardly used but sounds right. Middle and high ends are extremely clean, with no noticeable hiss or distortion.
ORAL: Good

Closed Captions for the Hard of Hearing
COORDINATION: Excellent

Two feature-length director commentary tracks. The first features director Neil LaBute and members of the cast, while the other features the director and production crew members. The cast commentary is the one to choose. Honestly, how can you resist sitting in a screening room with the likes of director Neil LaBute, Morgan Freeman, Renee Zellweger, Chris Rock and Greg Kinnear? And it's not one of those lame splice jobs where they record everyone separately and they include their comments. These folks sat down to watch the movie, and their running commentary is just as entertaining as the film. What a colorful cast of characters. Their observations and love of their craft make this commentary a must-listen. The second commentary track features LaBute with two of the film's producers, the composer, the costume designer and cinematographer Jean Yves Escoffier. Unlike most crew commentaries, this one is actually quite engaging. They lend a whole different slant to the making of the film, and lend important insight into the intricacies of filmmaking.

Numerous deleted scenes that really add a lot to the film. Most deleted scenes belong on the cutting room floor, but these scenes really do belong in an archive. They help explain character motivation, including the relationship between Freeman and Rock's father and son. There's also a quick yet very disturbing shot of Rock getting his head blown off, obviously shot as a bargaining chip so LaBute could keep the film's scalping. There's also another deleted scene hidden away on the Special Features menu.

Six promotional spots, covering virtually every angle of the film's story and characters.

The film's original theatrical trailer.

"A Reason To Love" soap opera spoof episodes. An amazing collection of clips from the fictional soap opera. These scenes are so extensive I bet they would equal a real soap opera episode in length. These are a real hoot and deserve special time all their own.

DVD-ROM features including the final shooting script and web links.
PROGNOSIS: Excellent

Nurse Betty has the perfect bedside manner.
VITALS:

$24.98/Rated R/110 Minutes/Color/36 Chapter Stops/Keepcase
ATTENDING RESIDENT: John Larsen
PATIENT: NURSE BETTY
BIRTH DATE: 2000
HMO: USA Home Entertainment