My Fair Lady
I was so thrilled with the release of "My Fair Lady" on DVD that I just had to sing. How else could I explain this jubilant feeling I have inside? "My Fair Lady" is one of my favorite musicals. I have seen it countless times, with numerous leads, and I never tire of seeing it over.
I have seen it with Richard Chamberlain as Henry Higgins, and I have seen it with Rex Harrison's son in the lead. Still, no one does it like Rex Harrison, who originated the role in London and on Broadway.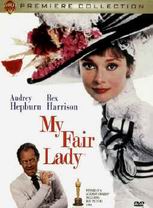 Rex Harrison is Henry Higgins. When they were casting the film, several major male stars were approached to play Higgins, including Cary Grant, who as history has it, said that not only wouldn't he play Higgins, but if Harrison didn't play the role, he wouldn't see the movie. You have to agree.
Then there's Audrey Hepburn as Eliza Doolittle, the cockney flower girl who becomes the subject of Higgins' latest experiment. Higgins is a master linguist, and has just bet his best friend Colonel Hugh Pickering (Wilfred Hyde-White) that he can transform the guttersnipe Doolittle into a proper lady. My goodness, it's George Bernard Shaw's "Pygmalion" with music by Frederick Loewe and book and lyrics by Alan Jay Lerner.
The songs couldn't be more memorable: "On The Street Where You Live," "Wouldn't It Be Loverly?," "I Could Have Danced All Night," and "I've Grown Accustomed to Her face" to name but just a few. Under the direction of the legendary George Cukor, "My Fair Lady" leaped from stage to screen with all the glitz and glamour Jack L. Warner's money could buy. Warner Bros. spent $5 million to acquire the screen rights to the musical, a record sum. It was money well spent. Not only did "My Fair Lady" become a huge hit, it also won eight 1964 Academy Awards, including Best Picture, Director and Actor. Hepburn, whose vocals were dubbed by Marni Nixon, wasn't even nominated.
The Best Actress that year was Julie Andrews for "Mary Poppins." The irony was that Andrews made the role of Eliza Doolittle famous on Broadway, but wasn't considered a big enough star to carry the film. Ouch. Hepburn is wonderful as Eliza. Her transformation from guttersnipe to a full-fledged lady is just one of the delights of the film. Stanley Halloway is excellent as Alfred P. Doolittle, Eliza's lazy father who is always looking for a handout. His transformation is also one of the highlights of the film. There's so much to recommend "My Fair Lady," from its spectacular production and costume design, to the flattering cinematography and lighting that makes everything look magical. "My Fair Lady" underwent a painstaking restoration in 1994, and the version on the DVD is about as close to perfection as we're going to get.
COMPLETE CHECK-UP
VISION: [ X ] 20/20 [ ] Good [ ] Cataracts [ ] Blind
After a lengthy and expensive two year restoration, "My Fair Lady" looks more lovely than ever. The DVD transfer delivers the classic musical in it's original 2.20:1 widescreen ratio, enhanced at 16:9 for widescreen televisions. There are some noticeable compression artifacts, and the occasional glitch on the original negative. You know what? I don't care. Nope. Nada. I was thrilled with the sharp, vivid images, the glorious color saturation, and impressive blacks. The flesh tones are variable, but on the whole natural looking. There's also some flicker in a couple of scenes, but I don't know if this is an attribute of the digital transfer of the restoration. Regardless, I fell in love with the film all over again. The colors just leap off the screen, with bright, vibrant reds, glowing yellows, pastel blues and gorgeous earth tones. Check out the detail inside Higgins' library. The digital transfer shows great depth of field and detail. You can almost touch the intricate wallpaper.
HEARING: [ X ] Excellent [ ] Minor Hearing Loss [ ] Needs Hearing Aid [ ] Deaf
The newly remastered 5.1 Dolby Digital Surround track makes effective use of the film's original 6-channel discrete theatrical soundtrack. Never has "My Fair Lady" sounded so good. The room comes alive with beautiful music that's so clear it sounds live. While the stereo split isn't definitive, it is effective, and the ambient noise (especially in the street scenes) is eerily real. The dialogue mix is superior, while the vocals are crisp. There's also a Dolby Digital Mono soundtrack in French.
ORAL: [ ] Excellent [ X ] Good [ ] Poor
Closed captions in English and subtitles in French.
COORDINATION: [ X ] Excellent [ ] Good [ ] Clumsy [ ] Weak
This "Premiere Collection" DVD from Warner Home Video features some priceless extras. Even though Audrey Hepburn's vocals were eventually dubbed by Marni Nixon, Hepburn did record and sing to her own tracks. Two of those tracks, "Wouldn't It Be Loverly" and "Just Show Me" are included here. Hepburn's not a bad singer, and she definitely nails down the spirit of the songs, but she's not nearly as fluid as Nixon. Still, I was thrilled to be able to see and hear Hepburn's version. What a treasure. There's also an original featurette called "The Fairest Fair Lady," that serves as both a promotional film and a behind-the-scenes look at the making of this major project. The best extra is the running audio commentary with Robert A. Harris and James C. Katz, the two men who headed up the restoration process, along with art director Gene Allen and singer Marni Nixon. It's obvious that Nixon's commentary was recorded elsewhere and then inserted into the conversation. Watching the film are Harris, Katz and Allen, who provide tons of interesting insights into the restoration and making of the film. Allen is especially candid about Cecil Beaton's contributions to the film, and goes into great detail about other slights made due to contractual obligations. The running commentary is both informative and entertaining. There are also four theatrical trailers, including "Brigadoon" and "Camelot." The main and scene access menus are pretty and functional. There is also the usual assortment of cast and crew bios and filmographies, plus production notes.
PROGNOSIS: [ X ] Excellent [ ] Fit [ ] Will Live [ ] Resuscitate [ ] Terminal
Oh yeah, this DVD release is "Loverly."
VITALS: $24.98/Rated G/173 Minutes/Color/RSDL/50 Chapter Stops/Snapcase/#16668
ATTENDING RESIDENT: John Larsen
PATIENT: MY FAIR LADY – PREMIERE COLLECTION
BIRTH DATE: 1964
HMO: Warner Home Video
All I want is a DVD,A widescreen version of "My Fair Lady,"
Clear Pic, 5.1 Dolby,
Oh wouldn't it be Loverly….