Modern Romance
Maybe the 70s rock group Sweet was right when they sang Love is Like Oxygen. If that is the case, romance in modern films is barely breathing. Not that I'm complaining, but the closest thing we got in theaters last Christmas that even resembled a romantic movie was "Kate & Leopold," starring the four hankie perennial Meg Ryan and hunky Hugh Jackman of "Swordfish."
Jackman plays a 19th century duke who rips through the fabric of time and winds up in the arms of 21st century marketing executive Ryan. It doesn't take H.G. Wells to predict that these two will transcend time to remain lovers. What no one could predict was how a minor subplot involving incest between the two would lead to last minute trimming by the studio
"Kate & Leopold,"was released by Miramax, which is owned by Disney, which also released director Wes Anderson's "The Royal Tenenbaums," a dysfunctional family comedy that also included an incest subplot between a brother and sister. Unlike "Kate & Leopold," which was manufactured for mass consumption, "The Royal Tenenbaums" came packaged for a more discerning audience who would accept if not embrace the awkward relationship.
Dysfunctional is the key term when it comes to pigeonholing the current crop of romantic films. Gone are the "You've Got Sleepless Mail in Seattle" Tom Hanks romantic comedies that wore their sentiments on their sleeves. With co-star Meg Ryan, Hanks and director Nora Ephron created a cottage industry that more reflected the sensibilities of the old Doris Day-Rock Hudson comedies of the early 1960s than the current climate.
Films like "The Royal Tenenbaums," "Vanilla Sky," "Lantana" and the just released "Monster's Ball" teach us that love is not all it's cracked up to be.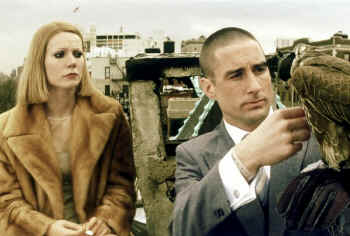 In "The Royal Tenenbaums," expatriate family patriarch Royal (Gene Hackman) learns that his ex-wife Etheline (Anjelica Huston) is falling in love with family friend Henry Sherman (Danny Glover). Royal feigns a lethal disease in order to work his way back into the family, not because he's jealous or loves Etheline, but because he's afraid of being abandoned, both emotionally and financially.
Royal turns on the charm and even manages to romance Etheline, but it's not real love. It's desperation disguised as love, a facade that comes crashing down at the most inopportune time. It does. Elsewhere in the Tenenbaum household, son Richie (Luke Wilson), a former pro tennis player, can no longer hide his feelings for adopted sister Margot (Gwyneth Paltrow), a brilliant playwright stuck in a loveless marriage.
Love is the glue that holds the Tenenbaums together, but they've been pretending for so long that nothing sticks. Even though the love between Richie and Margot may seem forbidden, when you take into consideration the rest of the family, their relationship is the only one that makes sense.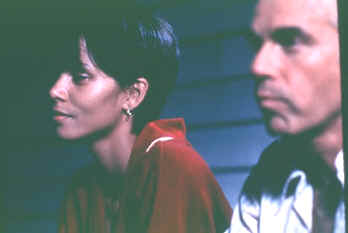 Desperation is what brings and holds together prison guard Hank Grotowski (Billy Bob Thornton) and waitress Leticia (Halle Berry) in the compelling "Monster's Ball." One of the very best films of 2001, "Monster's Ball" is more about redemption than true love, but it's a powerful reminder that sometimes we have to go through hell before we can see the forest from the hills.
It's a gripping journey about two people who are complete opposites, yet when tragedy strikes both, they learn that they have more in common that they thought. Set in the South, "Monster's Ball" deals with racism on a personal level and not as a soapbox issue. It proves that under the right circumstances anything is possible.
When Hank and Leticia meet, each has no idea how connected they really are. He was on the death row squad that executed her husband. Each has lost a child, forcing them to abandon their prejudices and preconceptions in order to find a safe harbor. When they share in an intense physically encounter, they're not making love, but expelling demons.
The exorcism works, but there's still a lot of wounds to be healed, and it's during the film's final frames, that we sense perhaps love could be part of the equation.
Romance strikes several sour chords in the Australian drama "Lantana," where the characters engage in sex but aren't really in love. They're also pretending, but unlike "Monster's Ball," which leads us to believe that there's hope, the character's indifference in "Lantana" leads to tragic consequences. Police Detective Leon Zat (Anthony LaPaglia) is stepping out on his wife with a woman from their dance class who has just left her husband.
Psychiatrist Valerie Somers (Barbara Hershey) suspects that not only is her husband (Geoffrey Rush) gay, but that he's having an affair with one of her patients. Somers represents the collective conscience of all of the characters, whose penchant for keeping vital information to themselves keeps them from experiencing real love.
In "Vanilla Sky," a modern day "Fatal Attraction," Tom Cruise learns that a killer smile can be just that. In Cameron Crowe's fatalistic drama, Cruise plays publisher David Aames, a handsome, athletic, playboy who inherited everything but manners from his father. Aames is from the old love them and leave them school of thought, which is fine for party girls looking to sleep with a millionaire.
It doesn't sit well with Julie Gianni (Cameron Crowe), a clingy predator who believes you make a commitment once you sleep with someone. She's Glenn Close without the bunny, the kind of woman who would drive off a bridge to prove her love. "Vanilla Sky" is a cautionary tale that is supposed to remind us that there's a difference between sharing bodily fluids and sharing a lifetime of bliss. Instead, "Vanilla Sky" is proof positive that sleeping with a babe like Cameron Crowe is worth dying for. Talk about dysfunctional romance.
FILM ANALYSIS by John Larsen
MODERN ROMANCE Love is alive but barely breathing in current cinema