Milo
Pedestrian horror-thriller takes it's cue from "Halloween," "Friday the 13th," "The Bad Seed," "Don't Look Now" and "Psycho." Actually, "Milo" doesn't have an original bone in its body.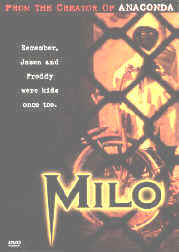 Anyone familiar with the horror genre will be able to pick it apart without hesitation. Paula Cale stars as the adult version of a little girl who was almost stabbed to death by a wicked neighborhood boy named "Milo." Claire (Cale) survived the attack (which left one of her friends dead), but the event has left her emotionally scarred. So it's a surprise to everyone in the small town where she grew up when she returns to teach. Lucky for Claire, because one of her best friends has just died, leaving an opening for a thoughtful, caring teacher who is just a little bit nuts. It's been years since the attack, but it doesn't take Claire long to believe that "Milo," who supposedly drowned after the murder, is still alive and stalking her.
Of course no one, including her best friends, school colleagues and students believe that she still sees Milo. They all think she's having a breakdown, but we know better. When her friends end up missing in action, Claire tries to convince the authorities, who dismiss her story as the ravings of a madwoman. Now Claire can only depend on the one person who knows the truth: Milo's father, played by real life fright factory Vincent Schiavelli. A former gynecologist who performed illegal abortions in his office, Milo's father seems like he wants to help Claire, but is obviously setting her up for a date with destiny and his stillborn monster of a son. That's pretty creepy, but it never rises to the level of giddy fun that it should.
The paint- by-numbers script and lackluster direction fail to make this monster mish-mash any more than it is. The film maker's borrow from everyone and everything under the horror sun. The events take place in a small, quaint town, like "Halloween," and involve a demented child who kills. The killer kid is supposed to have drowned, but has returned to wreck more havoc, like "Friday the 13th." Milo befriends one of Claire's students, who ends up helping Milo torment her, like "The Bad Seed." The killer kid always wears a rain slicker (reminiscent of "Don't Look Now" and "I Know What You Did Last Summer").
Then there's that who business with Claire's dead friends in wedding dresses at the end of the film. Did someone mention "Psycho"? You've seen it all before. Rated R, the actual violence and gore quota is pretty low. The film could have skirted by with a PG-13, but then who goes and sees a "PG-13" horror film?
COMPLETE CHECK-UP
VISION: [ ] EXCELLENT [ X ] GOOD [ ] RESUSCITATE [ ] D.O.A.
The full-frame digital transfer is solid, displaying strong colors, natural flesh tones and vivid blacks. There were some minor instances of compression artifacts, but overall, the images are clear and crisp, except for some poorly lit indoor scenes. These images appear soft without much depth. As a direct- to-video (and DVD) title, I'm not sure what the original aspect ratio was. The full-frame presentation doesn't seem to hurt the film none. I just prefer widescreen when it's available.
HEARING: [ ] EXCELLENT [ X ] GOOD [ ] RESUSCITATE [ ] D.O.A.
Functionary Dolby stereo surround track gets the job done, but it's not going to win any awards for creative sound mixing. The rear speakers are mostly relegated to the derivative musical score (shades of "Halloween") and the occasional ambient noise. The dialogue is strong without being distracting, and there wasn't any noticeable hiss or distortion.
ORAL: [ ] EXCELLENT [ ] GOOD [ X ] RESUSCITATE [ ] D.O.A.
Spanish subtitles.
COORDINATION: [ ] EXCELLENT [ X ] GOOD [ ] RESUSCITATE [ ] D.O.A.
The original theatrical trailer, customary interactive main and scene access menus, and cast bios.
PROGNOSIS: [ ] EXCELLENT [ ] GOOD [ X ] RESUSCITATE [ ] D.O.A.
Rent, but only if your first couple of choices are out.
VITALS: $24.98/Rated R/91 Min./Color/12 Chapter Stops/Keepcase/#7075
ATTENDING RESIDENT: John Larsen
PATIENT: MILO
BIRTH DATE: 1998
HMO: Sterling Home Entertainment