Mean Streets
1973 was a seminal year for films and film makers. When you compare his competition, it's amazing that director Martin Scorsese's first studio feature "Mean Streets" even found an audience.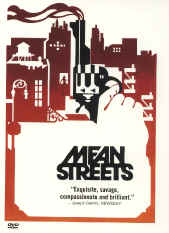 The competition that year? "Save the Tiger," "Paper Moon," American Graffiti," "Paper Chase," "The Way We Were," "Sleeper," "The Exorcist,' "The Sting," "Serpico" and "The Last Detail." Not to mention half-a-dozen films starring Clint Eastwood and Burt Reynolds. Still, Scorsese's semi-autobiographical tale of four friends doing what it takes to survive in New York's Little Italy left an indelible impression.
Made twenty- five years ago, "Mean Streets" is just as mesmerizing and potent today. Like his later films "Goodfellas" and "Casino," "Mean Streets" is about wise and not so wise guys. Harvey Keitel is excellent as Charlie, a small time hood who hopes to move up the ranks of the mob by running a restaurant they're getting ready to foreclose on. He needs his Uncle Giovanni's (Cesare Danova) help, which means keeping his distance from Johnny Boy (De Niro), bad news on two feet. Charlie is also instructed to stay away from Johnny's sister Teresa (Amy Robinson), whom the family shuns because she has epilepsy.
This makes Charlie's life a living hell because he feels for Johnny, who is irresponsible but a good guy nonetheless, and because Charlie is sleeping with Teresa. Charlie has also agreed to help Johnny Boy pay back Michael (Richard Romanus), another friend and a collector who is running out of patience. From the beginning Scorsese used imaginative and tricky camera work to tell his story. "Mean Streets" is filled with the now patented gee whiz camera work that puts us right in the middle of the action. Director of photography Kent Wakeford gives Scorsese exactly what he wants.
Scorsese also likes to fuel his action with classic rock songs, and "Mean Streets" is no exception. From the opening strains of "Be My Baby" by the Ronettes, "Mean Streets" uses more than two dozen songs to help set the mood. Many of the DVD chapter stops note the songs in that chapter. "Mean Streets" is filled with colorful characters and very adult dialogue and sexual situations. Working from a script by Scorsese and Mardik Martin, the actors create characters that are memorable.
Keitel is outstanding as the loyal friend, while De Niro proves early in his career that he was indomitable. David Proval and Richard Romanus are fine as the other half of the foursome. Shot in 27 days on a limited budget, "Mean Streets" has a sense of urgency. From the frame you feel that something bigger and better is coming. Scorsese delivers with a film that not only grows, but grows on you. By the end of the film you honestly care what happens to these people. That's the highest compliment.
COMPLETE CHECK-UP
VISION: [ ] EXCELLENT [ x ] GOOD [ ] RESUSCITATE [ ] D.O.A.
The action in "Mean Streets" takes place in smoky bars garishly lit in red neon, or in back alleys or rooftops illuminated by city lights, all enemies of the digital transfer. Despite some flaws on the film negative (the occasional flicker of light) "Mean Streets" looks decent on DVD. Delivered in it's original 1.85:1 widescreen ratio on one side of the disc and pan-and-scan on the other, the transfer is handsome considering the source material. Some extensive traveling shots try to make the best of limited lighting, and occasionally lose the battle. Fortunately, the transfer is pretty tight, so even during these less than stellar scenes I didn't notice any noticeable artifacts. The color palette is strong, the flesh tones distinctive.
HEARING: [ ] EXCELLENT [ x ] GOOD [ ] RESUSCITATE [ ] D.O.A.
"Mean Streets" is presented in Dolby Digital mono, so don't expect a lot. The songs have the quaint feel of AM radio, while the dialogue stands out from the ambient street sounds. It gets the job done.
ORAL: [ ] EXCELLENT [ x ] GOOD [ ] RESUSCITATE [ ] D.O.A.
Closed captioned for the hard of hearing and subtitled in French.
COORDINATION: [ ] EXCELLENT [ ] GOOD [ x ] RESUSCITATE [ ] D.O.A.
"Mean Streets" is one film that should have included an alternate audio commentary with Scorsese. As his first major studio film (the previous year he directed "Boxcar Bertha" for Roger Corman) and the first film to team him with Robert De Niro, "Mean Streets" screams out for more than just the customary production notes that are included here. Interactive menus, chapter stops and an original theatrical trailer are nice, but "Mean Streets" is a piece of cinematic history and deserves more.
PROGNOSIS: [ ] EXCELLENT [ x ] GOOD [ ] RESUSCITATE [ ] D.O.A.
Forget what's not included and concentrate on what you get. You get a great film by a great director starring one of the greatest actors of our time. It's a decent transfer, and filled with memorable performances and dialogue. You get both versions of the film for a price that's a steal. Any true Scorsese fan would be insane not to have this DVD in their collection.
VITALS: $19.95/Rated R/112 Min./Color/33 Chapter Stops/Snapcase/#15240
ATTENDING RESIDENT: John Larsen
PATIENT: MEAN STREETS
BIRTH DATE: 1973
HMO: Warner Home Video