Mean Girls
You can't miss them. Every high school has them. They walk through the halls like royalty. They date star athletes, wear the homecoming crown, edit the yearbook, and always look perfect. They're the high school clique with a stick up their collective butts, "Mean Girls," plastic pretties who make life a social nightmare for those who grovel at their $200 shoes.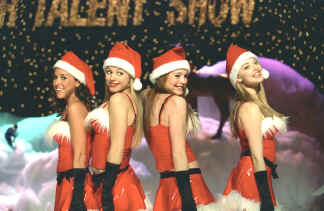 Equal parts "Clueless" "Sixteen Candles," and "Heathers," "Mean Girls" is 100% dead-on funny, a wickedly entertaining and smartly written tale of comeuppance that should appeal to anyone who ever crossed paths with Bitch Barbie and her plastic cronies.
"Saturday Night Live" head writer Tina Fey, working from Rosalind Wiseman's best seller "Queen Bees and Wannabes," delivers a screenplay that explores high school hierarchy, yet remains accessible to a much broader audience. It's impossible not to see a small piece of yourself in these characters, especially the fringe players who find themselves at odds with everyone.
Into this oddball clique arrives Cady Heron (a spunky Lindsay Lohan), a pretty albeit socially clueless girl making the leap from home schooling to high school. Cady's naiveté makes her the perfect addition to the "outsiders," nonconformists who don't subscribe to any of the designated cliques, thus making them a clique in their own right. When Cady is recruited by Queen Bee Regina (Rachel McAdams) to join the popular girls (known as Plastics), the outsiders see it as the perfect opportunity to put a spy inside their operation.
Innocence and power corrupt, and it's not long before Cady finds her newfound popularity addicting, shunning friends and turning into a plastic carbon copy. When Cady finally opens her eyes and sees her mistake, she uses the lesson to put the "Mean Girls" in their place. Even as Cady loses her way, it's important that we still rally for her, and Lohan, the remarkable young actress who made "The Parent Trap" and "Freaky Friday" sparkle, turns Cady into a winner.
We understand her need to explore new boundaries, but since Lohan endears Cady with sincerity, we know that she will do the right thing. McAdams is great as the girl you love to hate, while Fey as a concerned teacher and Tim Meadows as the principal lend excellent adult support. Director Mark Waters (Freaky Friday) once again displays a knack for extracting natural performances from his cast and mining golden situations from Fey's script.
Fey understands and respects the characters, never reducing them to caricatures. That makes their victories and comeuppance all the more sweet. I also appreciated the way Fey writes and treats the adults in "Mean Girls," making them more than just authoritative voice boxes. The principal fancies himself as a hard liner, but finds his hands tied by school policy. Fey's teacher believes that an assembly group therapy session is just what the students need. They may be misguided, but they are never played for fools.
Fey also makes good use of Wiseman's parallels between high school cliques and the animal kingdom. Having been raised by her zoologist parents in Africa, Cady applies her understanding of animal behavior to her Chicago high school classmates. These correlations make for some of "Mean Girls" funniest moments.
It's nice to know that Hollywood can still make movies about teenagers that speak to rather than down at them. Without standing on a soapbox, "Mean Girls" exposes simple truths.
Missed Personality
Comedy Turns Tables On Mean Girls
MEAN GIRLS
Lindsay Lohan, Rachel McAdams, Tina Fey, Tim Meadows, Amy Poehler, Ana Gasteyer, Lacy Chabert. Directed by Mark Waters. Rated PG-13. 96 Minutes.
LARSEN RATING: $7.00