Malibu's Most Wanted
The cinematic equivalent of a colonoscopy performed with a telephone pole, cross beams and all, "Malibu's Most Wanted" is more than just a pain in the butt, it's a drain on the brain, a membrane sucking monster without any soul or wit.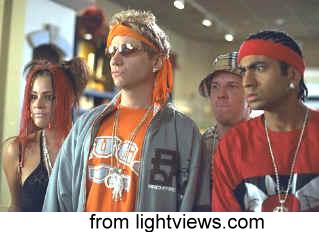 If Hollywood prosecuted cinematic war crimes, you would find "Malibu's Most Wanted" hanging in the middle of town square, a lesson to anyone thinking about attacking people's senses with mindless, stupid, and insipid attempts at comedy.
"Malibu's Most Wanted" is a one-joke comedy, and that joke is about as funny as shoving a hot, searing fork into your eye. If that's your idea of entertainment, then you might like this extended skit from star Jamie Kennedy's television show "The Jamie Kennedy Experiment." If not, a better alternative might be using your mouth to pick up the neighbor's dog poop in your front yard. Both will leave a bad taste in your mouth, but at least you won't have to pay for the privilege.
For those in the dark, Kennedy, who co-starred in the "Scream" series of films, hosts a television show where he plays various characters, pulling stunts on unsuspecting people. One of those characters, an annoying white rapper, was barely tolerable in four minute stretches. Eighty-plus minutes with this guy should qualify most audience members for a lifetime of free mental health care. This is the kind of movie where asking for your money back isn't enough. Extensive shock therapy or sticking your face in a wood chipper might make the pain go away.
Brad Gluckman (Kennedy), who grew up as a privileged white kid, emulates the hip hop culture so much that he goes by nickname B-Rad, and honestly believes that Malibu is his hood. While he gets support from his equally confused friends, B-Rad's state of mind worries his father Bill (Ryan O'Neal), a politician running for Governor of California. In order to rein in his embarrassment of a son, Bill allows campaign manager Tom Gibbons (Blair Underwood) to recruit two actors to portray black street toughs and teach B-Rad a lesson about the realities of hip hop life.
Unfortunately, the actors, Sean (Taye Diggs) and P.J. (Anthony Anderson), know absolutely nothing about the realities of street life, and turn to Shondra (Regina Hall), P.J.'s cousin and the girlfriend of an actual black gangsta', for help. So what we have is a white man posing as a black hip hopper, and two black men posing as black street thugs. The set-up is ripe for some scathing cultural comedy, but writers Fax Bahr, Adam Small, Jamie Kennedy, and Nick Swardson fail to capitalize on the obvious. It should be noted that Bahr and Small wrote the Pauly Shore comedies "In The Army Now" and "Son-In-Law." Enough said.
"Malibu's Most Wanted" is the latest comedy in which white characters make fools of themselves acting like black characters. This film makes "Bringing Down The House" look like "Citizen Kane." Hell, it makes the lame "Saturday Night Live" movie "It's Pat" seem like a comedy masterpiece. By the time Kennedy's plain white rapper shouts "Don't Be Hatin'" for the umpteenth time, you're way past that emotion.
SEE-THROUGH RAPPER Malibu hip hop wannabe is a wash out
MALIBU'S MOST WANTED
Jamie Kennedy, Taye Diggs, Anthony Anderson, Blair Underwood, Ryan O'Neal, Regina Hall. Directed by John Whitesell. Rated PG-13. 83 Minutes.
LARSEN RATING: $1.00