Lost in Space DVD
I must confess when I first saw the theatrical film "Lost in Space," I was less than thrilled. "Lost in Space" was one of my favorite childhood television shows. I loved the show so much that my friends and I would write our own scripts and turn my bedroom into the Jupiter 2.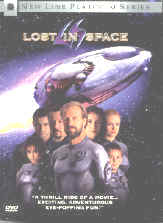 It was a wonderful period in my life, so I was somewhat distressed by what writer Akiva Goldsman had done with the Intergalactic Swiss Family Robinson. Series creator Irwin Allen intended "Lost in Space" to be a family drama, but with a little tinkering and the addition of co-star Jonathan Harris as the malevolent Dr. Smith, the series became high camp. Vegetable monsters, space bikers, wild and crazy costumes. Remember, it was the sixties, and the writers were probably on acid. Now back to the theatrical film. I liked the cast (with the exception of Lacey Chabert, whose Minnie Mouse helium voice almost broke my brain) and I liked the science-fiction elements. It was the fantasy elements I had a problem with. Like the computer generated creature named Blawp adopts. Not once do you believe that the creature exists in the same frame with the actors. Then there's that awful Dr. Smith bug creature at the end which looks like it wandered over from a Tim Burton set. So I wasn't thrilled the first time I saw the theatrical film. Upon closer inspection (and with all of my expectations already met or destroyed), I was happy to give the DVD of "Lost in Space" a spin. It's pretty much business as ususal for the Space Family Robinson, headed up by self-absorbed father John (William Hurt) and maternal mom Maureen (Mimi Rogers). There's daughter Judy (Heather Graham, who manages to keep her clothes on), Penny (Chabert) and son Will (Jack Johnson), a computer wiz (hey, every science-fiction film must have at least one!). With pilot Don West (Matt LeBlanc, very butch) and stowaway Dr. Smith (Gary Oldman at his most despicable), the Robinson's are on a mission to colonize on the opposite side of the universe. It seems Earth has depleted most of it's natural resources, and the Jupiter mission is civilization's last chance. Too bad, because the mission gets sidetracked thanks to Dr. Smith, who unwittingly programmed the robot to sabotage the flight. Now the Jupiter 2 is "Lost in Space." Aside from Goldsman's dumb dialogue, most of "Lost in Space" is pretty exciting stuff. I especially liked the nasty little space spiders that give the heroic Robinson's a real run for their money and lives.
COMPLETE CHECK-UP
VISION: [ x ] EXCELLENT [ ] GOOD [ ] RESUSCITATE [ ] D.O.A.
"Lost in Space" features more than 700 optical and digitally manufactured shots, so a lot of the film was created in a computer. Those controlled shots are seamlessly integrated into director of photography Peter Levy's stunning images. Transferred in it's original 2.35:1 aspect ratio on a RSDL disc, "Lost in Space" looks absolutely terrific. I kept looking for breakdowns in the digital transfer, and was pleasantly surprised not to find any. Nice, clean transfer void of any compression artifacts or pixelation. The colors are vibrant, while the flesh tones look realistic. No color timing problems here. The blacks are as good as they get. The sharp picture makes it easy to get lost in the action. No pan-and-scan version, but then, who would want one? "Lost in Space" is definitely a widescreen experience.
HEARING: [ x ] EXCELLENT [ ] GOOD [ ] RESUSCITATE [ ] D.O.A.
Dolby Digital 5.1 Stereo tracks are impressive, making it easy to appreciate the blood, sweat and tears that went in to the sound mix. The dialogue mix is clear and sharp, while the surround speakers jump to life with a sound mix that literally rocks the Casbah. "Lost in Space" begins with a space battle that sounds so authentic you're tempted to duck when debris comes flying at you. Explosive basses and spine tingling high frequencies put you right in the middle of the action. Bruce Broughton's score sounds like an orchestra is playing in your livingroom. And so it goes.
ORAL: [ ] EXCELLENT [ ] GOOD [ x ] RESUSCITATE [ ] D.O.A.
Closed captioned in English for the hard of hearing.
COORDINATION: [ x ] EXCELLENT [ ] GOOD [ ] RESUSCITATE [ ] D.O.A.
Once again, a New Line Home Video Platinum Series DVD steps up to the plate and hits a home run. The tag line on the back of the DVD claims "It's more than just a movie!" So true. There are so many extras and bonuses on the DVD you sometimes forget there's an actual film buried in there. The RSDL transfer puts all of the goodies on one side of the disc, so there's no flipping. The picture and sound are truly spectacular. Now on to the fun stuff.
» Two alternate audio commentaries. The first features director Stephen Hopkins and writer Akiva Goldsman. The second features visual effects supervisors Angus Bickerton and Lauren Ritchie, director of photography Levy, editor Ray Lovejoy and producer Carla Fry. Both tracks feature fascinating commentary, but it's the technical crew who win my vote for best commentary. While it's hard to tell the players without a program, I was more enamored with their observations than with the director and screenwriter. Hopkins seems uncomfortable, while Goldsman rambles on about how much "Lost in Space" was his favorite show. If that's true, why did he write such a crappy screenplay? Enough about Goldsman.
» Numerous deleted scenes, some in their raw form without special visual effects, and it's these little moments I treasure the most. Some are inconsequential, others play an import role in the shape of the film.
» The DVD pays tribute to the original show and cast, and features synopses of all of the original television episodes, plus cast bios. Original cast members June Lockhart, Angela Cartwright and Marta Kristen are also interviewed.
» Cast and crew bios and filmographies. Some of the cast bios feature film highlights from other New Line DVDs (William Hurt's features a clip of "Dark City").
» While most people skip through these printed materials, read them closely. The information will come in handy when you play the "Lost in Space" interactive "mission" game. You must answer all of the questions correctly in order to activate the hyper drive and save the Jupiter 2. That's not the payoff, however. Answer all of the questions correctly, and the DVD plays a blooper reel featuring some honestly funny outtakes. It took me several tries to reach the goal, but it was well worth it.
» Two mini-documentaries: "Building the Special Effects," an in-depth look at how the computer created some of the amazing special effects in the film, including the complete opening space battle. Then there's "The Future of Space Travel," an informative yet speculative look at where we're headed in space.
» Fans of production design will appreciate the extensive production design portfolio that covers all of the film's bases.
» The Apollo Four Forty music video of the theme song.
» Original theatrical trailer.
» Interactive animated menus are top of the line, and the scene access menus allow you to preview each scene before jumping to it.
» "Lost in Space" is more than an ordinary DVD. It's one of the first major studio DVDs to feature DVD- ROM bonus material. If you have a DVD-ROM on your computer, than you can access the complete screenplay (and print it out). Point and click on your favorite scene in the script, and the DVD jumps to it in the film. Wow! There are five interactive games, including "Create Your Own Planet," sort of a quasi- SIM City variation, "harmonic Planet," where you can compose your own music by mixing space sounds into a song, and an original "Lost in Space" 3-D virtual reality game. Some of the games and the DVD- ROM's website links require Internet access.
PROGNOSIS: [ x ] EXCELLENT [ ] GOOD [ ] RESUSCITATE [ ] D.O.A.
"Lost in Space" is one DVD that you don't have to be thrilled with the film to be thrilled with the DVD. It's an excellent DVD to show off what your system can do, and I found myself enjoying the extras on the DVD hours after the film ended.
VITALS: $24.95/Rated PG-13/130 Min./Color/24 Chapter Stops/Snapcase/#N4667
ATTENDING RESIDENT: John Larsen
PATIENT: LOST IN SPACE – PLATINUM SERIES
BIRTH DATE: 1998
HMO: New Line Home Video