Living Out Loud DVD
At first glance, "Living Out Loud" is a brash and sassy comedy about the human condition. Thanks to a literate and funny screenplay by writer-turned-director Richard LaGravenese, it's easy to get caught up in the moment.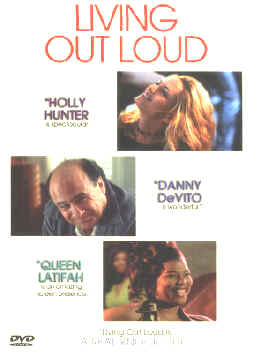 Then you get in your car, go home, and it's life as usual. "Living Out Loud" made me smile and grin, and laugh out loud, and it even touched me on occasion. The movie is that fresh. It's also paper thin, like rice candy, and once you've sucked off the outer layer, all you're left with is a mouthful of nothing. Still, that outer layer is mighty tasty LaGravenese, a screenwriter of note ("The Fisher King," "The Bridges of Madison County"), dishes up a delicious serving of human emotions and humor. He gets excellent support from his tremendous cast, especially Holly Hunter as a recent divorcee trying to establish her own identity. The problem with "Living Out Loud" is that it's all warm and fuzzy. It lacks the edge that would have made these desperate characters more interesting. The character's are interesting, but they really don't go anywhere. They're there to service the writer's ego. They say and do clever things, and even when life should be at it's lowest, they always spring back. That's Judith Nelson (Hunter), the human spring, whose divorce from her philandering husband (Martin Donovan, understated as usual) is blurring her sense of reality. Judith's line between reality and fantasy is quickly fading, allowing LaGravenese the opportunity to present both sides of Judith's state of mind. These little fantasies are humorous, and work well within the context of the film. At first, they catch you off guard, but after the third or fourth go round, you get the idea. That makes it hard to trust the film, which is a big mistake. It's easy to invest in the characters. Hunter makes Judith someone you would like to get to know. A former medical student who put her career on hold while her husband pursued his dream, Judith comes with a lot of baggage, and Hunter makes a great porter. It's a bold, brazen performance, and Hunter never flinches. Small in stature but big in heart, Pat is the elevator operator in Judith's upper East End New York apartment building. Pat is a swell guy, but his life is more like a tidal wave at the moment. He's just getting over the sting of divorce when his daughter dies of cancer. He also has a gambling problem that gets the better of him. There's chemistry between Judith and Pat, but she and we know it's not that kind of movie. Oh sure, there'll be nervous sexual tension between the two, but the only sack they are going to hit is one filled with rattlesnakes. Pat wants more from Judith, but she's determined not to complicate her life until she discovers who she really is. Her journey takes her to a nightclub where she meets blues singer Liz Bailey (Queen Latifah, better than she has ever been before), who becomes her confidant and companion in her quest for true love. Judith even has an anonymous encounter with a real charmer (Elias Koteas) in the alley behind the club, goes to a chic lesbian nightclub with Liz, and goes one-on-one with a super hunky masseuse. DeVito is excellent as Pat, a perpetual dreamer who knows there has to be something better than working for his brother (the always impressive Richard Schiff) in a bar. I don't really care for Rap music, but I really enjoy Queen Latifah in front of the camera. She's dynamite in "Living Out Loud." Liz Bailey is the kind of person anyone would want in their lives. She's sassy and alive. LaGravenese based "Living Out Loud" on two short stories by Anton Chekov, and the screenplay feels like a blend of ideas that never totally gel. The narrative is slim, only providing glimpses of the character's lives. The time frame is non-existent. The film as a whole looks marvelous. I especially liked the way LaGravenese opens the movie with one of those great, old-fashioned New York skyline shots. Having Queen Latifah sing over the credits is also inspired. The production design by Nelson Coates and gorgeous cinematography by John Bailey are outstanding. "Living Out Loud" is stylish and fun, and elicits the appropriate laughs and emotions while you watch it. When it's over, it is as memorable as an Aaron Spelling mini-series. The soundtrack stays with you, and luckily, that's available on CD.
COMPLETE CHECK-UP
VISION: [ X ] 20/20 [ ] Good [ ] Cataracts [ ] Blind
Gorgeous eye candy, the film's varied color scheme gets respect in the digital transfer. Filled with vibrant neon colors, warm interiors and bright exteriors, "Living Out Loud" looks tremendous. I didn't notice any compression artifacts or pixelation in the 2.35:1 widescreen transfer (enhanced at 16:9). The images were sharp and exact, while the color saturation is perfect. Bold, bright reds, cool, soothing blues and intense flesh tones that bring out the best in everyone. The blacks are impenetrable, while shadows and whites are strong and clean. Depth of field is strong, and attention to detail is admirable. Outstanding transfer all around.
HEARING: [ X ] Excellent [ ] Minor Hearing Loss [ ] Needs Hearing Aid [ ] Deaf
Pleasantly surprising 5.1 Dolby Digital Surround (there's also a Stereo Surround track) fills with the room with lush, rich music, exciting, realistic ambient noise, strong dialogue mix and an impressive range of high and low ends. The music is especially expressive, pouring out of every speaker with a crystal clarity that is free of any hiss or distortion. Outstanding stereo mix hits the mark every time, from the left-to-right stereo split to the front-to-rear spatial separation. Nothing rings false, including the subtle yet very distinct basses.
ORAL: [ ] Excellent [ X ] Good [ ] Poor
Closed captions in English for the hard of hearing.
COORDINATION: [ X ] Excellent [ ] Good [ ] Clumsy [ ] Weak
Nice collection of extras for a non-Platinum Series DVD.

Writer-director Richard LaGravenese puts on quite a show during his feature-length audio commentary. The writer-turned-director is very succinct in his delivery, and explores the character's development and growth with witty insights and observations. LaGravenese delivers the goods, including numerous behind-the-scenes moments that make these alternate audio tracks so precious. His story about the casting of the masseur is priceless.

On another alternate audio track, writers Stephen Schiff and Claudia Shear read the short stories by Anton Chekhov that inspired LaGravenese to write "Living Out Loud." Schiff reads Chekhov's short story "Misery," while Shear reads "The Kiss." Interesting addition.

The DVD includes five deleted or expanded scenes, including Queen Latifah's full version of "Lush Life." There's also a tender scene between Danny DeVito's character and his daughter in the hospital, and an extended flashback of Judith's first sexual encounter. While the scenes are not as clear as the film, they are a nice addition.

There's also handsome main and scene access menus, cast and crew bios and filmographies, and the film's original theatrical trailer.
PROGNOSIS: [ ] Excellent [ X ] Fit [ ] Will Live [ ] Resuscitate [ ] Terminal
While "Living Out Loud" isn't a keeper, it is a pleasant diversion for the moment, and the DVD is the best possible presentation.
VITALS: $24.98/Rated R/100 Minutes/Color/29 Chapter Stops/Snapcase/#N4726
ATTENDING RESIDENT: John Larsen
PATIENT: LIVING OUT LOUD
BIRTH DATE: 1998
HMO: New Line Home Video