Live and Let Die
Oh my! What do you do when the star of your action franchise takes a bow for the second time in a row? After having gone through the nightmare of replacing him once, the second search must have been daunting. That was the task of producers Albert R. Broccoli and Harry Saltzman, whose "James Bond" franchise had just lost its leading man, again.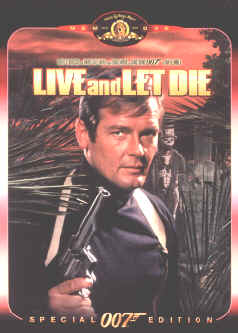 Sean Connery, the original "Never Say Never," had sworn off James Bond after "You Only Live Twice." Connery was replaced by Australian George Lazenby in "On Her Majesty's Secret Service" (still my favorite Bond film), who was then dropped when Connery agreed to return to the series in "Diamonds Are Forever." I'm sure the $1 million paycheck (at the time, a milestone) had something to do with it. "Diamonds" proved to be a one-time event for Connery, who dropped out once again, although he later turned up as an older James Bond in "Never Say Never Again." That left the producers with two options: (1) Find a new Bond; or (2) end the series. Who ever heard of a studio closing down a cash cow? The search was on for a new Bond. Burt Reynolds came close to replacing Sean Connery, but he was knocked out of the role when Roger Moore was asked to join the series. Moore, who was author Ian Fleming's first choice to play Bond back in the 60's, was a different sort of Bond from Connery's macho man. He was more dapper, definitely more British. Even in the middle of a gun battle or a love scene, he was always a gentleman. Moore was an excellent choice to replace Connery. His exposure on television's "The Saint" made him high profile, and when "Live and Let Die" went into production, he was still young and handsome (he looks kind of haggard in his last two Bond outings). He looks better in designer suits than Connery, but not out of them. Moore's physique is the perfect example why his Bond uses his wits more than weapons to get out of a right situation. "Live and Let Die" was more than the next Bond film. It was a test to see whether or not audiences would buy Moore as Bond. Switching Darren's mid-run on "Bewitched" is one thing, replacing the leading man of a popular film series is another. Audiences were hungry for more Bond, and "Live and Let Die" was a healthy dose of Bond, babes and bullets. Writer Tom Mankiewicz (you simply must listen to his audio commentary on the DVD) does wonderful things with Bond in "Live and Let Die." The character is allowed more down time, giving Bond more depth than ever before. The film is filled with exciting action and outrageous stunts, yet it is the character development that stands out. A lot of Bond characters are nothing more than cardboard cutouts, yet the ones that inhabit "Live and Let Die" are colorful and human. Jane Seymour is marvelous as Solitaire, the personal seer of Doctor Kananga (Yaphet Kotto). Kananga is responsible for the deaths of several agents, and Bond is dispatched to New Orleans to look for clues. His investigation takes him to Jamaica, where he encounters numerous obstacles, including Kananga's henchmen and a nasty encounter at a Crocodile farm. "Live and Let Die" is filled with numerous set pieces, including a wild and crazy boat chase through the Louisiana swamps that is truly breathtaking. Veteran Bond director Guy Hamilton guides Moore through his paces with assurance and lots of wit. The film is visually breathtaking, and includes a memorable score by George Martin and a hit theme song by Paul McCartney and Wings. Even though "Live and Let Die" didn't globetrot as much as previous and future Bond films, it does take you to unique places not normally seen on the screen. Moore would star in several more Bond films, his pinnacle being "The Spy Who Loved Me." Timothy Dalton took over the role for two films, followed by Pierce Brosnan, whose third outing as Bond arrives November in theater. I've always been a big James Bond fan, and have come to realize that Bond is much more than just the actor who plays him. The character is the star, and fortunately the producers haven't embarrassed themselves. In the 1970's, Bond was becoming a different animal, and "Live and Let Die" manages to tame the beast quite nicely.
COMPLETE CHECK-UP
VISION: [ X ] 20/20 [ ] Good [ ] Cataracts [ ] Blind
Outstanding 1.85:1 widescreen transfer enhanced at 16:9. Colors are absolutely vibrant, with stunning saturation that is never too hot or cold, plus flesh tones are realistic and pleasing. Blacks are strong and impenetrable, while a clean negative allows for pure whites and shadows. Depth of field is amazing, going on forever, while attention to detail is immaculate. Even the smallest details seem solid. There is a very minute amount of flecking, but no compression artifacts or pixelation. Patterns hold up remarkably well, while overall image is genuinely exciting to watch. Color scheme is attractive, including strong blues and yellows.
HEARING: [ X ] Excellent [ ] Minor Hearing Loss [ ] Needs Hearing Aid [ ] Deaf
Even though the DVD features the film's original mono soundtrack, it is stunningly clean and effectively delivered. Strong dialogue mix enhances the experience.
ORAL: [ ] Excellent [ X ] Good [ ] Poor
Closed captions in English for the hard of hearing, subtitles in French.
COORDINATION: [ X ] Excellent [ ] Good [ ] Clumsy [ ] Weak
MGM Home Entertainment delivers on their promise with this special edition that is truly worthy of the title. Here is the bang you get for your buck:

Two outstanding audio commentaries, one a running commentary with writer Tom Mankiewicz, the other a collection of remembrances with director Guy Hamilton and various cast and crew members. By far Mankiewicz is the one that deserves a thorough examination. The writer of six James Bond big screen adventures, Mankiewicz comes to the forum with enough vital information and casual shit chat to fill several commentaries. Since "Live and Let Die" was a transitional James Bond film, there is a lot of behind-the-scenes information being dispensed.

A compelling documentary called "Inside Live and Let Die" that provides interesting behind-the-scenes action and interviews with the principals. Fans of the series will appreciate every minute of this half-hour effort.

"On The Set with Roger Moore" is a fascinating home-movie experience that shows how Moore prepared for the role of James Bond. There is a hang-gliding lesson that shows Moore rigged up ready to fly, plus Moore's revelation why a certain actor was incorporated into the film.

A hilarious milk commercial made for British television that is making it's U.S. debut here.

Numerous television and radio spots, plus the film's original theatrical trailer.

Exciting, dazzling main menus that incorporate the images made popular by Maurice Binder.

A collectible booklet inside the DVD case with fascinating facts and behind-the-scenes tidbits.
PROGNOSIS: [ X ] Excellent [ ] Fit [ ] Will Live [ ] Resuscitate [ ] Terminal "Live and Let Die" lives on DVD, and quite nicely at that.
VITALS: $34.98/Rated PG/121 Minutes/Color/48 Chapter Stops/Keepcase/##907026
DATE EXAMINED: October 21, 1999
John Larsen
ATTENDING RESIDENT
ATTENDING RESIDENT: John Larsen
PATIENT: LIVE & LET DIE-SPECIAL EDITION
BIRTH DATE: 1973
HMO: MGM Home Entertainment