Lethal Weapon 4
"Lethal Weapon 4" was the first film I've ever known to gross $140 million and be considered a disappointment. Perhaps it was because the film cost something like $100 million to make and market, and that the major players had a first piece of the pie deal in place before agreeing to reprise their roles.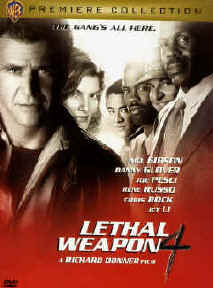 Maybe the scathing reviews kept people away. Who knows. Even though "Lethal Weapon 4" didn't strike gold at the box office like its predecessors, it's still whopping entertainment. Obviously audiences were waiting for "Lethal Weapon 4" to hit video and DVD, because the film has been the number one renting title for the past three weeks. It's not just hot, it's on fire. The DVD release of the film fans those flames until it becomes a four-alarm action film. Explosive action and wonderfully engaging characters create a volatile mix that results in two hours of non-stop thrills and laughs. Even though the script by Channing Gibson is all over the place, the film isn't an incoherent mess. It just takes a little time for all of the pieces of the puzzle to come together. The film starts off with a trademark "Lethal Weapon" action scene that pits detectives Martin Riggs (Mel Gibson) and Roger Murtaugh (Danny Glover) against a heavily reinforced gunman who is torching anything within distance. It's an insane moment that calls for an equally insane response. Riggs convinces Murtaugh to strip down to his underwear and distract the gunman long enough for Riggs to get off a shot to the flamethrower tank. The maneuver works, but Riggs ends up destroying half the street in the process. Normally Riggs and Murtaugh would be relieved of their duties, or even demoted for such reckless behavior. Instead, they're promoted to Captains. Now they've got new fish to fry, but not before they catch them on Murtaugh's new boat. In one of the film's most stunning sequences, Murtaugh's boat almost collides with an out of control freighter. While Riggs investigates, Murtaugh and Leo Getz (Joe Pesci) find themselves in the drink. After a violent encounter with some Chinese nationals, Riggs discovers that the freighter is being used to smuggle Chinese immigrants into the country. Feeling sympathetic for one of the families, Murtaugh invites them to stay with his family. Hiding illegal immigrants is the least of Murtaugh's problems. His daughter is pregnant, and he doesn't know that the father is young cop Lee Butters (Chris Rock) that keeps getting under his skin. When Riggs learns that girlfriend Cole (Rene Russo) is also pregnant, the film becomes one big family affair. Now these two war weary soldiers have a reason to take it easy and come back home alive. Even though they try, Riggs and Murtaugh find little time to relax when they discover that the illegal immigrants are tied to a notorious Chinese mob counterfeiting ring. To make matters even worse, the ring's leader will do anything to have the Chinese family returned to him. That includes sending an assassin (Asian action star Jet Li) to kill Riggs and Murtaugh. There's a lot more humor in "Lethal Weapon 4," but its needed to help offset the heavy duty action that permeates every frame. After three outings, the cast seems very comfortable together. We've known some of these characters for 12 years, and they feel like old friends when they get back together again. It's a pleasure to watch Gibson and Glover share the screen. Their chemistry is natural, their dialogue never stilted (even when the script is). Joe Pesci is more palatable here than in "Lethal Weapon 3." His character is more fun than annoying this outing. Rene Russo is always a delight to watch, and even pregnant, this lady has the moves. Newcomers Chris Rock and Jet Li are a welcome addition, with Rock getting in some good shots, and Li moving so fast he's a blur. Director Richard Donner keeps everything moving at a clip, never slowing down long enough for the audience to realize the absurdity of some of the situations. The cast helps gloss over some of the rough spots, almost winking at the camera that they know they're not doing Shakespeare. I didn't see "Lethal Weapon 4" in theaters. I waited until the studio sent me a screener on tape. That whetted my appetite for a widescreen version of the film. After watching "Lethal Weapon 4" on DVD, all I can say is I found it just as enjoyable as the others in the series. Hey, it's not art, but it does hang well next to the other "Lethal Weapon" films.
COMPLETE CHECK-UP
VISION: [ X ] 20/20 [ ] Good [ ] Cataracts [ ] Blind
A superior 2.35:1 widescreen transfer delivers the goods and then some. Vivid, startling colors, flattering, realistic flesh tones and blacks so solid they're impenetrable. Warner Home Video has been doing an outstanding job on their DVD mastering, and "Lethal Weapon 4" is no exception. The pristine negative produces virtually no compression artifacts. The colors are strong, while the film displays impressive depth of field. The DVD has been enhanced at 16:9 for widescreen televisions.
HEARING: [ X ] Excellent [ ] Minor Hearing Loss [ ] Needs Hearing Aid [ ] Deaf
Explosive 5.1 Dolby Digital Surround track not only rocks the Casbah, but all of the surrounding regions as well. I literally had to close all of the windows and doors in my home to fully appreciate the voracious soundtrack. The "Lethal Weapon 4" soundtrack not only kicks butt, it obliterates it. Since the film is one action-packed set piece after another, the soundtrack's main obligation is to pummel you with booming basses and screeching trebles. It accomplished both with aplomb. The stereo separation is superior, putting you right in the middle of the chaos. There's so much pin point precision ambient noise at work you'll swear it's real. The dialogue mix is strong and unencumbered, while the rest of the soundtrack is distortion free. When things explode in this movie, which is about every ten minutes, the basses are so powerful they literally suck the air out of the room. For an international treat, check out the 5.1 Dolby Digital track in French.
ORAL: [ ] Excellent [ X ] Good [ ] Poor
Closed captions in English and subtitles in French.
COORDINATION: [ X ] Excellent [ ] Good [ ] Clumsy [ ] Weak
Warner Home Video's new Premiere Collection gets a terrific send off with "Lethal Weapon 4." There's enough supplemental material here to qualify the title as a "Special Edition" DVD. Here's what you get:

A great audio commentary with director Richard Donner and the film's co-producers. Donner is very animated as he discusses maintaining the "Lethal Weapon" franchise and trying to make each one bigger and better. Donner is the perfect film liaison. Next to the film's leading men, he's one of the very few people who have been with the franchise since it's beginning. He knows all of the dirt, and as one of Hollywood's most successful director's, he also knows what he's talking about. The audio track is a must for anyone and everyone who enjoys going behind-the-scenes of a movie.

"Pure Lethal," a first-rate documentary/behind-the-scenes look at the "Lethal Weapon" franchise, hosted by Danny Glover. Glover takes us through numerous outtakes, bloopers and alternate takes from each of the four "Lethal Weapon" films. This is one of the best supplements I have had the pleasure of watching. There's so much here, and the fun never stops. I've heard that the "Lethal" sets are a lot of fun, and this 30-minute documentary proves it.

A generous selection of deleted scenes from the first three "Lethal Weapon" films that run the gamut. There's small little clips that seem to go nowhere, but the real interest is some of the longer scenes that in my opinion seem essential to the films they represent. There's one explosive scene from the first film where Gibson faces down a sniper overlooking a schoolyard. It's a tremendous scene that goes a long way to display his character's reckless ways. There are numerous scenes like this that combined with the "Pure Lethal" documentary make this DVD a must have.

"B" reel scenes that give us a front row seat during the filming of "Lethal Weapon 4." This is an extensive segment that allows us to watch a scene being shot through the lens of the "B" camera. It's a great addition as it shows with accuracy the madness that accompanies every scene. There's also some on- camera mugging going on here. This stuff is priceless.

You not only get all four "Lethal Weapon" theatrical trailers, but in the Reel Recommendations section, there are an additional five theatrical trailers, including "The Man Without a Face," "The Color Purple," Tequila Sunrise," and three more.

A healthy serving of on-screen interviews, including all of the major cast members, director Richard Donner and producer Joel Silver.

Cast & Crew biographies and filmographies, plus production notes.

Handsome main and scene access menus (that feature a generous 45 Chapter Stops).
PROGNOSIS: [ X ] Excellent [ ] Fit [ ] Will Live [ ] Resuscitate [ ] Terminal
"Lethal Weapon 4" may not have been a blockbuster in theaters, but it's all that and more on DVD. The Warner Home Video Premiere Collection DVD is more than lethal, it's eternal.
VITALS: $24.95/Rated R/127 Minutes/Color/45 Chapter Stops/Snapcase/#16075
ATTENDING RESIDENT: John Larsen
PATIENT: LETHAL WEAPON 4: PREMIERE COLLECTION
BIRTH DATE: 1998
HMO: Warner Home Video