The Last Starfighter
On the surface, "The Last Starfighter" is a sweet and unassuming movie. It's charming and quaint, a familiar story about one young man's dreams of escaping his dreary existence. You have to go a little deeper to understand that significance of "The Last Starfighter."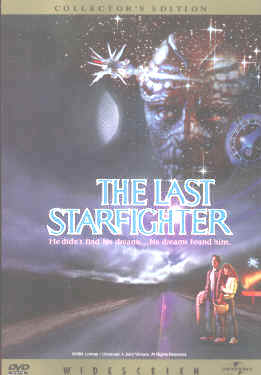 Released in 1984, it was the first theatrical film to utilize computer generated special effects designed to replace standard models and miniatures. While "Tron," released in 1982, used computer generated sets and props, they were designed to resemble computer graphics. What the visual effects technicians behind "The Last Starfighter" wanted to achieve was the ability to create effects that looked like the real thing. While technology has advanced to the point that visual effects artists can recreate dinosaurs and sinking ocean liners, the effort that went into the visual effects in "The Last Starfighter" was indeed striking for the time. Digital Production's president John Whitney Jr. and his crew did a dazzling job of creating spaceships, aliens, planets and star fields inside a computer. While the effects are obvious nowadays, they more than got the job done 15 years ago. It helped that "The Last Starfighter" was so engaging that audiences were willing to suspend disbelief for two hours and buy into the premise. I was one of those audience members who absolutely adored the film when it came out, and why not. It dealt with every young persons dream of finding himself in the universe. All Alex (Lance Guest) wants to do is leave the small trailer park in which he lives with his mother (Barbara Bosson) and younger brother Louis (Chris Hebert), and serves as the handyman for a group of eccentric residents. Alex's only escape is through his girlfriend Maggie (Catherine Mary Stewart) and a "Starfighter" video game that he's on the verge of beating. Frustrated because he's not allowed to join his friends for a day of fun, Alex tackles the "Starfighter" game with a vengeance, finally beating the high score. Unbeknownst to Alex, the game is actually a recruitment tool for the real thing, and since he has proven his mettle, has been chosen to join the elite Star League to fight the evil KO-DAN. Alex is brought into the fold by Centauri (Robert Preston in his last role), an intergalactic recruiter who sees salvation in Alex. After a brief training period, Alex is teamed with alien fighter Grig (Dan O'Herlihy, under a ton of appliances) to save the Star League from certain extinction. One of screenwriter Jonathan Betuel's best devices is placing a "beta" version or clone of Alex back on Earth so he won't be missed. This allows director Nick Castle to ground the film while exploring science- fiction themes. Instead of placing all the emphasis on the outer space heroics of Alex, we also get to enjoy his clone discovering life on Earth (sort of "Starman" light). This way the filmmaker's get to have their cake and eat it too. The plot is simple and to the point, but that is part of its charm. Light years better than most films derived from video games ("Wing Commander" instantly comes to mind), "The Last Starfighter" never pretends to be anything more than it is. It helps to have someone like Robert Preston along for the ride, who makes Centauri an intergalactic Harold Hill, always selling something. Even though it may seem dated by today's standards, "The Last Starfighter" remains an enjoyable escape.
COMPLETE CHECK-UP
VISION: [ ] 20/20 [ X ] Good [ ] Cataracts [ ] Blind
Generally agreeable 2.35:1 widescreen transfer, although the computer-generated effects look much cleaner than the filmed images. Some contrast is to be expected, so it's not a total surprise, but it's also disconcerting to bounce from pristine, sharp as a tack imagery to some rather flat filmed images. That aside, what is left is actually pretty decent for a digital transfer. Colors are good, never over saturated, while the blacks (so very important in a space film) are industrial strength. There are a couple of flaws on the original negative, so the final product isn't pristine. Flesh tones are flattering to a point, while the whites and shadows do their job without apology. The DVD has been enhanced at 16:9 for widescreen televisions.
HEARING: [ X ] Excellent [ ] Minor Hearing Loss [ ] Needs Hearing Aid [ ] Deaf
Enjoyable, almost playful 5.1 Dolby Digital Surround soundtrack puts you in the middle of the action without overwhelming you. Nice stereo separation (both left to right, and front to back spatial separation), while the surround effects seem accurate. Ambient noise is light but still effective, while the dialogue mix is superb. No leaning forward to hear any of the lines here. Craig Safan's musical score pours out of the speaker with assurance, producing clean highs and lows. The basses aren't booming but get the job done.
ORAL: [ ] Excellent [ X ] Good [ ] Poor
Closed captions in English for the hard of hearing, subtitles in French.
COORDINATION: [ X ] Excellent [ ] Good [ ] Clumsy [ ] Weak
While not nearly as jam-packed as some Universal Collector's Editions, "The Last Starfighter" does include the sort of extras that warrant the status.

First and foremost is the Sharpline Arts documentary "Crossing the Frontier: The Making of the Last Starfighter,"a comprehensive behind-the-scenes look at the film's breakthrough visual effects, plus then- and-now comments from numerous cast and crew members. Star Lance Guest hosts the documentary, but his presentation is so halted you wonder if he is a animatronic. I don't know if he was instructed to talk like that or if it was an artistic decision, he sounds like he has a giant stick up his rear end. Regardless, the rest of the documentary is ripe with special effects secrets that were used to make "The Last Starfighter" fly. Some big names in the business of visual effects check in with their thoughts on the process that was used to create all of the film's computer generated effects. Writer Jonathan Betuel and director Nick Castle also take us through the birth of the film and screenplay, and explain why certain artistic changes were made. Interesting stuff. There's also a neat feature that allows you to isolate Craig Safan's musical score that plays under the documentary.

Next is the full-length audio commentary with director Nick Castle and production designer Ron Cobb. What better two people to sit down in a room and force to watch the movie and make comments than Castle and Cobb. They were responsible for the look of the film, and their comments are appreciated. I like the fact that they are actually watching the film while they reminisce because it makes the commentary more real. There's no script or grand plan, just two professionals admiring their work and passing along words of wisdom. My only complaint is that the commentary is only accessible through the main menu. For some reason you can't just alternate between film soundtrack and commentary with the click of a button.

You get two theatrical trailers for the film, one the full-length theatrical, the other a teaser. There's also a theatrical trailer for "Major Payne" under Nick Castle's filmography.

Nicely written bios and well researched filmographies of the major players.

Handsome, fun, easy to navigate main and scene access menus that contain some playful animation and dialogue.

A healthy selection of stills and behind-the-scenes photographs in several galleries, including a look at the film's original ending.

Web links to Universal Studios Home Video's Internet site.
PROGNOSIS: [ X ] Excellent [ ] Fit [ ] Will Live [ ] Resuscitate [ ] Terminal
"The Last Starfighter" wins on charm alone, but there's enough here to make this a valuable addition to your DVD collection.
VITALS: $34.98/Rated PG/101 Minutes/Color/18 Chapter Stops/Keepcase/#20519
ATTENDING RESIDENT: John Larsen
PATIENT: THE LAST STARFIGHTER-COLLECTOR'S EDITION
BIRTH DATE: 1984
HMO: Universal Studios Home Video