The Ladykillers
Ever wonder why filmmakers don't remake bad movies? Why do they always pick good movies? Is it conceit? The opportunity to fix something that isn't broken?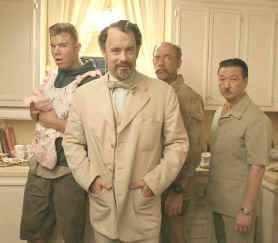 "The Ladykillers" is a classic. Not just a classic of its kind, but a classic. The original 1955 version starring Alec Guiness stands the test of time. It's funny, literate and madcap. It's not just a film, it's a part of history, a movie that helped shape the future of British comedy for decades to follow. It was also the last film to be made at the legendary Ealing Studios
Almost fifty years later we have "The Ladykillers," a remake with a pedigree longer than John Holmes at an all-you-can-eat orgy. The remake was written and directed by Joel and Ethan Cohen, two cutting edge filmmakers who seem to be dividing their time between making challenging films like "The Man Who Wasn't There" and "Fargo" with stabs at commercial success. Unfortunately, "The Ladykillers" looks and feels more like an exercise in box office rather than serious film-making.
Tom Hanks leaps head first into the role of Professor Goldthwait Higginson Dorr, a seemingly sweet, innocuous teacher who is in fact a con man. With his Colonel Sanders mop of hair and southern drawl, Hanks manages to erase all trace of original star Guinness from the role, but that isn't necessarily a good thing. Guinness was more calculated and cunning. Hanks sounds like he's auditioning for a Georgia Used Car commercial.
The Coen Brothers have updated the story and set it in the American South, where Hanks and his comrades in crime dupe an elderly black woman (the wonderful Irma P. Hall) into renting them a room, unaware that they need it to rob a floating casino. As usual, the Coen Brothers manage to create a unique gallery of quirky individuals, but bury them under the plot's larger-than-life theatrics. These aren't characters but caricatures.
Anyone interested in catching the original 1955 British version of "The Ladykillers" can pick up Anchor Bay Entertainment's recently re-released DVD from their Alec Guinness Collection. Guinness as Professor Marcus, and Katie Johnson as Mrs. Wilberforce, make delightful sparring partners, a diabolical criminal mastermind and a supposedly sweet old lady. Director Alexander Mackendrick (Sweet Smell of Success) and writer William Rose, working for the famed Ealing Studios, create one of the funniest British comedies ever, a rambunctious caper that takes all sorts of delicious twists and turns. With a cast that includes the late Peter Sellers and Herbert Lom (long before they stepped into Blake Edward's "Pink Panther" franchise) and a grand sense of dark humor, "The Ladykillers" is one classic that really didn't need a remake. The DVD includes the widescreen edition of the film, a theatrical trailer and a Guinness Bio.
Southern InhospitalityBrothers Coen attempt to clone classic caper
THE LADYKILLERS
Tom Hanks, Irma P. Hall, Marlon Wayans, J.K. Simmons, Tzi Ma, Diane Delano, Ryan Hurst. Directed by Joel & Ethan Coen. Rated R. 104 Minutes.
LARSEN RATING: $4.00