L.A. Confidential
Like Roman Polanski's "Chinatown," "L.A. Confidential" perfectly evokes a time and place. An engaging crime drama about corrupt cops set in the 1950's, "L.A. Confidential" transports us to another era bathed in exquisite period detail.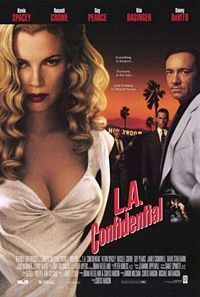 Director Curtis Hanson, working from a script he co-wrote with Brian Helgeland, delivers vivid characters and fascinating situations, all wrapped up in a wonderful piece of film noir. Welcome to a world where everything is off the record, on the QT and very hush-hush. A crooked world where straight arrow cop Ed Exley (Guy Pearce) finds himself involved in a homicide cover-up that could end his career, his life, or both. When the patrons of a small diner are murdered, three Los Angeles detectives find themselves embroiled in a web of deceit.
There's Jack Vincennes (Kevin Spacey), who acts as a consultant for a popular police television show when he's not running scams with sleazy tabloid editor Sid Hudgeons (Danny DeVito); Bud White (Russell Crowe), the good guy with a bad temper who falls for high-priced call girl Lynn Bracken (Kim Basinger); and Exley, the only cop in his precinct to walk the thin blue line. When their paths cross, all hell breaks loose in an explosive and riveting finale. "L.A. Confidential" landed on over 100 year-end critic's list as one of the best films of the year, and was nominated for nine Academy Awards. Kim Basinger won for Best Supporting Actress, and Hanson and Helgeland won for Best Screenplay, Adaptation.
COMPLETE CHECK-UP
VISION: [ X ] EXCELLENT [ ] GOOD [ ] RESUSCITATE [ ] D.O.A.
A beautiful RSDL transfer that perfectly captures the subtleties of Dante Spinotti's Oscar-nominated cinematography in it's original widescreen 2.35:1 widescreen format, enhanced for widescreen TVs. The neon lit scenes glow with natural colors and flesh tones. No noise or garbage here.
HEARING: [ X ] EXCELLENT [ ] GOOD [ ] RESUSCITATE [ ] D.O.A.
Dynamic separation and crystal-clear Dolby Digital 5.1 Surround tracks help transport you into the film. Intricate sound editing that earned an Oscar-nomination is intact, while Jerry Goldsmith's lush score peppered with songs from the era engulf you with their full, rich sound. There's also a 5.1 French language track, and a 5.1 music-only track that makes for great listening.
ORAL: [ X ] EXCELLENT [ ] GOOD [ ] RESUSCITATE [ ] D.O.A.
Subtitled in English, French and Spanish.
COORDINATION: [ X ] EXCELLENT [ ] GOOD [ ] RESUSCITATE [ ] D.O.A.
The "Special Edition" of "L.A. Confidential" is a perfect showcase for all of the extras that DVD can deliver. Three documentaries takes you behind the scenes of the film, the best being Hanson's "Photo Pitch," a collage of images he used to convince the studio to make the film. There's also cast and crew interviews, and a wonderful, interactive map tour called "The L.A. of L.A. Confidential." Just click and point anywhere on the map, and you're taken to the actual location used in the film. There's also background information on how each site was utilized. Jerry Goldsmith's haunting score is available as a separate audio track, while the DVD also features three television spots, theatrical trailers, scene access, and the usual production notes. A perfect presentation.
PROGNOSIS: [ X ] EXCELLENT [ ] GOOD [ ] RESUSCITATE [ ] D.O.A.
A great film, a great transfer, and great extras. Gee, this DVD is just great. A must for all DVD collections.
VITALS: $24.98/Rated R/138 Min./Color/40 Chapters/Snapcase/#14913
ATTENDING RESIDENT: John Larsen
PATIENT: L.A. CONFIDENTIAL
BIRTH DATE: 1997
HMO: Warner Home Video