Kingpin
It's hard to believe that after the success of "Dumb and Dumber" that the Farrelly brothers, Peter and Bobby, would strike out with this simply outrageous bowling comedy. Even though they redeemed their box office clout with "There's Something About Mary," "Kingpin" remains a mystery.
It's the perfect companion piece to "Dumber" and "Mary," a raunchy, rollicking comedy that manages to push the envelope as far as a PG-13 rating will allow.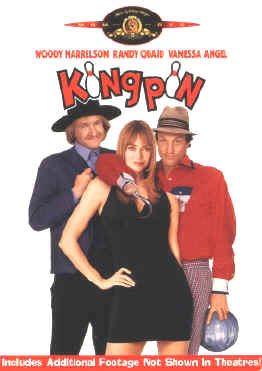 Even then, some of the humor was so out there that I was surprised the film didn't garner an "R" rating.
Now, thanks to the Farrelly brothers and MGM Home Entertainment, "Kingpin" is rated R. Four minutes trimmed from the film to arrive at a PG-13 have been reinserted, and the results are even funnier. "Kingpin" is one big, loud laugh from start to finish, with enough heart in it (a trademark of both "Dumber" and "Mary") to keep the film grounded. Woody Harrelson is excellent as Roy Munson, former State Bowling Champion turned salesman after a nasty encounter with some disgruntled bowlers took his right hand.
Alternating between a hook and a rubber hand, Munson makes the rounds hawking bathroom and bowling accessories. In just 17 years Munson has gone from golden boy to desperate loser, putting up with a nasty landlady and a dead end job. All that changes when Munson encounters Amish bowler Ishmael (Randy Quaid, so funny it hurts). A born natural, Ishmael sneaks away from his duties and family to practice the sport he loves. Seeing Ishmael as his chance at redemption, Munson follows him back to his family's farm, where he makes a desperate attempt to wine and dine the young man into playing in the big upcoming tournament. Determined to follow his faith, Ishmael refuses, but when his family becomes desperate for money, he agrees.
Munson and Ishmael set off on a road trip that includes numerous side trips, including a fateful encounter with a ruthless hustler who decides to teach the boys a lesson. They also pick up extra baggage in the form of the hustler's girlfriend Claudia (Vanessa Angel), who joins the boys as their good luck charm and a love interest. When they finally arrive at the big tournament, Munson is surprised to learn that their competition is Ernie McCracken (Bill Murray with the wildest hair), an old nemesis responsible for his hand. In true underdog fashion, Munson is forced to fill in for Ishmael at the last minute, pitting the two rivals against each other.
Fortunately, the brothers Farrelly (and writers Barry Fanaro and Mort Nathan) never succumb to the obvious. They lay out the expected jokes, but then they twist them just enough to catch you totally off guard. There's a lot of risky material in "Kingpin," but it's treated so outrageously that you can't help but laugh. The cast is uniformly good, especially Harrelson, Quaid and Murray, who totally invest themselves in the material. Harrelson's transformation from golden boy to hack is accomplished by having him shave the top of his head for a bald look, which he constantly tries to cover up with a wicked comb over.
Murray's hair is also a highlight, especially during the big finale where it takes on a life all its own. Quaid is such a sport, willing to do anything and everything to make Ishmael sweet and unaffected. There's one bathroom scene that is an absolute scream because it is so out there. "Kingpin" should have been a huge hit. Maybe now on DVD it will get the respect it deserves.
COMPLETE CHECK-UP
VISION: [ X ] 20/20 [ ] Good [ ] Cataracts [ ] Blind
Sharply rendered 2.35:1 widescreen transfer (there's also a standard version on the flip side) shows great definition and color saturation, with good attention to detail. The colors are vivid, the flesh tones flattering. Cinematographer Mark Irwin's gorgeous palates get all the respect they deserve. The blacks are solid as a rock, while the shadows and whites are clean and pure. No signs of compression artifacts. Superior depth of field delivers excellent composition.
HEARING: [ X ] Excellent [ ] Minor Hearing Loss [ ] Needs Hearing Aid [ ] Deaf
Playful 5.1 Dolby Digital Surround track has a lot of fun with the film's subject matter. Crank up the volume and you'll swear bowling balls are barreling down the middle of your home theater. Outstanding dialogue mix never misses a beat, allowing the jokes to come through loud and clear. Excellent stereo split, both left to right and front to back, with well timed spatial separation. Ambient noise is superior and realistic, while the basses are enjoyable without being overpowering. The middle and high ranges are clean as they come, providing for a crystal clear presentation.
ORAL: [ ] Excellent [ X ] Good [ ] Poor
Closed captions in English for the hard of hearing, subtitles in French.
COORDINATION: [ ] Excellent [ X ] Good [ ] Clumsy [ ] Weak
The "Kingpin" DVD comes with some admirable extras, including a running audio commentary by directors Peter and Bobby Farrelly, which is both a bane and a boon. Even though the brothers share lots of interesting and informative behind-the-scenes tidbits, their running commentary is filled with way too many personal observations that hold little interest to the general viewer. They spend a lot of time pointing out their friends and associates in the film, a practice that gets tiresome after they identify the same people five or six times. We get the point, guys. The Farrelly brothers also ramble on about all the great stuff that didn't make the final cut (even though four minutes of additional footage had been edited back in). These observations wouldn't be so bad if the extra footage were included as supplementary material, but it sort of defeats the purpose of DVD's talking about rather than showing these moments. I won't mention what the additional four minutes contain (enough to get the film an "R" rating), because that wouldn't be fair to those who are dying to see the new version. The main menus are alive and funny, and the DVD also contains the original theatrical trailer, and an 8-page booklet with production notes. What, no cast and crew bios or filmographies?
PROGNOSIS: [ X ] Excellent [ ] Fit [ ] Will Live [ ] Resuscitate [ ] Terminal
Forget the bottled variety, the real "Wild Turkey" is in this outrageous bowling comedy.
VITALS: $24.99/Rated R/117 Minutes/Color/28 Chapter Stops/Keepcase/#906275
ATTENDING RESIDENT: John Larsen
PATIENT: KINGPIN: SPECIAL EDITION
BIRTH DATE: 1999
HMO: MGM Home Entertainment