Jawbreaker
Oh boy! Another wicked teen comedy. Gag me with a spoon! How about gagging someone with a jawbreaker? That's right, one of those hard, round, suck them until you're blue in the face candies that leave your mouth raw. Have you ever put one of those things in your mouth and almost swallowed the damned thing?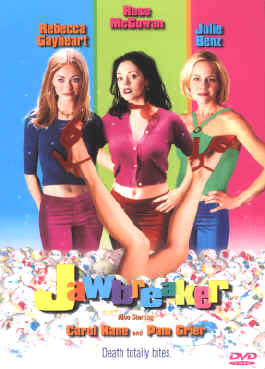 That's a scary feeling. Imagine how poor prom queen Liz Purr (Charlotte Roldan) must have felt when her three best friends kidnaped her on the morning of her birthday? It's a tradition among the "Fearless Four" of Reagan High. You get kidnaped, tied up, dumped in a car trunk, and then taken out for breakfast. Okay, it's a little twisted, but it's a tradition. Which is why no one thinks twice about the kidnaping until Liz's friends open the trunk and find her dead.
It seems as an added twist, leader Courtney (Rose McGowan) placed a jawbreaker in Liz's mouth before applying the duct tape. En route to her birthday breakfast, Liz swallowed the jawbreaker and choked to death. Talk about a bummer. Now Courtney and fellow conspirators Julie (Rebecca Gayheart) and Marcie (Julie Benz) must make the death look like an accident. Even better, they drag Liz's body back to her home, and make her death look like a vicious rape and murder.
That gets them off the hook with the law, but they have an even bigger problem to contend with: Fern Mayo (Judy Evans Greet). She's the school mouse, a meek and mild girl who is afraid of her own shadow. Fern is also the only person who knows the truth, and in order to silence her, the girls make her a member of their clique. That means a "My Fair Lady" make-over and attitude adjustment, but it is not long before Fern gets into the swing of things. That's the set-up of writer-director Darren Stein's vicious little comedy.
In the same vein as "Heathers," "Jawbreaker" manages to find humor in high school cruelty, and like "Heathers," Stein even manages to slip in a nice little message without sounding preachy. Even though the story is overly familiar, Stein's take is hip and witty. His dialogue bristles, while the actors all seem on the same page in regards to the film's tone and level of humor. Rose McGowan makes an excellent queen bitch, ready to spin her web and attack at a moments notice.
Rebecca Gayheart has several fine moments as the only girl in the group with a conscience. The biggest surprise is Judy Evans Greet, whose transformation from ugly duckling to swan is quite amazing. She shines in every scene. Technically, "Jawbreaker" is sound, and features a catchy soundtrack.
COMPLETE CHECK-UP
VISION: [ X ] 20/20 [ ] Good [ ] Cataracts [ ] Blind
Outstanding digital transfer maintains the film's original 1.85:1 widescreen aspect ratio. The colors are cheery and bright, with excellent saturation. Flesh tones are alive and vivid, while the blacks are so strong they absorb light. A clan original negative allows for the best possible transfer, with not one iota of digital compression artifacts in sight. Instead, enjoy the film's sharp, clean images that display strong depth of field and nice attention to detail. The clean negative also provides for sharp whites and shadows. The DVD also features a full-frame version of the movie.
HEARING: [ X ] Excellent [ ] Minor Hearing Loss [ ] Needs Hearing Aid [ ] Deaf
Sharp, vivid 5.1 Dolby Digital Surround soundtrack packs quite a punch. Your sound system will come alive thanks to the superior basses, strong middles and pure high ends. Everything sounds immaculate, from the edgy ambient noise to the stereo surround effects that engulf you with their power and strength. Left to right stereo split is precise without being gimmicky, while the front to rear spatial separation sounds correct. Rear speaker action is especially strong, excellent split. Dialogue mix is excellent, while the music sounds live. The soundtrack is also available in a more conventional 2-Channel Surround that is just as expressive, but not as definitive.
ORAL: [ ] Excellent [ X ] Good [ ] Poor
Closed captions in English for the hard of hearing.
COORDINATION: [ ] Excellent [ X ] Good [ ] Clumsy [ ] Weak
Catchy, day-glow main and scene access menus, plus production notes and bios of the cast and director. Director Darren Stein also clocks in with a full-length audio commentary, and his thoughts and opinions are engaging and informative. There's also four theatrical trailers, including "Jawbreaker," "Can't Hardly Wait," "Gattaca" and "Urban Legend."
PROGNOSIS: [ X ] Excellent [ ] Fit [ ] Will Live [ ] Resuscitate [ ] Terminal
If sick, twisted, hip dark humor is your thing, then by all means add "Jawbreaker" to your shopping list.
VITALS: $24.98/Rated R/87 Minutes/Color/28 Chapter Stops/Keepcase/#03615
ATTENDING RESIDENT: John Larsen
PATIENT: Jawbreaker
BIRTH DATE: 1998
HMO: Columbia-TriStar Home Video