In the Realm of the Senses
I live in a medium sized town about fifty-miles above Los Angeles. In 1976, our showcase movie theater was a three screen multiplex that had opened in the local mall. It was a Mann theater, and for simple folk raised on those annoying large single screen theaters, it was something to behold.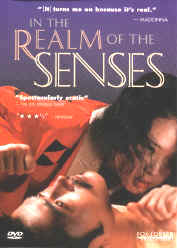 Three screens right next to each other. I mean, you could walk from one theater to the next and see all of the movies. One of my best friends was the assistant manager at the theater, so I spent a lot of time there. I didn't have to sneak back and forth, but there were those who did. Art films very rarely played in our town. They never made it over the hill. So you can imagine my surprise when the triplex got notorious Japanese director Nagisa Oshima's daring "In the Realm of the Senses." "Senses" was one of those films you read a lot about (it was banned at the New York Film Festival in 1976) or saw fleshy stills of in Playboy magazine. I never imagined that it would play here. The line-up that day was: Theater 1- the re-release of "Jaws"; Theater 2 – Some animated Disney film; Theater 3 – "In the Realm of the Senses." It was in the theater furthest down the hall, do hopefully those looking for family fun or Spielberg scares wouldn't accidentally walk in to the wrong theater. I arrived late that day, so I missed the first fifteen minutes. No big deal, I thought. I'll just catch the beginning the next time it plays. So I walk in the theater, and whoa! There's a Japanese woman doing a Monica Lewinsky on some Japanese guy. I thought I had walked into a Tokyo Pussycat Theater. This was art? Thank God they put saltpeter in the popcorn. I had seen some Japanese soft core films before, but the actors weren't allowed to show any pubic hair. They had to wear the equivalent of a stripper's G-string. No actual sex, just implied. "In the Realm of the Senses" was the real thing. No wonder it has been banned in Japan since it's release. Based on a true story, "In the Realm of the Senses" stars Eiko Matsuda as Sada, a former prostitute who now works as a servant in a private home. Sada becomes sexually obsessed with the master of the house, Kichizo (Tatsua Fuji, who certainly won't cause any American male porn stars to lose any sleep), a man who will do it anywhere, with anyone. He's hot to trot, and Sada likes a good ride. These two are insatiable, and actually seem to be doing "it" during their erotic encounters. Director Oshima must have gotten a lot of flack for this film. It's sexually explicit, but it's not like any porn film I have seen. Matsuda and Fuji seem to be actors first who were willing to get down and dirty for the sake of their art. There's a lot of flesh on display, and some heavy-duty sex that will shock some and titillate others. In regards to Kichizo, Sada seems to free "Willy" more than the folks at Warner Brothers. As the couple's sexual appetite increases, so does their desire for more kinky sex. "In the Realm of the Senses" has it all. Sada's obsession with Kichizo's private parts climaxes with her performing a John Wayne Bobbitt on him and then wandering the streets aimlessly with the male member in her possession. Gee, some girls are happy with jewelry. Even at it's most explicit, "In the Realm of the Senses" is a film that can't be denied. After more than twenty years, it remains a powerful film that takes chances. It won't be everyone's cup of tea.
COMPLETE CHECK-UP
VISION: [ ] EXCELLENT [ ] GOOD [ x ] RESUSCITATE [ ] D.O.A.
Originally shot in an aspect ratio of 1.96:1, "In the Realm of the Senses" has been transferred in pan-and-scan. I don't understand this. You would think that art house classics would get the treatment they deserve on DVD. But no! The digital transfer is okay, but a scratched original negative detracts from the overall look of the film. The blacks aren't nearly as firm as they need to be, while the flesh tones are nice but seem to run. There's a lot of flesh on display, so it's very noticeable. Director of Photography Hideo Itoh's golden hued scenes look fine, but would have looked even better in their original widescreen ratio. Single-sided disc doesn't look awful, but probably could have looked sensational with a little more care.
HEARING: [ ] EXCELLENT [ x ] GOOD [ ] RESUSCITATE [ ] D.O.A.
Not much here, a Dolby Digital 1.0 Surround track. There's lots of grunting and groaning, which sound horny enough, so I guess the sound mix gets the job done.
ORAL: [ ] EXCELLENT [ ] GOOD [ x ] RESUSCITATE [ ] D.O.A.
English subtitles that can be turned on and off.
COORDINATION: [ ] EXCELLENT [ ] GOOD [ x ] RESUSCITATE [ ] D.O.A.
No-threat interactive menus are your basic point and click affair. Scene access and extremely brief filmographies of the director and leading lady complete the package.
PROGNOSIS: [ ] EXCELLENT [ ] GOOD [ x ] RESUSCITATE [ ] D.O.A.
Okay, so did I sit through "In the Realm of the Senses" because I wanted to do an accurate DVD report, or did I sit through the film again to refresh my memory just how explicit it was. I guess a little of both. I was hoping for more (better), but the mere fact that this Japanese "Caligula" is even available on DVD is worth something. It's respectable porn, the type of title you won't feel embarrassed to have displayed in your collection. For the rest of you, it all depends on your interest in Japanese and art house films.
VITALS: $24.95/Not Rated/104 Min./Color/9 Chapter Stops/Keepcase/#FLV5037
[WARNING: The following review describes a film that includes adults only subject matter. While I take a lighthearted approach to the subject, some may still find these matters objectionable.]
ATTENDING RESIDENT: John Larsen
PATIENT: IN THE REALM OF THE SENSES
BIRTH DATE: 1976
HMO: Fox Lorber Home Video