Housesitter
I remember how anxious I was to see "Housesitter" when it first came out. Honest. I mean, the pairing Steve Martin and Goldie Hawn was a long time in coming. They're a natural match. Martin had just come off the remake of "Father of the Bride," in which he showed a sweeter side.
Hawn is one of my favorite actresses. She makes me laugh, and I count "Private Benjamin" and "Seems Like Old Time" among my favorite comedies.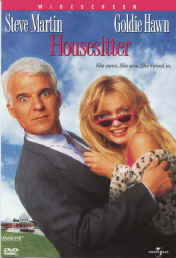 So you can understand my high expectations. To be honest, I was disappointed by the film the first time I saw it. I don't know what I was expecting, but something wasn't right. The film was funny and I laughed in all the right places, but it didn't pop out of the screen and embrace me. That was six years ago.
I remember "Housesitter" fondly, but not memorably. Then I get a chance to review the DVD. Sure, why not. My other choice was shaving the cat with toe nail clippers. Now I understand what was wrong the first time I saw "Housesitter." My expectations were too high. I set the bar so high it probably would have been impossible for any film to beat it. Guess what?
I loved "Housesitter." What a charming, sweet and funny movie, filled with clever dialogue and great performances. Hawn is absolutely brilliant as Gwen, a woman who couldn't tell the truth if it hurt. Bring a shovel, because Gwen piles on the bull. Martin is wonderful as Newton Davis, the impetuous architect who has the good/bad fortune to bump in to Gwen.
Davis is coming off a failed relationship with Becky (the lovely Dana Delany), the woman he has loved since childhood. His marriage proposal (complete with a dream house designed and built by Davis) overwhelmed and scared off Becky, so now Davis buries himself in his work. Enter Gwen, a winsome waitress at a Greek restaurant. After meeting her at a corporate banquet, Davis ends up spending the night at her place.
When Gwen awakens the next morning, Davis is gone, but he leaves behind a drawing of the empty dream house and enough information for Gwen to relocate. Gwen arrives the quaint little town (think Norman Rockwell) and tries to pass herself off as Davis' new bride. Good scam, until she bumps in to Becky, and then Davis' parents (Donald Moffat and Julie Harris, both excellent). Before Gwen can stop it, her little white lie has become a way of life.
The stakes are raised when Davis returns home and finds himself trapped in Gwen's wild web of lies. He goes along with the charade because Becky finds the married Davis much more interesting. Director Frank Oz (who previously directed Martin in "Dirty Rotten Scoundrels") and writer Mark Stein make the most of the escalating situation, finding humor and heart at every available opportunity. "Housesitter" isn't a laugh riot, although it's a very funny movie. There's also some sweet moments that enhance the story without slowing it down. I love storybook comedies, and "Housesitter" ranks among the best. Martin and Hawn have recently re-teamed on an update of Neil Simon's "The Out-of-Towners.
" I can't wait to see that film either, but I'll keep my expectations within reason. Until then, I think I'll give "Housesitter" another spin.
COMPLETE CHECK-UP
VISION: [ x ] EXCELLENT [ ] GOOD [ ] RESUSCITATE [ ] D.O.A.
Perfectly lit and photographed by John A. Alonzo, "Housesitter" looks superb on DVD. The digital transfer in the film's original 1.85:1 widescreen ratio (enhanced at 16:9 for widescreen televisions) is sharp and vivid, with nice definition and color. The blacks are strong, although the grays during the party scene at the end of the film looked a little fuzzy. It could have been the tweed jacket's effect on the original negative. The flesh tones are exceptional (Hawn never looked better) and the color palette gets total respect in the transfer. There's no pan-and-scan version on the single layer disc.
HEARING: [ x ] EXCELLENT [ ] GOOD [ ] RESUSCITATE [ ] D.O.A.
It's delightful, it's delovely, it's delicious. The Dolby Digital Surround tracks (no 5.1) are superior. The rear tracks are mostly utilized for the Miles Goodman jazzy musical score. The dialogue is sharp and on the money. There's also a French language Dolby surround track.
ORAL: [ ] EXCELLENT [ x ] GOOD [ ] RESUSCITATE [ ] D.O.A.
Closed captioned in English for the hard of hearing, and subtitles in Spanish.
COORDINATION: [ ] EXCELLENT [ x ] GOOD [ ] RESUSCITATE [ ] D.O.A.
The customary production notes, cast & film maker's bios, scene access, plus the original theatrical trailer.
PROGNOSIS: [ ] EXCELLENT [ x ] GOOD [ ] RESUSCITATE [ ] D.O.A.
By the time you read this I have probably watched the DVD twice. Need I say more?
VITALS: $24.95/Rated PG/102 Min./Color/16 Chapter Stops/Keepcase/#20319
ATTENDING RESIDENT: John Larsen
PATIENT: HOUSESITTER
BIRTH DATE: 1992
HMO: Universal Home Video