Henry: Portrait of a Serial Killer 2-Mask of Sanity
When John McNaughton was hired to direct "Henry: Portrait of a Serial Killer," he was a distributor for MPI Home Video. When McNaughton completed "Henry," Chuck Parello, another MPI employee, was assigned to market the film.
So if McNaughton can go from distributor to director, why can't Parello go from marketing movies to directing them? That's what happened, and it's only befitting that his debut is the original film's sequel, "Henry: Portrait of a Serial Killer 2-Mask of Sanity."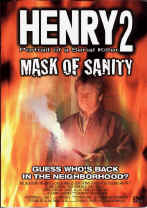 A lot has happened since the original film's release in 1990. Director McNaughton went on to major film projects, as did the film's original star, Michael Rooker. That meant that Parello had to come up with another actor to play the guiltless serial killer. Neil Giuntoli, who had been putting in small appearances in big films, steps in Rooker's shoes and wears them with confidence.
Giuntoli even looks a little like Rooker, which helps with the continuity of the sequel. "Henry 2" picks up where "Henry" left off. Henry is still kicking around the outskirts of Chicago, but now times are tougher than usual. He's forced to live in a shelter, spurned by bartenders, but still finds time to engage in his favorite past time: murder. Henry may be down, but his body count isn't. Then he finds employment at a porta-potty rental yard, where he meets owner Rooter (Daniel Allar), foreman Kai (Rich Komenich), and Kai's dispatcher wife Cricket (Kate Walsh).
When Kai learns that Henry is homeless, he allows him to stay with Kate and him (and Kate's troubled niece Louisa, played by Carri Levinson) until he gets on his feet. When Henry learns that Kai torches buildings on the side for business owners looking to cash in on their insurance, he asks to join Kai on his rounds. During one of their jobs they discover two teenagers getting stoned. Henry stuffs them into the trunk of their car, and takes them to an out-of-the-way spot to show Kai what he likes to do with his spare time. He forces Kai to kill one of the kids, thus sealing their fates forever.
Funny thing is, the more Kai and Henry kill, the more Kai likes it. Things get pretty nasty, especially for Kai, who begins to get violent with Cricket. Henry has his own problems with Louisa, who thinks she's in love with him. Oh, the wicked webs they weave. In my opinion, "Henry 2" is a much better film. It's solid in every respect, from Guintoli's icy performance, to the sympathetic supporting characters. The first film only gave you one character to root for. Kai, Cricket and Louisa are decent people, even if Kai is drawn over to the dark side for a while.
Even though you know what's ahead for them, you still care what happens. It's hard to sit through a film about a serial killer without anyone to root for. "Henry 2" gives us that and so much more.
COMPLETE CHECK-UP
VISION: [ ] EXCELLENT [ X ] GOOD [ ] RESUSCITATE [ ] D.O.A.
Once again, MPI fails to transfer the film in it's original 1.85:1 widescreen aspect ratio. Instead, they deliver a full-frame version that's satisfying in every other respect. It's even more frustrating when you watch the "Henry 2" theatrical trailer and it's in widescreen. Don't tease if you're not going to deliver. Otherwise, the digital transfer is just fine, with strong color saturation, impressive flesh tones and rock solid blacks. There was an occasional compression artifact, but not enough to make a federal case about. Nice, vivid images even if they're not widescreen.
HEARING: [ ] EXCELLENT [ X ] GOOD [ ] RESUSCITATE [ ] D.O.A.
Excellent. If the transfer technician had taken just as much care with the first "Henry" as with the second, they would have made an excellent double-feature. The Dolby Digital 2.0 Stereo sound is full-bodied and boisterous. The dialogue track is lively and distinct, while the ambient noise sounds natural. Nice stereo separation, plus pulsating basses that emphasize the underlying sense of dread. Not noticeable hiss or distortion.
ORAL: [ x ] EXCELLENT [ ] GOOD [ ] RESUSCITATE [ ] D.O.A.
Subtitles in English, French and Spanish.
COORDINATION: [ ] EXCELLENT [ X ] GOOD [ ] RESUSCITATE [ ] D.O.A.
There's a 20-minute behind-the-scenes documentary that's far more interesting than just the director's commentary on the first film's DVD. The actors, director, director of cinematography and special effects foreman all check in on how they pulled off the sequel. Most interesting of all is an extended look at how the film maker's blew up a house. The detail of the gag and the safety measures utilized make for delicious viewing. The documentary also features gorier versions of the violent scenes in the actual film. They were obviously trimmed to get an "R" rating. There's also trailers for this film and the original, behind-the-scenes notes, star filmographies, and interactive main and scene access menus.
PROGNOSIS: [ ] EXCELLENT [ X ] GOOD [ ] RESUSCITATE [ ] D.O.A.
On DVD, the sequel is superior in every way to the original.
VITALS: $24.98/Rated R/105 Min./Color/16 Chapter Stops/Keepcase/ #DVD7343
ATTENDING RESIDENT: John Larsen
PATIENT: HENRY-PORTRAIT OF A SERIAL KILLER 2: MASK OF SANITY
BIRTH DATE: 1998
HMO: MPI Home Video