Hatari!
John Wayne had a busy year in 1962. He appeared in the epic war drama "The Longest Day," the epic western "How the West Was Won," the classic "The Man Who Shot Liberty Valance," and the African adventure "Hatari!."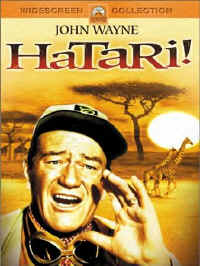 "Hatari!" was directed by Wayne veteran Howard Hawks, whose last film was Wayne's "Rio Lobo" in 1972. Hawks and Wayne made a lot of great films together, including "Red River." Hawks was also noted for his screwball comedies like "Bringing Up Baby," so it only made sense when Wayne was ready for something light, Hawks was his director of choice.
Shot on location, "Hatari!" stars Wayne as Sean Mercer, a big game hunter who has better luck with animals than women. He's in Africa capturing animals for zoos, but has his hands full dealing with Brandy de le Corte (Valentin de Vargas), Mercer's boss and owner of the business.
Tagging along with Mercer are his usually gang of supporting players, including ace driver Kurt (Hardy Kruger), Little Wolf (Bruce Cabot), and Pockets (Red Buttons), an inventor who uses his devices to help trap animals. When Little Wolf is sidelined after being gored by a Rhino, Mercer hires a Frenchman named Chips (Gerard Blain).
The group is also joined by Italian photographer Anna Maria D'Allesandro (Elsa Martinelli), a welcome but unexpected surprise. As Mercer and his crew round up the animals, Chips and Kurt take turns at courting Anna Maria, who has her hands full with three baby elephants that she has adopted.
What makes "Hatari!" so exciting is the way Hawks brings us along for the hunt. We're right there, front and center, as Wayne and the rest of the actors dart in and out of dangerous situations. There's no blue screen or mattes at work here, just the stars, the animals and lots of close calls. Hawks mixes the action with a playful sense of humor that hasn't been seen in a Wayne film since "The Quiet Man."
I like the way the characters orbit this small planet, the way they position themselves to find romance and adventure. "Hatari!" isn't a great film, but it is enormously entertaining. Even when the grab them and bag them scenes go on a little long you still feel a sense of adventure.
The actors all seem to be on the same page, allowing Wayne to do what he does best: play John Wayne. He does it better than anyone else, and he seems right at home here. Gerald Blain and Hardy Kruger have fun with their mating rituals, while Elsa Martinelli is delightful as a woman caught between two rocks and three elephants.
I saw "Hatari!" at the drive-in with my parents, so the film has a special place in my heart. I still love the Henry Mancini score that gave us "Baby Elephant Walk," and Hawk's keen eye for detail and action.
COMPLETE CHECK-UP
VISION: Okay

1.85:1 Widescreen

16:9 Enhanced
Unlike "The Sons of Katie Elder," there is noticeable wear and tear to the original negative, which doesn't permit a flawless digital transfer. What does make it looks good, including sharp but not bright colors, warm flesh tones, excellent Earth tones, and solid blacks that only lose their grip during scene transitions. Depth of field is decent but not nearly as good as it should be for a film set in Africa, while attention to detail is better than average. The colors are somewhat muted, but I believe that was an artistic decision and not a transfer or original print flaw. There's no bleeding or fading, but there are some noticeable artifacts and edge enhancement. Overall, the presentation is watch-able but not definitive.
HEARING: Okay

Dolby Digital Mono in English & French
What a shame that the film wasn't remastered in stereo. If ever a John Wayne film called for at least a 2.0 Stereo Surround soundtrack, it's "Hatari!" There's a lot of action in the film, all of which looks exciting but sounds weak as presented in mono. The mix favors the musical cues more than the dialogue, creating a struggle for dominance. The high and low ends are clean, but not pure. There's not hiss or distortion, but the soundtrack lacks definition.
ORAL: Good

Closed Captions in English for the Hard of Hearing
COORDINATION: Weak

The original theatrical trailer

Handsome Main Menu and standard issue scene access menu
PROGNOSIS: Fit

"Hatari!" remains a favorite, despite the lack of respect it gets on DVD. I doubt there's a better version on the market, so if this film is a favorite of yours, by all means add a copy to your collection.
VITALS:

$29.95/Rated G/157 Minutes/Color/17 Chapters/Keepcase
ATTENDING RESIDENT: John Larsen
PATIENT: HATARI!
BIRTH DATE: 1962
HMO: Paramount Home Video