Hans Christian Andersen
Actor-singer Danny Kaye made some wonderful films with Samuel Goldwyn, including "Wonder Man" and "The Secret Life of Walter Mitty." One of Kaye's most engaging films from that era, "Hans Christian Andersen," is finally on DVD, and what a wonderful, wonderful experience it is.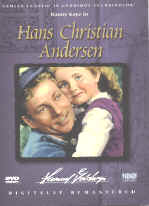 You don't have to be a major Danny Kaye fan to fully appreciate the experience, but it does help. Kaye is excellent as the Dutch cobbler Hans Christian Andersen, whose love for telling stories to the local children lands him in hot water with the local schoolmaster. It seems the children would rather sit around and listen to the cobbler weave his tune-filled stories than sit in some stuffy classroom. I can't blame them, and neither can Andersen, who would rather tell stories than cobble shoes.
His assistant Peter, an orphan he rescued from the orphanage, tries to keep Andersen out of trouble, but now the storyteller has gone too far. When the schoolmaster makes an ultimatum, the elders decide to send Andersen packing. Peter beats them to the punch, and convinces Andersen to pursue his dream of going to Copenhagen. With Peter and his shop in tow, Andersen makes the trip, and immediately lands in hot water in Copenhagen when he tries to set up shop on the steps on the statue of the King. Andersen is thrown in jail while Peter escapes.
While hiding out, Peter overhears the proprietor of the Danish Ballet Company say that the lead ballerina needs a cobbler immediately. He convinces an assistant of the ballet to use Andersen and help get him out of jail. Andersen comes through for the ballerina, but blindly falls in love with her when he believes that her husband is a brute. Peter tries to convince him differently, which creates a riff between the two. Andersen writes a story for the ballerina, which she has turned into a ballet. Will Andersen find true love with the ballerina? Will Andersen and Peter find a way to save their friendship. Will Andersen become famous when the local newspaper starts publishing his stories? It's the movies! Anything can happen. The supporting cast is tremendous, from French ballet sensation Jeanmarie, to a young Farley Granger as her stubborn yet loveable husband.
Directed with flair by Charles Vidor and featuring an engaging screenplay by Moss Hart and adorable songs by Frank Loesser. I remember seeing "Hans Christian Andersen" when I was much younger, and I was thoroughly enchanted back then. Thirty years later, I was still enchanted. The film holds up well, but then, great entertainment is always timeless.
COMPLETE CHECK-UP
VISION: [ X ] EXCELLENT [ ] GOOD [ ] RESUSCITATE [ ] D.O.A.
Once again, a gorgeous transfer on a film that is 46 years old. The original Technicolor print makes the digital transfer with vibrant colors, nicely saturated flesh tones and impressive blacks. The color pallette is especially delicious, with striking reds, soulful blues, grassy greens and earth tones that look natural and pleasing. The original print has a little wear, but not enough to ruin the experience. Ditto for some minute traces of compression artifacts. Overall, a beautiful experience.
HEARING: [ X ] EXCELLENT [ ] GOOD [ ] RESUSCITATE [ ] D.O.A.
If there's one thing you have to love about HBO DVD's is that they always give you a choice when it comes to audio tracks. Not only do you get the original theatrical mono soundtrack, there's a faux surround stereo track in English, plus mono tracks in French, Italian, Spanish and German. Talk about universal appeal. I watched the DVD is the faux surround stereo track, and I was quite impressed with how expressive the track was. While the rear speakers are usually reserved for the film's lush score and musical numbers, the stereo effect completely envelops you. The dialogue is a little light, but not necessarily hard to hear.
ORAL: [ X ] EXCELLENT [ ] GOOD [ ] RESUSCITATE [ ] D.O.A.
Closed captions for the hard of hearing in English, subtitles in French and Spanish.
COORDINATION: [ ] EXCELLENT [ X ] GOOD [ ] RESUSCITATE [ ] D.O.A.
Original theatrical trailer, cast and crew bios, and main and scene access menus.
PROGNOSIS: [ X ] EXCELLENT [ ] GOOD [ ] RESUSCITATE [ ] D.O.A.
The DVD of one of Danny Kaye's best films is a wonderful, wonderful experience, and that's no story.
VITALS: $24.98/Not Rated/112 Min./Color/22 Chapter Stops/Snapcase/#90650
ATTENDING RESIDENT: John Larsen
PATIENT: HANS CHRISTIAN ANDERSEN
BIRTH DATE: 1952
HMO: HBO Home Video