Halloween Horror With A Hitch
As kids, oh hell, even as adults, our parents always told us not to eat so much crap. It's not good for you. Now here's your chance to exorcize all of that guilt, horror movies destined to scare the crap out of you. Lay down papers. This is going to get messy.
HOLLYWOOD HALLOWEEN HAUNTS
Dawn of the Dead (Unrated/R)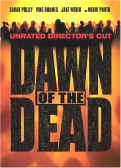 Universal Studios Home Entertainment
George Romero's infamous zombie fest gets a 2004 make-over, and the result is a deliriously wicked tribute that rips and shreds its own identity. The premise is the same, a group of strangers are trapped inside a sprawling mall after a virus turns everyone else into flesh-eating zombies. While Romero's take on consumerism has been streamlined by director Zack Snyder and writer James Gunn, what remains is a revisionist nightmare, a zombie film for a new age. Unlike the lumbering living dead of yore we get zombies who move with great speed and agility. The humans are represented by types, yet after spending a little time with these folks they become more flesh and blood. Some are doomed from the start, but Sarah Polley as a nurse and Ving Rhames as a cop take charge and lead the herd and us into uncharted territory. The Unrated Director's DVD contains more gore and back story, plus splashy featurettes on turning extras into zombies and then killing them. There are also some creative made-for-DVD extras that take the viewer even deeper into the experience, including a video diary of chess player Andy, whose cabin fever begins to get the best of him.
Van Helsing (PG-13)
Universal Studios Home Entertainment
Mummy director Stephen Sommers dips into Universal's Vault of Horrors for this big-screen Trifecta starring Dracula, Frankenstein's Monster and the Wolfman. What should have been more bang for the buck starts off promisingly enough with a black and white homage to the original films, and then becomes an Indiana Jones-style adventure starring Hugh Jackman as infamous monster hunter Van Helsing. Everything is larger-than-life in this tribute, sometimes so large that the film loses its way. The visuals are dazzling, but the dialogue is the most horrific thing in the film. Sommers heads up a production commentary track on the widescreen DVD, which includes numerous backstage passes to the production. Tour Dracula's Castle, see how they brought the film's monsters to life, learn about the Legend of Van Helsing, and in one my favorite extras, tag along on the set during production with hidden cameras that add a distinctively different view.
Close Your Eyes (R)
First Look Home Entertainment
Goran Visnjic, ER's resident hunk and bad boy, stars in this chilling thriller as a hypnotherapist whose latest patient, a Scotland Yard police detective (Shirley Henderson) seeking help for smoking, unlocks his disturbing secret. He has telepathic episodes, and his latest involves the detective's current assignment: a young girl, the surviving victim of a serial killer, left mute by the experience. As the good doctor tries to unlock the girl's mind, he is drawn into a world of ancient sacrifices where the followers seek immortality. Pretty creepy stuff, played with conviction by the cast. DVD includes cast and crew interviews and a look behind-the-scenes.
I'm Not Scared (R)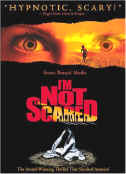 Buena Vista Home Entertainment
Mediterraneo director Gabriele Salvatores imbues the same surreal, dreamlike imagery into this dark and sinister tale of a young Italian boy whose idyllic life is shattered when he discovers a young boy hidden and restrained in a hole. Guiseppe Cristano is outstanding as 10-year-old Michele, who often plays alone due to the lack of other children in his remote southern Italian village. Michele often plays in the wheat fields, which become his safe haven from the real world. When Michele discovers a young boy chained in a hole, he begins to learn that the village, even his own parents, might be behind the missing children. The kind of film that creeps up on you and then nails you to the wall. Rated R, I'm Not Scared is delivered in its original Italian language with English subtitles.
Asylum of the Damned (R)
Columbia-TriStar Home Entertainment
Bruce Payne stars as a psychiatrist who wants to help people. That's why Dr. James Bishop took what was to be his dream job at the St. Andrews Asylum for the Criminally Insane. After all, who needs more help than the criminally insane? How about the crazies running the asylum, including Bishop's superior, who only expects his staff to keep the patients sedated and in-line. His curiosity peaked, Bishop takes an unauthorized tour and comes face-to-face with the asylum's real secret. Low budget and cheesy, Asylum of the Damned is presented in widescreen and 5.1 Dolby Digital Surround.
Frankenfish (R)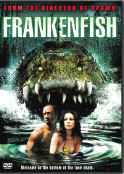 Columbia-TriStar Home Entertainment
I'd like to see Mrs. Paul try and bread these suckers. What happens when genetically-bred snake- fish get loose and start looking for prey along the shores of the Louisiana Bayou? You get a horror film hybrid that mixes genres to create a satisfying and at times splashy B-movie that never really takes itself too seriously. Part Piranha, part Jaws, part Tremors, part H.S. Fish and Chips, Frankenfish is filled with decent gore effects, passable performances, and enough bayou atmosphere to give anyone the creeps. Presented in widescreen and 5.1 Dolby Digital Surround.
Unspeakable (R)
MGM Home Entertainment
Dead Man Walking meets The Cell in this twisted thriller about a serial killer on death row who just won't die, and the female psychiatrist who believes that her new mind mapping machine will be able to provide the answers. What the psychiatrist gets are horrific images that set the stage for when the killer escapes and continues his rampage of horror within the prison walls. The DVD is packed with extras, including more than 10 minutes of deleted scenes, a retrospective of the gore, outtakes and the original theatrical trailer.
Fangoria Blood Drive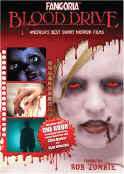 Koch Vision
The end result of a competition started by my favorite horror-gore magazine Fangoria and Koch Vision seeking short horror films by amateur filmmakers. DVD includes seven diverse entries, and as is the nature with compilations, the line-up runs the gamut from poor to good, with one entry, the ghost story Mr. Eryams, rising to the surface. Other winners include a cautionary tale about hitchhiking called Hitch, a humorous zombie film set to music, what happens when a man's finger gets the best of him, and a surreal look at teen suicide. Budgets aside, some of the filmmakers show promise, which is the purpose of this showcase. Adding heft to the DVD are over an hour of extras, including a studio tour with creature-maker Stan Winston, and Clive Barker's ABARAT: The Artist's Passion.
I Drink Your Blood (NR)
Box Office Spectaculars
Rinse and spit! I said spit! Some whacked-out rabid hippies never learn. Here's a blast from the past, a 1970 drive-in shocker (co-billed with the horrendous I Eat Your Skin) about a group of Satan worshiping hippies (can anyone say Manson family) who terrorize a small town, only to get their comeuppance when the grandson of one victim laces their food with rabies. No wonder the meat pies were so cheap. It's dessert that costs and arm and a leg, literally. Written and directed by impresario David E. Durston, and featuring abysmal dialogue and performances, the film remains a classic of its kind, a low-budget top half of a drive-in double bill. The collectible DVD includes a handsome transfer in full-frame, a nostalgic commentary track with the director and star Bhaskar, who also pop up in one of the disc's Easter Egg features, deleted scenes and outtakes, updated interviews with the cast, a stills gallery, and gnarly menus.
The Ghosts of Edendale (R)
Warner Home Entertainment
There's a hint of Rosemary's Baby in this supernatural shocker about a young couple who move to Hollywood looking to break into the business. Things are looking up for Kevin and Rachel when they find what seems to be their dream house, located on a hill, surrounded by other people in the business. Writer-director Stefan Avalos, armed with a larger budget than his debut The Last Broadcast, manages to put every penny up on the screen, creating an atmospheric albeit occasionally hokey ghost story. The script is littered with familiar show business cliches, but the actors are able to work around the ordinary to create characters that are always interesting to watch. The DVD is loaded with extras, including a feature-length commentary, production featurettes, deleted scenes and more.
CREEPY COLLECTIONS
Friday the 13th: Camp Crystal Lake to Manhattan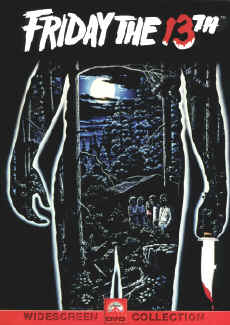 Paramount Home Entertainment
The tide at Camp Crystal Lake runs crimson red in this deliciously decadent collection of eight Friday the 13th films, handsomely packaged in a 5-DVD slip-case that includes a whole disc of bonus features. Deleted and extended scenes, more gore, cast and crew reflections, an eight-part chronicle of the Paramount series, theatrical trailers, and feature-length commentaries are just some of the ghoulish highlights. Fans will delight in some of the revelations, explaining artistic choices and plot directions. It's also a blast to watch the series go from it's very meager and humble beginnings to a full-blown franchise that ends up on the streets of Manhattan. Adrienne King and Betsy Palmer offer the best insights, two actresses at different ends of their careers, discussing their involvement and choices. Some of the talking head interviews become a little repetitive, and as a fan I wish more of the filmmakers and cast had gotten involved in the documentary process. There's a lot of history at Camp Crystal Lake, and this eight-part series makes that bloody clear.
Dawn of the Dead: Ultimate Edition (NR)
Anchor Bay
Packed inside Anchor Bay's striking 4-DVD set are not one but three different versions of George Romero's original 1979 zombie thriller, plus two lengthy documentaries, home movies and a tour of the infamous Monroeville Mall. Prepare to feast on Romero's original theatrical cut, delivered in 5.1 DTS Surround (plus 2.0 Dolby and Mono) and featuring audio commentary with the director, make-up artist Tom Savini, and assistant director Chris Romero. An extended version includes 12 minutes of additional gore and back story, plus commentary with producer Richard P. Rubinstein. The third edition, a European Version edited by producer Dario Argento and running nine minutes shorter than the original, contains new music by Goblin, less story arc, and audio commentary with actors David Emge, Ken Foree, Scott H. Reiniger and Gaylen Ross. All three DVDs include promotional items like trailers and still galleries. There's enough Dead here for a whole new Dawn.
Warner Horror Collection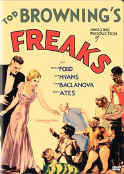 Warner Home Entertainment
Halloween is the perfect time to check out these five new-to-DVD titles from Warner Home Entertainment. Two of the titles, Village of the Damned and Children of the Damned, have been packaged together on one DVD, both featuring new feature-length audio commentaries. The stand-out among the group is Todd Browning's Freaks, which has been re-mastered from rare nitrate film elements to help improve image and audio quality. The DVD holds up quite nicely, maintaining the same shock value as it did upon release in 1932, and includes three alternate endings, the all-new Freaks: Sideshow Cinema documentary, a feature-length commentary, and a special prologue. The original Bad Seed Patty McCormack and actor-writer Charles Busch plant new seeds of evil in the film's commentary track, while McCormack pops up in the new Enfant Terrible: A Conversation with Patty McCormack documentary. Dead Ringer features Bette Davis as twin sisters, one with a jealous grudge who kills her twin and takes over her identity. The fabulous Charles Busch attends to the DVD's commentary track, and look for two nostalgic featurettes Double Take: Bette vs. Bette and Behind-the-Scenes at the Doheny Mansion.
KING SIZED THRILLS
Kingdom Hospital (NR)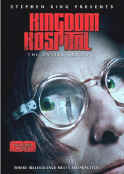 Columbia-TriStar Home Entertainment
Stephen King wrote and executive-produced this 13-episode limited series based on Danish director Lars Van Trier's acclaimed series. In adapting the original series, King added his own influences, including his horrific accident and recovery. Kingdom Hospital is like the best King novels, taking its time to unfold, throwing one bizarre character and incident at the screen after another. What evolves is a creepy tale of a brilliant surgeon named Dr. Hook (Andrew McCarthy) who begins to suspect the hospital is haunted (it was built on the remains of an old Civil War-era fire). King fans who wanted to watch the series but skip the commercials can get their chance. The four-disc DVD set includes the complete series, presented in widescreen and 5.1 Dolby Digital Surround Sound. King and the filmmakers lend their voices to the audio commentary, and King includes an exclusive essay. Featurettes take prospective patients inside the hospital's walls, special effects, and stops for interviews with the cast.
Salem's Lot: The Miniseries (NR)
Warner Home Entertainment
The Stephen King novel about a writer who returns to his hometown to resolve an evil childhood encounter is given the mini-series treatment (again). This made-for-cable series stars Rob Lowe as the writer, who believes the mysterious stranger living in the house on the hill is really a vampire. He's right, but try getting the non-believers to understand before they become happy meals. The screenplay lacks the bite of the 1979 Tobe Hooper original series, with much of the back story missing in action. Presented in widescreen.
BACK FOR MORE
Predator: Collector's Edition (R)
20th Century Fox Home Entertainment
For some good old fashioned rip-and-shred, check out the new Collector's Edition of Predator, one of Arnold Schwarzenegger's better films. Directed by John McTiernan (Die Hard), Predator pits the former actor against a killing machine from another planet. A minor classic of its type, Predator features explosive action, serviceable performances, and a constant sense of danger. McTiernan sits down to reminisce on the feature-length audio commentary, and is featured prominently in the numerous featurettes and If It Bleeds We Can Kill It documentary. Special effects tests, deleted scenes, outtakes, and text commentary complete the ensemble.
THX: 1138 Director's Cut (R)
Warner Home Entertainment
George Lucas' first feature film is a fascinating look at a bleak future, where mankind has been stripped of their individuality, fed drugs to keep them in line, and forced to work for a nameless and faceless government. Robert Duvall stars as THX 1138, whose female roommate LUH 3417 convinces him to stop taking the drugs. Aware of his feelings, both as a man and as a human, for the first time, THX 1138 begins to rebel against the system. Shot as a student film and then later expanded as a feature, THX 1138 has undergone some major changes since its 1971 release. The Two-Disc Director's Cut includes the recent theatrical release with extended scenes and new visuals, a historically significant audio commentary with Lucas, and co-writer-sound designer Walter Murch. An isolated music and sound effects track showcases Murch's work. On the second disc are two exhaustive documentaries, A Legacy of Filmmakers: The Early Years of American Zoetrope, and Artifact from the Future: The Making of THX 1138. Lucas' original student film is also part of the package, along with a vintage production featurette Bald, and trailers.
Gothika: Collector's Edition (R)
Warner Home Entertainment
Halle Berry's criminal psychologist Miranda Grey checks back into the notorious Woodward Penitentiary for Women, this time armed with enough extras to drive any DVD fan crazy. The new Two-Disc Special Edition allows the viewers to take an interactive tour of the Penitentiary, with interviews and case file stories, includes two new in-depth featurettes, a feature-length audio commentary with the director and photographer, a music video, and Berry getting caught in one of Ashton Kutcher's Punk'd practical jokes at the film's premiere.
The Lost Boys (R)
Warner Home Entertainment
Director Joel Schumacher provides an insightful and informative feature-length commentary for the two-disc Special Edition of his 1987 thriller. The new edition of Lost Boys, which stars Jason Patric and Corey Haim as brothers who become involved with a gang of motorcycle-riding vampires, includes more than two hours of new featurettes and documentaries to quinch the thirst of most rabid fans. A retrospective documentary plays catch up with the cast and crew, while The Return of Sam and the Frog Brothers reunites Corey Haim and Feldman. Make-up artist Greg Cannom gives up secrets in Vamping Out, while interactive maps, music videos and photo galleries complete the package.
Ed Wood: Special Edition (R)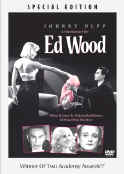 Buena Vista Home Entertainment
Tim Burton's celluloid Valentine to filmmaker Ed Wood rises from the grave as a special edition with a handsome widescreen black and print and Dolby Digital 5.1 Surround Sound. Johnny Depp as Wood and Oscar-winner Martin Landau as Bela Lugosi are frighteningly dead-on in their portrayals. Bonus materials include an audio commentary with the director, Landau, the writers and various production members, plus four featurettes that take the viewer behind-the-scenes, each one a vital piece to the film-making puzzle. Depp hosts the most colorful featurette, while another looks at the make-up process that turned Landau into Lugosi. There's a lot of hidden treasure on this DVD, and well worth the wait.
FOR BOYS & GHOULS
Cartoon Network Halloween: 9 Creepy Cartoon Capers
Warner Home Entertainment
For an animated Halloween, have your kids (okay admit it, you want to watch it too) pop in this collection of nine spooky cartoons from the Cartoon Network. Everyone's favorites are here, including Courage the Cowardly Dog, Dexter's Laboratory, Cow and Chicken, Ed, Edd N Eddy, The Powderpuff Girls and more. 107 Minutes of fun antics.
Alfred Hitchcock Collection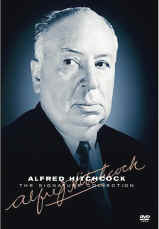 Warner Home Entertainment
Finally, for those who prefer some classic suspense to horror and gore for Halloween, Warner Home Entertainment just released a legendary collection of seven Alfred Hitchcock films on DVD. Available for the first time, the collection also includes a newly re-mastered two-disc special edition of Strangers on a Train. You get not one but two versions of the film, the original theatrical edition (with commentary by director Peter Bogdanovich, Psycho screenwriter Joseph Stefano, Strangers author Patricia Highsmith and biographer Andrew Wilson), and an alternate preview version. The wealth of material continues with a new making-of documentary, three featurettes (The Hitchcock's on Hitch, Strangers on a Train: The Victim's POV, and Strangers on a Train by M. Night Shyamalan), and a vintage Hitchcock newsreel.
The Hitchcock collection continues with Dial M for Murder, the Frederick Knott stage thriller featuring Grace Kelly as a woman targeted for murder by her devious husband Ray Milland (extras include new documentaries Hitchcock and Dial M and 3D: A Brief History, plus premiere newsreel footage); Foreign Correspondent with Joel McCrea as an American reporter involved with a group of spies and damsel-in-distress Laraine Day (DVD extras include new Personal History: Foreign Hitchcock documentary); I Confess stars Montgomery Clift as a priest forced to protect the identity of a killer even when he's framed for the murder. Anne Baxter and Karl Malden co-star (extras include new documentary Hitchcock's Confession: A Look at I Confess plus premiere newsreel); Mr. and Mrs. Smith is a rare departure for Hitchcock, a comedy starring Carole Lombard and Robert Montgomery as a married couple who learn that a technicality has voided their union. She's game for another I do, he's anxious to spread his wings. DVD features new documentary Mr. Hitchcock meets the Smiths; Hitchcock overcomes Stage Fright in this delightful whodunit that stars Jane Wyman as a drama student going undercover as a maid to clear a friend framed for murder. Marlene Dietrich plays the stage diva who hires Wyman. DVD includes Hitchcock and Stage Fright documentary; Suspicion finds playboy Cary Grant wining and dining wallflower Joan Fontaine, who begins to suspect that her new boyfriend is really a murderer. (Extras includes new documentary Before the Fact: Suspicious Hitchcock); and finally Henry Fonda finds himself The Wrong Man, a musician who resembles a robber and on trial for his crimes. Fonda is exceptional as an innocent man fighting for his dignity and freedom, while Vera Miles is sympathetic as his distraught wife. Newsreels of the premiere and a new documentary Guilt Trip: Hitchcock and the Wrong Man complete the DVD.