Hair
I was fortunate enough to see the rock musical "Hair" on stage (not the original production, but a touring company in the 1970s). With a popular rock soundtrack (which spawned five hit singles) and universal message of peace and love, "Hair" was indeed pop culture at its best.
It took a lot of wrangling and a Czech director to bring "Hair" to the big screen, but the effort was worth it.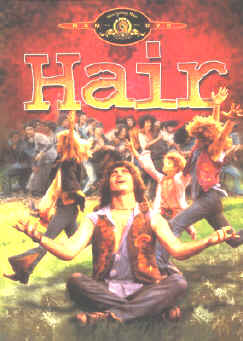 Milos Forman, the director who picked up an Oscar for "One Flew Over the Cuckoo's Nest" in 1975 and another for "Amadeus" in 1984, does an excellent job of transferring what is basically a rock and roll fantasy and turn it into a piece of cinematic reality.
You immediately buy into the premise, even though the site of dancing horses in Central Park is a bit disconcerting. Forman even chose actor John Savage, not normally associated with singing, to head up the cast of young unknowns. Savage is excellent as Claude, the naive farm boy who arrives in New York to report for the draft. With time to kill, Claude takes in the sights and winds up in Cental Park. There he meets Berger (Treat Williams) and his hippy friends Jeannie (Annie Golden), Hud (Dorsey Wright), Woof (Don Dacus) and Hud's fiancee (Cheryl Barnes), who open up his eyes more ways that one.
While in the park, Claude is smitten with horse riding debutante Sheila (Beverly D'Angelo), who finds herself attracted to the stranger even though she's wary of his new friends. Berger and his minions teach Claude how to live, and even crash an exclusive party so that Claude can see Sheila one more time before he is inducted and shipped off to Vietnam.
Berger's indoctrination includes plenty of hallucinogens, skinny dipping in the park, and a stint in jail where Claude learns to cherish his freedom. "Hair" isn't your typical musical, and the characters don't break out into big musical numbers. Instead, the songs are incorporated into the rhythm of the film as running commentaries.
Except for a handful of interior locations, the film takes place in and around New York, and it is this realistic approach that makes the film come alive. Not only do the musical numbers bristle (Twyla Tharp did the choreography), but so does the city around them. Michael Weller adapted the Gerome Ragni and James Rado book for the big screen, and he retains their ideal ology while infusing some of his own.
It's a potent mix that works well in the frame of the film. It's hard to believe that the film "Hair" is twenty years old. It doesn't look or sound dated, and the film's only tell-tale sign of an era gone by is its lax PG rating. There wasn't a PG-13 in 1979, so that meant "Hair" would have to receive either and "R" or a "PG," and an "R" was out of the question for a big screen musical, even one featuring nudity.
For a PG film, there is a lot of flesh on view, including a skinny dipping scene where nothing is left to the imagination, and a hilarious induction scene where deviant recruiters give the young men a good once-over. Like the era that influenced it, "Hair" is timeless. Its message comes through loud and clear some thirty years after the fact.
COMPLETE CHECK-UP
VISION: [ X ] 20/20 [ ] Good [ ] Cataracts [ ] Blind
Marvelous 1.85:1 widescreen digital transfer (there's a standard version on the flip side) features glorious color and flattering flesh tones that are extremely realistic. Excellent saturation. There are some artifacts on the original negative that make for a less than pristine transfer, but what you end up with is an excellent transfer that features nil compression artifacts. The blacks are strong and invincible, while the shadows and whites are clean. Nice attention to detail with better than average depth of field.
HEARING: [ ] Excellent [ X ] Minor Hearing Loss [ ] Needs Hearing Aid [ ] Deaf
The newly remastered 5.1 Dolby Digital soundtrack is okay, but it won't win any awards for it's definition. The clarity is fine, but there's little separation one normally expects from a 5.1 digital surround track. The dialogue and songs come through loud and clear, and there is the occasional stereo effect (horses running through Central Park, bullets flying overhead), but the overall effect isn't nearly as exciting as the action on the screen. The ambient noise is simple, while the basses are functional. I didn't notice any hiss or distortion in the high and middle ranges, but I didn't feel the need to crank up the volume either. For an extra kick, there's also a French language mono soundtrack.
ORAL: [ ] Excellent [ X ] Good [ ] Poor
Closed captions in English for the hard of hearing, subtitles in French.
COORDINATION: [ ] Excellent [ X ] Good [ ] Clumsy [ ] Weak
Outstanding main and scene access menus utilizing the theme from the film. There's also a healthy poster gallery featuring 18 posters from the film's International run, plus the original theatrical trailer. The DVD also comes with an 8-page booklet with interesting facts about the film. Finally, for a real kick, when you reach the main menu, highlight the film's title and then click. You'll get a 50-second music video that is really groovy, kind of a psychedelic Busby Berkley number.
PROGNOSIS: [ X ] Excellent [ ] Fit [ ] Will Live [ ] Resuscitate [ ] Terminal
"Hair" was the dawning of the age of Aquarius, and even with some minor image flaws, the DVD makes it easy to "Let the Sunshine In."
VITALS: $24.99/Rated PG/121 Minutes/Color/44 Chapter Stops/Keepcase/#907641
ATTENDING RESIDENT: John Larsen
PATIENT: HAIR
BIRTH DATE: 1979
HMO: MGM Home Entertainment