Gossip
Gossip can be a dangerous thing. It can even be deadly.
That's the premise of "Gossip," a catchy little thriller that has unfortunately been marketed as yet another teen flick. It's much smarter than that, and features a fabulous cast who are completely in tune with former television director Davis Guggenheim's vision.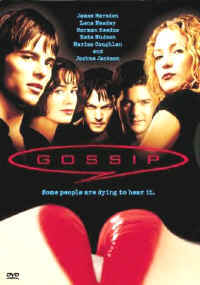 I steered clear of "Gossip" when it played in theaters because the television advertising campaign made it look like another cookie cutter teen entry. I took my time popping the DVD into the player, wondering if there was something else I could do instead. After watching it, I thought to myself what a shame that the film's intended audience missed the boat.
None of my friends wanted to see "Gossip" until I recommended it. They shared the same phobias and fears. They also liked the film, sorry that they didn't initially give the film a chance. I hope the people who market films wise up and realize that teenagers aren't the only demographic.
"Gossip" revels in the fact that people can't get enough of it. Tabloids, television, web sites. We read them, talk about them, pass them along. Most of the time the subject is harmless. What celebrity is sleeping with what celebrity. Who might be gay. On-set feuds.
There is also a dark side to gossip, and that is what Guggenheim explores. "Gossip" is set in a trendy college where three sociology students agree to spread a rumor as part of a class project to see how far it will spread. What begins as an innocent rumor turns into much more, spinning madly out of control until it affects the lives of everyone it touches.
Derrick (James Marsden), Cathy (Lena Heady) and Travis (Norman Reedus) are the students, who share Derrick's comfy loft and thirst for danger. Instead of writing a paper for their sociology class, they agree to conduct an experiment. They will pass around a rumor that two students engaged in sex at a frat party. It may or not be true, but after the rumor begins to spread, the sex act turns into a case of rape, and then suicide.
There's lot of finger pointing, and lots of moralizing, but director Guggenheim has something much more sinister on his mind. The film, like the rumors that filter through it, isn't exactly what it seems. You have to pay attention, because the ride is well worth it. The cast is up to the task, especially Kate Hudson as the subject of the rumor. She exudes sweet innocence as a young woman who can't believe all of this is happening to her.
Joshua Jackson is also good as her boyfriend, who may or may not have committed rape. We're never sure, and Jackson's shaded performance keeps us off balance.
I liked "Gossip" a lot. It's not a great film, but it's a much better film than the one that was being peddled to 15 year high school students.
COMPLETE CHECK-UP
VISION: 20/20

1.85:1 widescreen

16:9 enhanced
Nicely mastered digital transfer features warm, inviting colors, solid blacks and flattering flesh tones. No pixelation or strobing. The colors are strong, without any bleeding or fading. Blacks hold up even under the most precarious situations, while a clean transfer from a pristine negative allows for pure whites. Depth of field and attention to detail is impressive.
HEARING: Good

5.1 Dolby Digital Surround

5.1 Dolby Digital Surround French Language
Effective 5.1 Dolby Digital Surround track, including potent dialogue mix and natural ambient noise. Front sound stage shows perfect left-to-right split, while the front-to-rear spatial split is adequate. Surround effects are there, but only when necessary. This soundtrack isn't a showcase, but a natural presentation of the facts. Rear speakers are alive with data, while all musical cues filter through without any noise or distortion. Basses are there but not omnipresent.
ORAL: Good

Closed Captions in English for the Hard of Hearing

Subtitles in French
COORDINATION: Good

Full-length feature commentary by director Davis Guggenheim and actor James Marsden. The two have a good time watching their work. It's like a boy's club. They goof around, make jokes. Marsden pokes fun at his work, and compliments the others. Guggenheim dishes up some background dirt on getting the film made, none of which is Earth-shattering but interesting nonetheless.

Deleted Scenes, including an optional ending. The optional ending is actually an extended ending, with a clarification for those who didn't get it.

Montage of "Gossip" interviews, which amounts to extended takes on the actors used in the opening.

A handful of musical videos by Poe ("Our Lips Are Sealed"), Tonic ("Mean To Me") and a montage of scenes.

Theatrical trailer.

Cast filmographies.

Handsome main and scene access menus.
PROGNOSIS:

Good Nice little movie at an excellent price.
VITALS:
$19.99/Rated R/90 Minutes/Color/27 Chapter Stops/Snapcase
ATTENDING RESIDENT: John Larsen
PATIENT: GOSSIP
BIRTH DATE: 2000
HMO: Warner Home Video