Good Willing Hunting
Actors are always complaining that there just are not enough good scripts floating around. Instead of complaining, actors Matt Damon (The Rainmaker) and Ben Affleck (Chasing Amy) wrote a screenplay for themselves.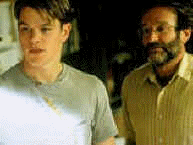 "Good Willing Hunting" is the movie they wrote, and as Hollywood's latest double-hyphenates, are about to set the town on fire. "Good Willing Hunting," as directed by Gus Van Sant, is a solid, entertaining tale of coming of age tale filled with sharp, smart dialogue.
Damon, so wonderful in "The Rainmaker," is even better as Will Hunting, the 20 year-old MIT janitor who is actually smarter than all the students who look down on him. Hunting is a complex character, capable of going from charismatic boy genius one moment, to a loathing thug the next. Damon's talent is making us care about both sides of the character.
When Hunting completes a complex problem posted by regarded Professor Lambeau, he becomes an immediate celebrity among the think tank. Hunting wants nothing to do with the egg heads. He knows he's smart, but would rather hang out with his best friend Chuckie, and try to pick up college women.
Hunting's life changes the night he meets Skylar (Minnie Driver), a Harvard student who catches his eye. That same evening, Hunting's quick temper also lands him in hot water with the law. Lambeau offers to bail him out if he agrees to join his think tank, and see a shrink.
Desperate not to spend another evening behind bars, Hunting agrees to Lambeau's terms, but can't seem to find a psychiatrist he's comfortable with. That's when Lambeau approaches his old friend Sean McGuire (Robin Williams), a former college professor now working as a therapist.
At first, Hunting resists McGuire. Each refuses to take the first step, turning their sessions into an hour of silence. Then Hunting breaks down, and the line of communication opens up. As they warm up to each other, Hunting and McGuire begin to realize that they're two of a kind. Each is hiding a painful memory that refuses to let them go.
"Good Will Hunting" is the type of movie that Hollywood needs to shoot more of. It's filled with engaging characters, interesting situations, sharp dialogue, and outstanding performances.
After "The Rainmaker," Matt Damon was poised for super-stardom. His work before and behind the camera in "Good Will Hunting" cements his chances. Damon delivers an intense performance that works on so many levels.
Robin Williams is excellent as a man struggling to overcome a deep, personal loss. His confrontations with Damon are riveting. Affleck couldn't be a better best bud, always giving his friend the right advice, while Minnie Driver shines as the girl who steals Hunting's heart, but has a hard time getting inside his mind.
The more mainstream director Gus Van Sant becomes, the better his films have become. "Good Will Hunting" is one of the most assured films of the year. Very little seems out of place in this uplifting film that fondly recalls "Dead Poet's Society," another Williams' film.
"Good Will Hunting" didn't come with all the fanfare that accompanied most of the big Christmas movies, but will be remembered long after the others have faded from memory. One of the year's best films.
SHOOT AT WILL
Matt Damon, Robin Williams, Stellan Skarsgard, Ben Affleck, Minnie Driver in a film directed by Gus Van Sant. Rated R. 127 Min.
LARSEN RATING: $10