Ghostbusters
Even though I had been reviewing professionally for eight years when "Ghostbusters" came out, for one reason or another I didn't manage to make the press screening. That meant I had to see the film at a local theater when it opened.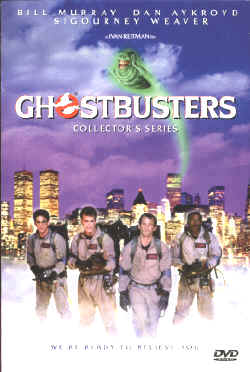 Luckily, I had worked at most of the local theaters when I was in high school and college, so I knew all of the managers. Even better, I knew the projectionists. That meant I could usually avoid the long, opening night lines and get a seat in the auditorium before they let the crowds in. I knew I was in for something special when I first talked to the manager, who had this big smile on his face. He had just sat through the pre-dinner show, and knew what he had on his hands.
Then I talked to my friend in the projection booth, and he had this big grin on his face. He hasn't been able to see the whole film, but what he saw made him laugh out loud. That said, I grabbed my seat and waited for the curtains to part and the show to begin. It must be said that I love ghost stories, so all the film had to do was deliver the goods. It's been fifteen years since its release, and "Ghostbuster" still delivers the goods. Originally written by Dan Aykroyd as a vehicle for himself and friend John Belushi, those plans were put on hold when Belushi died of an overdose.
"Saturday Night Live" buddy Bill Murray agreed to step in, and Harold Ramis was hired to rewrite the script and play the third "Ghostbuster." The combination of Aykroyd, Murray, and Ramis (later joined by Ernie Hudson) was unbeatable, a wicked blend of cynical and sarcastic. Everyone knows the plot (is there anyone who hasn't seen this film?), so details are inconsequential. As directed by Ivan Reitman ("Stripes"), "Ghostbusters" was a Grade-A comedy from beginning to end.
Delivering special effects that were state-of-the-art in 1984, "Ghostbusters" managed to tickle the funny bone while still being chilling. Sure, who couldn't help but laugh at the sight of a towering Stay Puft Marshmallow man attacking downtown New York? Then again, try and convince me that the librarian apparition the guys encounter at the beginning of the film isn't horrific. What makes all of this work is that the cast takes every bit of it seriously. The laughs are there, but there's no winking at the camera.
The cast couldn't be better, especially Murray, whose sarcastic Dr. Venkman has a thing for Dana Barrett (Sigourney Weaver, very alluring). Their relationship is just one of the highlights in a film filled with highlights. From exquisite production design to a powerful and evoking score by Elmer Bernstein, "Ghostbusters" is the perfect example of a big budget comedy where the performances and dialogue don't get lost in the spectacle. Instead, all of the elements exist in a harmonious environment.
COMPLETE CHECK-UP
VISION: [ X ] 20/20 [ ] Good [ ] Cataracts [ ] Blind
Spectacular 2.35:1 widescreen digital transfer. The images are so clean and vivid they almost look three dimensional. Strong colors and depth of field are most notable. The colors are pure without over saturation, including outstanding flesh tones and industrial strength blacks. Even though there are a couple of flaws on the original negative, the overall quality of the transfer is excellent. Attention to detail is also evident, thanks to strong depth of field. Whites and shadows benefit from a clean negative.
HEARING: [ X ] Excellent [ ] Minor Hearing Loss [ ] Needs Hearing Aid [ ] Deaf
Extremely expressive remastered 5.1 Dolby Digital Surround soundtrack. It's not definitive, but the soundtrack and its elements actually sounded better than expected. Stereo split (left to right) is okay and diverting, but the spatial split from front to rear is tenuous at best. However, the rear speakers come alive with music and ambient noise. Basses are strong, while high and middle tones are pure. No noticeable hiss or distortion. Stereo surround effects are adequate without being overpowering. Dialogue mix is especially strong, making sure each and every line is heard.
ORAL: [ ] Excellent [ X ] Good [ ] Poor
Closed captions in English for the hard of hearing.
COORDINATION: [ X ] Excellent [ ] Good [ ] Clumsy [ ] Weak
Columbia-TriStar Home Video is to be congratulated for putting together a "Collector's Series" edition of "Ghostbusters" that more than lives up to the name. They have packed so much on this DVD that is a wonder they can charge so little for it. Here's the skinny:

Outstanding, animated 3-D main and scene access menus that are fun to navigate. The menus are so much fun that it may take you a while to get to the actual film.

Two featurettes, including the film's original 1984 behind-the-scenes featurette, and an updated look at the film featuring interviews with the cast and crew. Great stuff.

A wonderful little feature called "Tricks & Trivia" that allows you to view productions notes and highlights that appear on-screen in the black bars during the feature. This is a subtitle feature that can be turned off an on using the subtitle button.

An audio commentary that beats all others, hands down. Join director Ivan Reitman, star-writer Harold Ramis and producer Joe Medjuck as they discuss their thoughts and feelings about making "Ghostbusters." The neat thing about their commentary is that you can just listen to it like all other DVD commentaries, or you can access their silhouettes (ala "Mystery Science Theater 3000") as they sit in front of the screen watching the movie. It's a great little gimmick that adds so much to the overall quality of the product. I wish Bill Murray could have been present for this little exercise in nostalgia and fascinating behind-the-scenes information, but these three guys are extremely animated in more ways than one.

10 (count them, 10!) excised scenes that are a hoot and help add a little more depth to the story. These alone are priceless.

An extensive section devoted to the film's groundbreaking special effects. Included here is a special- effects team featurette that goes into extensive detail on how they accomplished the film's amazing effects, plus a great extra that allows you to view several scenes in their rough form, and then in their completed form. A click of the angle button allows you to jump back and forth between the two. Here, you'll also find an extensive collection of production photographs and conceptual drawings.

Theatrical trailers for "Ghostbusters," "Ghostbusters II," "Stripes" and "Groundhog Day."

DVD-ROM web links.
PROGNOSIS: [ X ] Excellent [ ] Fit [ ] Will Live [ ] Resuscitate [ ] Terminal
When you want great entertainment on DVD, who are you gonna call? That's right, now go get it!
VITALS: $29.98/Rated PG/107 Minutes/Color/28 Chapter Stops/Keepcase/#04136
ATTENDING RESIDENT: John Larsen
PATIENT: GHOSTBUSTERS-COLLECTOR'S SERIES
BIRTH DATE: 1984
HMO: Columbia-TriStar Home Video