Forces of Nature
Screenwriter Marc Lawrence is quickly becoming the Akiva Goldsman of his generation. The thing I liked least about the remake of Neil Simon's "The Out-Of-Towners" with Steve Martin and Goldie Hawn was Lawrence's lame script, which was so full of contrivance it hurt. The pain continues with "Forces of Nature," an amicable romantic road comedy starring Sandra Bullock and Ben Affleck.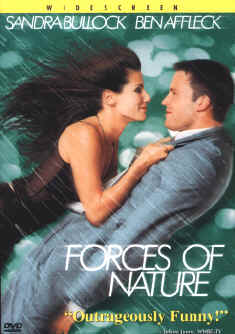 The cast is film and cast are amicable, the script is not. Lawrence's screenplay for "Forces of Nature" is as wet as the hurricane it features. If it weren't for the chemistry of the two leads and direction of Bronwen Hughes ("Harriet the Spy"), I would have turned "Forces of Nature" off after the first ten minutes. Everything in the film feels like it was lifted from another film, thus becoming a cliche. Affleck is charming as Ben, an ad man from New York on a flight to Savannah, Georgia to get married. Unfortunately, Ben is seated next to Sarah (Bullock), a free spirit who is going to see her son. When the plane crashes before taking off, Ben and Sarah find themselves sharing numerous modes of transportation in their effort to reach Savannah. While I enjoyed the time I spent with Ben and Sarah, the roadblocks Lawrence throws in front of them are so contrived they make you wince. It's not enough that Ben and Sarah meet cute and seem destined to find each other before the end of the film, Lawrence feels compelled to expand the story to include all sort of eccentric and colorful characters. It is as if he didn't trust the main characters enough to carry the story. Director Hughes does a decent job of pulling in the reigns, but the script is all over the place and difficult to tame. Affleck and Bullock seem to have a good time, and share some wonderful little moments that make the trip worth it. They manage to find sub-text in the silly dialogue. Steve Zahn is wasted as Ben's best friend, as are Blythe Danner and Ronny Cox as Ben's parents. Maura Tierney is patient as the bride- to-be, and I'm glad she wasn't written as a shrew. "Forces of Nature" looks marvelous, thanks to Elliot Davis' moody cinematography. John Powell's music is a plus, as is production designer Lester Cohen's colorful settings. You just wish the script were as sturdy. At best, "Forces of Nature" is nothing more than lightweight entertainment. If you're not very demanding, you might have a good time. If you're looking for a smart romantic comedy, look elsewhere.
COMPLETE CHECK-UP
VISION: [ X ] 20/20 [ ] Good [ ] Cataracts [ ] Blind
Marvelous digital transfer in the film's original 1.85:1 widescreen ratio, with anamorphic enhancement. The colors are absolutely startling, including dependable saturation that never bleeds or fades, and flattering flesh tones that are almost dreamy. The colors are extremely vivid, especially during the film's many storm sequences. The skies almost look surrealistic. Depth of field and attention to detail are always strong, while there isn't one iota of compression artifacts or noise. A tiny amount of flecking, but the clean original negative allows for virgin whites and pure shadows. Blacks are also heavy duty, never wavering. Nicely done.
HEARING: [ X ] Excellent [ ] Minor Hearing Loss [ ] Needs Hearing Aid [ ] Deaf
Exciting, full-bodied 5.1 Dolby Digital Surround soundtrack. Nicely rendered stereo mix puts you right in the middle of the action, including strong, natural ambient noise and a fluid, almost lyrical musical score. Dialog mix is excellent, never losing a beat, while the left-to-right stereo split is effective. Front-to-rear spatial separation sound authentic, as do the booming basses and clean middle and high ends. Rear speakers get a lot of attention. No audible hiss or distortion.
ORAL: [ ] Excellent [ X ] Good [ ] Poor
Closed captions in English for the hard of hearing.
COORDINATION: [ ] Excellent [ X ] Good [ ] Clumsy [ ] Weak
The DVD includes gorgeous animated menus that sweep you into the experience, plus full-motion scene access menus. There are also a handful of deleted scenes and a small behind-the-scenes featurette with interviews with the stars and technical crew. The package also includes production notes, cast & crew bios and filmographies, and the film's original theatrical trailer.
PROGNOSIS: [ ] Excellent [ X ] Fit [ ] Will Live [ ] Resuscitate [ ] Terminal
Forget the screenplay and enjoy the romantic antics of the leads.
VITALS: $29.98/Rated PG-13/106 Minutes/Color/20 Chapter Stops/Keepcase/#84662
ATTENDING RESIDENT: John Larsen
PATIENT: FORCES OF NATURE
BIRTH DATE: 1999
HMO: Dreamworks Home Entertainment