Field of Dreams
One of my favorite films of all time, "Field of Dreams" is a celebration of life, baseball, and of fathers and sons. Written for the screen and directed by Phil Alden Robinson, "Field of Dreams" is quintessential entertainment. It entertains, informs, and provides a cathartic emotional release.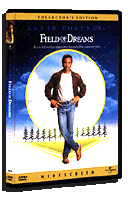 I chose "Field of Dreams" as the best film of 1989 because nothing else came close to capturing the pure essence of storytelling. Kevin Costner is sensational as simple farmer Ray Kinsella (the film is based on the book "Shoeless Joe" by W.P. Kinsella). Ray tends to his loving wife Annie (a winning Amy Madigan) and daughter (Gaby Hoffman) with the same passion he applies to his beloved cornfield.
Yet when a strange, God-like voice suggests that Ray turn the cornfield into a baseball field, he does just that, much to the chagrin of his family and neighbors. It isn't until a heaven-sent roster of players appear on the field that Ray realizes he's in store for something special. He's sent on a mission to find a noted novelist (James Earl Jones) and a once-promising ball player turned physician (Burt Lancaster, and bring them back to his "Field of Dreams." The kind of feel good movie that will leave a tear of appreciation streaming down your cheek.
How all of this ties into Ray's need to reconcile with his father makes "Field of Dreams" a film for the ages.
COMPLETE CHECK-UP
VISION: [ X ] EXCELLENT [ ] GOOD [ ] RESUSCITATE [ ] D.O.A.
No curve balls here. Excellent digital transfer on the RSDL DVD hits a home run. Sharp, vivid colors and flesh tones make the screen come alive. No pan-and-scan, but the original 1.85:1 widescreen ratio is maintained.
HEARING: [ X ] EXCELLENT [ ] GOOD [ ] RESUSCITATE [ ] D.O.A.
Play ball! The soundtrack in "Field of Dreams" runs the gamut, from soft, quiet moments, to loud, crowd-cheering scenes. All get respect from the well-mixed Dolby Digital Surround tracks in English and French.
ORAL: [ ] EXCELLENT [ X ] GOOD [ ] RESUSCITATE [ ] D.O.A.
Close-captioned in English, with subtitles in Spanish.
COORDINATION: [ X ] EXCELLENT [ ] GOOD [ ] RESUSCITATE [ ] D.O.A.
For me, the film is enough of a reason to add this one to the collection. Still, this is a collector's edition, so Universal has loaded the bases with a grand-slam hit of bonus material. The outfield is well represented by the usual extras like production notes, cast and filmmakers' bios and the original theatrical trailer. However, go behind the scenes with the "The Making of Field of Dreams," a full-length, comprehensive study of the lengthy process that goes into making a classic. There's interviews and out- takes of the cast, location strategies, historical background, shooting difficulties, and reactions about the film. Throw in the complete shooting script, production stills, and a running audio commentary by director Robinson and director of cinematographer John Lindley, and you have a DVD package worthy of a World Series title.
PROGNOSIS: [ X ] EXCELLENT [ ] GOOD [ ] RESUSCITATE [ ] D.O.A.
Dead baseball players come alive in this winning DVD, and so will your collection when you add this must-have title.
VITALS: $34.98/Rated PG/106 Min./Color/34 Chapters/Keepcase/#20166
ATTENDING RESIDENT: John Larsen
PATIENT: FIELD OF DREAMS: COLLECTOR'S EDITION
BIRTH DATE: 1989
HMO: Universal Studios Home Video