Fever Pitch
Fever Pitch is as artificial as Astroturf, but that doesn't stop the romantic sports comedy from wearing its heart on it's jersey. Maybe because it's that time of the year, or because I'm really a romantic underneath this Wooly Mammoth exterior, but I'm a sucker for romantic comedies that play by the rules.
This Jekyll and Hyde baseball comedy not only plays by the rules, but does so in a pleasing and rewarding manner.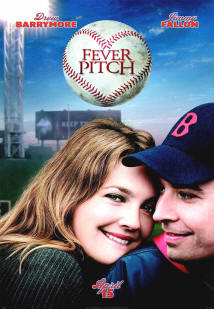 Based on Nick Hornby's novel of the same name (and turned into a 1997 soccer film starring Colin Firth), Fever Pitch stars Jimmy Fallon as ninth grade teacher Ben Wrightman, a lifelong Boston Red Sox fan. Even though the Red Sox's haven't won a championship since 1918, Ben and his friends are die–hards. Ben's obsession with the Sox hasn't been kind to his relationships with women, who refuse to come in second (and sometimes third) to his favorite team.
Off season Ben meets the lovely Lindsey (Drew Barrymore), a successful businesswoman who hits his ball out of the park. Lindsey is reluctant to date Ben, and that's before she learns his real love is a baseball team. Sorry, not just any team, the Boston Red Sox. Lindsey learns that lesson the hard way, setting the stage for a tug-of-war between the normal Dr. Ben and the obsessive Mr. Fan.
Fever Pitch is directed by Bobby Farrelly and Peter Farrelly, whose ability to effectively mix sweet and sour was on display in There's Something About Mary, Stuck on You and Kingpin. Loveable losers are their calling card. Hornby's characters (High Fidelity, About a Boy) are loveably obsessive. The sweet (and occasionally sour) screenplay by Lowell Ganz and Babaloo Mandel marries both sets of sensibilities into a winning formula that serves the characters and thus the audience well.
While not as outrageous as previous Farrelly comedies, Fever Pitch works its magic on a different level. The filmmakers wisely keep the characters down in the dugout instead of in the nose bleed seats, where we can get to know and like them. If we are to accept their obsessions and tolerances, we must believe the characters are sincere. Barrymore and Fallon comes across as real people with quirks than quirky people pretending to be real.
You don't have to know an obsessive fan to appreciate the humor of Fever Pitch, but it helps. The filmmakers and cast make their case sympathetic rather than pathetic. You'll agree.
Championship Charm
Pitch Hits a Home Run
FEVER PITCH
Drew Barrymore, Jimmy Fallon, Lenny Clarke, Ione Skye, Marissa Jaret Winokur, James B. Sikking, Jobeth Williams. Directed by Bobby Farrelly and Peter Farrelly. Rated PG-13. 101 Minutes.
$8.00