Fallen
Director Gregory Hoblit follows up his harrowing courtroom thriller "Primal Fear" with a film that only occasionally courts thrills. "Fallen" begins with one of those promising "Sunset Boulevard" film noir openings in which homicide detective John Hobbes (Denzel Washington) exclaims "Let me tell you about the time I almost died.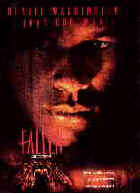 " I'm all ears. Flashback to an earlier, happier time when Hobbes was very much alive, and presiding over the execution of a notorious killer. Hey, it's a dirty job, but somebody has to do it. Pick me, pick me. As the killer fades away to the strains of the Rolling Stones' "Time in on my side," Hobbes is congratulated for a job well done. There's just one little problem. It seems the killer has manifested himself as a spirit that can travel from body to body by mere touch. Neat idea. That way you never know who the killer is. The only clue Hobbes gets is when complete strangers start singing the song to him. So how do you kill a killer who hides out in innocent people's bodies? That's the catch, and the killer knows it. It doesn't take long before the killer starts setting Hobbes up, forcing him to clear himself without making everyone think he's nuts. Hobbes has the support of his partner (John Goodman), but can do without the meddling of his superior (Donald Sutherland). Now it's up to Hobbes to take evil for one last ride straight to hell. Tickets please, have your tickets ready. The first half of "Fallen" is actually a chilling experience, but once you get the gimmick, the film goes downhill from there. There's one scene in which the killer tries to get a victim on a crowded city street, jumping from one body to the next in his pursuit. If the rest of the film could have sustained that level of intensity, the redundancy factor would have been less bothersome. Hoblit gets good performances all around, especially from Washington. He manages to make Hobbes an every man who gets caught up in the most extraordinary circumstances. He makes you believe in the premise even when the writers fail to.
COMPLETE CHECK-UP
VISION: [ X ] EXCELLENT [ ] GOOD [ ] RESUSCITATE [ ] D.O.A.
Newton Thomas Sigel's exquisitely creepy cinematography looks marvelous thanks to a superior transfer. Due to the nature of the film, Sigel shot everything in muted tones and through hazy filters, giving a lesser transfer every opportunity to create noise and artifacts. None of that here. The DVD features both the 2.35:1 widescreen and pan-and-scan versions, and both look tremendous. The widescreen version has been enhanced at 16×9 for widescreen televisions.
HEARING: [ X ] EXCELLENT [ ] GOOD [ ] RESUSCITATE [ ] D.O.A.
Watch this one in the dark and crank up the volume. You'll appreciate the subtlety of the voice tracks with the ominous strains of Tan Dun's musical soundtrack. Like the first half of the film, the perfectly balanced stereo manages to crawl up on you. Captured in 5.1 Dolby Digital Surround, "Fallen" fills the room with expressive highs and lows, and just enough audio jolts to keep you on the edge of the couch. There's also a French Dolby Surround track on both sides.
ORAL: [ X ] EXCELLENT [ ] GOOD [ ] RESUSCITATE [ ] D.O.A.
The usual English, French and Spanish subtitles.
COORDINATION: [ ] EXCELLENT [ X ] GOOD [ ] RESUSCITATE [ ] D.O.A.
"Fallen" features an alternate audio track with running commentary by director Hoblit, writer Nicholas Kazan and producer Charles Roven. While their comments and insights are welcome, one wonders how come none of the actors were involved in the narrative. Look for the usual extras like interactive menus, production notes, theatrical trailers, television spots, and scene access.
PROGNOSIS: [ ] EXCELLENT [ X ] GOOD [ ] RESUSCITATE [ ] D.O.A.
It looks good, it sounds good, but unless you're a Denzel Washington fan, you should rent rather than buy this one.
VITALS: $19.95/Rated R/125 Min./Color/32 Chapter stops/Snapcase/#T6434
ATTENDING RESIDENT: John Larsen
PATIENT: FALLEN
BIRTH DATE: 1998
HMO: Warner Home Video