Dr. Dolittle 2
I highly doubt that this is what Hugh Lofting had in mind when he wrote the original "Doctor Dolittle" stories. Yet that is what we get in the new Eddie Murphy comedy "Dr. Dolittle 2." Murphy plays the title role, a people doctor who learns he has the ability to talk with the animals.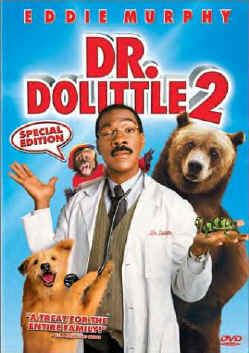 Like the first "Dr. Dolittle," which made a ton of money and launched this franchise, the sequel relies heavily on animal bodily functions to get a laugh. Some are funny. Some are not. After a while they wear out their welcome, but that doesn't stop writer Larry Levin from flinging more pooh at the screen.
I must admit that I laughed a lot, as some of Levin's jokes are genuinely funny. Levin, a talented television comedy writer who co-wrote the first film, is also very good with character development. He's good at creating characters, both human and animal, that engage us. You like these characters and understand them.
What hurts Levin are the script's obvious limitations. Once you establish that the animals can talk, there's not much else you can do with them in a PG film except answer the call of nature. What Levin can't verbalize he shows us. When a raccoon isn't pleased with contract negotiations, does he say what's on his mind? No, he takes a leak on the contract. And so it goes.
Get past all of that and you'll find a warm and occasionally wise film. In the first film, Eddie Murphy played a character who was still adjusting to his new found abilities. In the sequel, it's his family who has to adjust. Their quiet home life has become overrun with animal patients.
Lawyer wife Lisa (Kristen Wilson) can't remember the last time they had a moment together, while oldest daughter Charisse (Raven-Symone) hates all of the attention. She's just turned 16, and wants to be left alone with her pizza delivery boyfriend Eric (Lil' Zane).
Youngest daughter Maya (Kyla Pratt) just sits back and enjoys the world through the eyes of a child. She likes that her father can talk to the animals, and is thrilled when he brings home an insecure Chameleon.
Just as Dolittle decides to cut back and spend more time with his family, he's summoned by a Godfather- like Beaver. A developer is leveling the forest, and the woodland creatures need Dolittle's help to stop them. His only option is finding and reintroducing a male Pacific Western Bear into the forest, hoping he mates him with Ava, the lone female.
Dolittle's search leads him to Archie, a fuss-budget circus bear who lives the high life. Convincing Archie to give up fast food and show business is one thing. Convincing his family to move to the woods while he retrains Archie is another.
The best moments of Levin's script come when Dolittle reintroduces Archie to the elements. Not only is the big teddy bear afraid of the water, he's too stupid to come up for air when bobbing for fish. Steve Zahn, a gifted actor and comedian, gives Archie the perfect voice.
Murphy is wonderful as Dolittle. He has the role down, and makes a great father figure. It's not the type of role he usually gets to play, but one in which he excels. There's a moment in the film when Dolittle and Charisse have a heart to heart. I was so captivated by the honesty of the moment that I almost forgot I was watching a comedy about talking animals.
Jeffrey Jones, looking liked a stuffed bear, and Kevin Pollack, make cartoonish villains, corporate types who will stop at nothing to get what they want. It's hard to take them or their threats seriously. There's more conviction in the animal co-stars, thanks to the seamless visual effects of Rhythm & Hues. When the animals talk, we listen.
Director Steve Carr, whose previous film was the serviceable "Next Friday," manages quite nicely here. When he's not being dragged down into the gutter, he hits all the right notes. Most of the film, including the outdoor scenes, was shot inside a sound stage. This controlled environment allows director of photography Daryn Okada to create a synthetic look that compliments the story.
"Dr. Dolittle 2" also benefits from a bouncy score by David Newman, and the expressive vocal talents of Lisa Kudrow (Ava the Bear), Michael Rapaport (Joey the Racoon), Issac Hayes (Possum) and Richard C. Sarafian (Beaver). They bring spirit and individuality to the animal characters.
Parents may have misgivings, but kids will love "Dr. Dolittle 2."
COMPLETE CHECK-UP
VISION: 20/20

2.35:1 Widescreen

16:9 Enhanced
Sharp, vivid images are the trademark of this excellent digital transfer that features warm colors, flattering flesh tones, strong blacks and perfect definition. No trace of digital artifacts present, even in the dark forest scenes. The film's amber hues are perfectly replicated here, with satisfying color tones that never fade or bleed, and good detail. Earth tones are especially pleasing and natural. Pristine print allows for virgin whites and nice definition in the shadows. Considering the amount of visual layering, the depth of field is amazing and endless. Slight edge enhancement in a few indoor scenes, but not powerful enough to ruin the illusion.
HEARING: Excellent

5.1 Dolby Digital Surround

2.0 Dolby Digital Stereo in English & French
The great outdoors come vividly to life with the 5.1 Dolby Digital Surround soundtrack. Ambient noise like birds, wind and water are realistic. Front sound stage creates a perfect stereo mix, with strong dialogue rising from the varied musical and stereo effects. The left-to-right stereo split is distinct, while the front-to-rear spatial split sounds natural. Rear speakers have plenty to do, but mostly they pump out ambient noise and musical cues with amazing clarity. Basses are strong but not overpowering, and only used for effect. Middle and high ends are pure with no noticeable hiss or distortion. Surround effects, especially during the forest scenes, are all encompassing.
ORAL: Good

Closed Captions in English for the Hard of Hearing

Subtitles in Spanish
COORDINATION: Good

Feature-length audio commentary with director Steve "I'm the luckiest guy in the whole world" Carr and co-producer Heidi Santelli. You can tell this is Carr's first audio commentary. He's like a kid in a candy store, pointing out every obvious moment. That's the sky. That's a cable car. Once he settles down the commentary is okay, but his nervous energy is apparent with every word.

Two extended scenes, one involving an additional character in the jail sequence with Dr. Dolittle and the bear, and another during the negotiation process. Neither adds a thing to the final cut.

HBO Making of Documentary that provides a familiar portrait of the filmmaking process, including interviews with the cast, animal handlers and filmmakers, plus some behind-the-scenes looks at how the animals were incorporated into the final frame. No big deal, but a nice addition for those who don't get HBO.

"Bear Necessities" featurette, a kid's guide to Grizzles, a lengthy talk with a bear expert, who provides ample information on the species and their relationship to man. The discussion is broken up by clips from the film, and documentary footage on the guy who made that Grizzly-proof suit in order to get close to them.

Animal Planet "Wild on the Set" featurette with Tank the Bear, a fun little feature that takes us behind- the-scenes and shows us the difficult job on-set animal handlers have getting their performers to hit their marks.

Storyboard-to-film comparisons of five scenes. The feature uses a split screen, with the storyboards on top and the actual film on the bottom. For anyone interested in the process of storyboards and how they map out a scene.

Making Movie Magic, a visual effects visit with the folks t Rhythm & Hues, who shows us how they got Eddie Murphy and his menagerie of animals together on one set, and how they tweaked live footage with animation to get the animals to talk.

Music Video "Cluck Cluck" by The Product G&B and Wyclef

Two theatrical trailers, plus a preview trailer for the CGI animated feature "Ice Age"

A whopping 12 Television spots.

Colorful, animated main menus and frozen frame scene menus.
PROGNOSIS: Excellent

The perfect addition to the family DVD library.
VITALS:

$26.98/Rated PG/87 Minutes/Color/24 Chapter Stops/Keepcase
ATTENDING RESIDENT: John Larsen
PATIENT: DR. DOLITTLE 2
BIRTH DATE: 2001
HMO: 20th Century Fox Home Entertainment
Flatulent bears, territorial dogs, rude raccoons.