Die Hard
It's Christmas in Los Angeles, and even though the weather outside isn't frightful, what's going on inside the sparkling Nakatomi high rise is downright scary. A group of International terrorists have taken over a high profile high rise in Century City, and there's only one man who can stop them. He's New York cop John McClane (Bruce Willis), who becomes a reluctant hero when terrorist Hans Gruber (Alan Rickman) and his group take over the building. Poor McClane.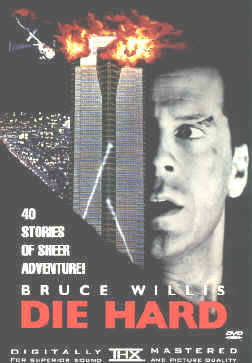 He's not having a good day. After having survived the flight from New York (even though he's hot stuff on the ground, McClane doesn't fly well), McClane finds himself at his estranged wife's office Christmas party when all hell breaks loose. While McClane is off in another office refreshing himself, Gruber and his men seize the building, kill a couple of people to make their point, and then set into motion an elaborate plot involving negotiable bonds and high explosives. McClane has the benefit of being in the right place at the right time, allowing him to escape from the terrorists.
Using his wits and an inordinate amount of true grit, McClane takes on the terrorists one by one until it becomes a showdown between him and Gruber. It all sounds rather elementary, but as scripted by Jeb Stuart with a touch-up from Steven E. de Souza and direction from John McTiernan (not to mention the dynamite performance of Bruce Willis), "Die Hard" became more than just your run-of-the-mill action movie.
It transcended the genre with it's sharp, witty lines, excellent character development and motivation, jaw- dropping action sequences and intelligent terrorists who were as deadly as they were smart. When "Die Hard" went into production, Willis was a co-star on the popular television series "Moonlighting." Everyone in Hollywood thought that 20th Century Fox was nuts for paying Willis then an astronomical $5 million to star in "Die Hard.
" Money well spent as Willis delivered a character that would stay with him for at least two more sequels. Bruce Willis is John McClane, and even when the series becomes larger than life, Willis always keeps McClane grounded. Likewise, Rickman made an excellent adversary, a smooth, calculated Euro-trash terrorist who is willing to do what ever it takes to get the job done. He's accompanied by a crew of assassins and computer experts, including former dancer Alexander Godunov, who are no match for McClane. "Die Hard" becomes a complicated, breathtaking cat and mouse hunt that allows Willis to dish his trademark brand of humor while kicking some terrorist butt.
Bonnie Bedelia has some nice moments as McClane's estranged wife, as does Reginald Vel Johnson as a street cop who is first to arrive on the scene. Filled with explosive action and performances, "Die Hard" is that rare action film that dares to be more. It's not just action, it's an adventure.
COMPLETE CHECK-UP
VISION: [ X ] 20/20 [ ] Good [ ] Cataracts [ ] Blind
A funny thing happened the afternoon I decided to give the "Die Hard" DVD a spin. I was gathering some information off the Internet while the television played in the background. It was on the USA Network (cable, not dish), and the only reason it caught my attention was because the film was in letterbox. Well, at least the credits were in letterbox. So I watched for about ten minutes, and then started the DVD. What's the point? The print USA was showing was so bad that it looked like you were watching the film through someone's rectum with sunglasses on. I know, that leaves a nasty image. Still, that is how drastic the difference was between the broadcast and DVD versions of the film. The DVD looks truly terrific, with bold, strong color and saturation, and industrial strength blacks. Delivered in the film's original 2.35:1 widescreen ratio, the digital transfer is sharp and vivid, with hardly any trace of compression artifacts. The colors were so rich it looked like the film was shot yesterday. The flesh tones are excellent, never wavering between soft and hard lighting. Field of depth is especially strong, with great emphasis on detail. Patterns hold up extremely well, while the shadows and whites are clean. An excellent transfer that delivers the goods and then some.
HEARING: [ X ] Excellent [ ] Minor Hearing Loss [ ] Needs Hearing Aid [ ] Deaf
There was a battle in my living room recently with shattering glass and thunderous explosions. Then I made the Jehovah Witnesses leave and turned on the DVD of "Die Hard," and I was even more impressed with the pulse-pounding 5.1 Dolby Digital Surround track. Close the windows and doors and crank up the sound to fully appreciate the bold basses, the exacting surround sound, realistic ambient noise and a dialogue mix that is so perfect you never miss a line. When Michael Kamen's exciting score isn't pouring out of the speakers, they're filled with crisp, clear high and lows ends with no hiss or distortion. The stereo effects are directional, while the front-to-rear stereo separation is perfectly executed. This is one soundtrack that will rock the Casbah. You also get additional English and French Dolby Surround soundtracks.
ORAL: [ ] Excellent [ X ] Good [ ] Poor
Closed captions in English for the hard of hearing, and subtitles in Spanish.
COORDINATION: [ ] Excellent [ X ] Good [ ] Clumsy [ ] Weak
Exciting interactive menus that play off of the film's theme, plus theatrical trailers for all three "Die Hard" films. There's also a featurette on the making of the film that isn't listed on the DVD cover.
PROGNOSIS: [ X ] Excellent [ ] Fit [ ] Will Live [ ] Resuscitate [ ] Terminal
The DVD fans have been waiting for arrives in perfect health.
VITALS: $29.98/Rated R/132 Minutes/Color/30 Chapter Stops/Keepcase/#4110399
ATTENDING RESIDENT: John Larsen
PATIENT: DIE HARD
BIRTH DATE: 1988
HMO: 20th Century Fox Home Entertainment