Demons
When a girl in a subway station accepts a pair of passes to a free screening of a new horror movie, little does she know that she's about to be thrown into a nightmare that never seems to end. No, she's not going to see "The Linda Tripp Story," but is a character in Italian director Lamberto Bava's horror classic, "Demons.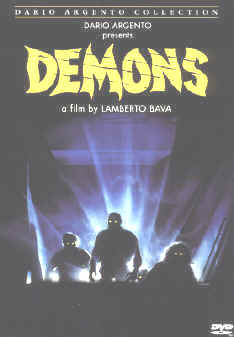 " Originally released in the United States in an abbreviated form, "Demons" now arrives on DVD in its original, uncut glory. Fans of the film will celebrate this exquisite Anchor Bay release that finally gives Bava his due. Produced and co-written by Italian Horror-Meister Dario Argento, "Demons" is a stylish exercise in horror and gore, a kinetic 88 minutes of non-stop relenting terror.
Shot in a stylish old movie theater, the film features solid production values (the production design is first-rate), strong performances, and some truly horrific moments (No, Linda Tripp doesn't get naked). The cast is unknown to most American audiences, but they do a superior job of evoking time and place (even though they're speaking phonetic English, or is it an excellent dub job?).
The cast is diverse enough to keep our attention, while Bava and Argento have constructed a script that's not only functional, but occasionally witty. Little do the patrons realize that the film they're watching on the screen is about to cross into the third dimension. One by one, the patrons are turned into flesh hungry demons who leave a real mess when they're killed. There are sympathetic characters (the two girls who skip school for the screening), vile characters (a flirtatious female companion of a blind man), and evil characters (a group of punks who enter the theater while trying to give the police the slip).
They all converge and have to join forces as they try to stay alive inside the cavernous interior of the theater. Things really get desperate when they learn that all of the exits have been sealed off. Bava and his special effects crew have come up with some really nasty "Demons" to make their point, and they are vicious. Using state-of-the-art animatronics (for their time) and lots of crimson, Bava creates a bloodbath that's high on style.
There's a real method to the film's madness, one that comes across loud and clear in the Unrated version of the film. The soundtrack is filled with lots of hard rock tunes that give the film an international feel (Motley Crue, Scorpions, Bill Idol, Saxon). While "Demons" may not be everyone's cup of crimson, it does hit the spot for fans of such fare. Count me in and pass me a leg.
COMPLETE CHECK-UP
VISION: [ X ] 20/20 [ ] Good [ ] Cataracts [ ] Blind
Okay Anchor Bay. Please pay attention. Now, if not immediately sooner, please secure the services of whoever did the digital transfer of "Demons." If all Anchor Bay DVD's looked this great, then maybe people would leave them alone on the news groups on the Internet. Talk about breathtaking. I was expecting the usual dose of grainy images and fading blacks, but the digital transfer of "Demons," presented in its original 1.66:1 widescreen format, is superior on all accounts. The colors are exciting and live, with excellent saturation that is neither too hot or too cold. The blacks are industrial strength, while I didn't notice hardly any compression artifacts. Instead, the DVD delivered crisp, vivid images with strong depth of field and attention to detail. I was so excited with the DVD that I want to watch it again. Well done, Anchor Bay.
HEARING: [ ] Excellent [ X ] Minor Hearing Loss [ ] Needs Hearing Aid [ ] Deaf
Even though the DVD features a 5.1 Dolby Digital Surround soundtrack, it's more of a "Faux" stereo soundtrack. The film's original modest soundtrack has been remastered, and even though it's not definitive by any means, it more than gets the job done. The eerie, pulse-pounding score by Claudio Simonetti comes through loud and clear, enhanced by some thundering heavy rock songs that pump up the action in the rear speakers. The ambient noise is okay, but hardly directional enough to make a difference, while the stereo separation is modest. The basses are almost non-existent, but there are a couple of moments that make your sound system sweat. I didn't notice any hiss or distortion, especially in the high ends.
ORAL: [ ] Excellent [ ] Good [ X ] Poor
No closed captions or subtitles.
COORDINATION: [ X ] Excellent [ ] Good [ ] Clumsy [ ] Weak
The DVD of "Demons" features an interesting audio commentary track with director Lamberto Bava and special make-up effects artist Sergio Stivaletti being interview by journalist Loris Curei. Bava fans will love the commentary, even though it feels more like an interview than a running commentary. There are also some language problems (with poor Curei having to translate, taking away from the dialogue's continuity), and the interview sounds like it was recorded in a room with Bava sitting a distance from the microphone. Still, it's always a pleasure to listen to filmmaker's discuss their craft. The DVD also include the original theatrical trailer, a small behind-the-scenes featurette (in Italian with subtitles, no less), and impressive, animated menus that are genuinely creepy.
PROGNOSIS: [ X ] Excellent [ ] Fit [ ] Will Live [ ] Resuscitate [ ] Terminal
How many debutantes can you fit in a blender? So far I've only been able to fit two. Of course I love this movie, and the DVD is a real feast.
VITALS: $24.98/Unrated/88 Minutes/Color/17 Chapter Stops/Keepcase/#DV10728
ATTENDING RESIDENT: John Larsen
PATIENT: DEMONS
BIRTH DATE: 1985
HMO: Anchor Bay Entertainment