Def By Temptation
Written, produced and directed by James Bond III, "Def By Temptation" is one of those rare low-budget horror films where everything comes together. The film stars Samuel L. Jackson ("Pulp Fiction"), Kadeem Hardison ("A Vampire in Brooklyn") and Bill Nunn ("Sister Act"), and was shot by Ernest Dickerson, who became Spike Lee's main man behind the camera and then went on to become a director as well ("Juice").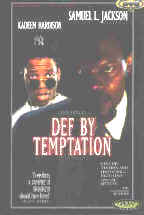 Thanks to a bright, scary script and decent performances, "Def By Temptation" rises above the usual clutter. Minnie Gentry is delicious as the female vampire who desperately wants to put the bite on divinity student Hardison. Lots of great, gory moments.
COMPLETE CHECK-UP
VISION: [ ] EXCELLENT [ X ] GOOD [ ] RESUSCITATE [ ] D.O.A.
Thanks to Ernest Dickerson's efforts behind the camera, the transfer to DVD is better than expected. Even though it's not in widescreen, the digital transfer is sharp and vivid. The reds really get a work out.
HEARING: [ ] EXCELLENT [ X ] GOOD [ ] RESUSCITATE [ ] D.O.A.
Sounds as good as it looks.
ORAL: [ ] EXCELLENT [ ] GOOD [ ] RESUSCITATE [ X ] D.O.A.
No closed-captioning or sub-titles.
COORDINATION: [ ] EXCELLENT [ X ] GOOD [ ] RESUSCITATE [ ] D.O.A.
You'll get the standard scene selections and trailers, but high on the list is the Troma Intelligence Test. It's a trivia game unlike any you've ever played. The questions deal with Troma Team Video releases like "Toxic Avenger" and "Sgt. Kabukiman, N.Y.P.D." You get the question right, and you're rewarded with a sexy clip. You get the question wrong, and you get a scene of extreme violence. A lot of fun. Horror fans will appreciate the alternate audio tracks featuring Fangoria Magazine editor Michael Gingold and VideoHound author Mike Mayo.
PROGNOSIS: [ ] EXCELLENT [ X ] GOOD [ ] RESUSCITATE [ ] D.O.A.
Troma Team fans already know the value of this film. Others will want to rent rather than buy to satisfy their curiosity.
VITALS: $29.98/Rated R/95 Min./Color/9 Chapters/Keepcase/#9800
ATTENDING RESIDENT: John Larsen
PATIENT: DEF BY TEMPTATION
BIRTH DATE: 1990
HMO: Troma Team Video