Dead Men Don't Wear Plaid
After the unexpected success of "The Jerk," director Carl Reiner and star Steve Martin segued into this hilarious spoof of classic film noir of the 1940's. While audiences took for granted the deft blend of comic chaos by Martin and company and dozens of old clips from classic gangster films, film purists like me marveled at the seamless effort.
The production notes on the DVD discuss the lengthy process the screen writers (Reiner, Martin and George Gipe) went through in order to pull off this impossible feat. Scores of old movies were screened, with the filmmaker's looking for moments that could be excised from the original and dropped into their film without so much as missing a beat.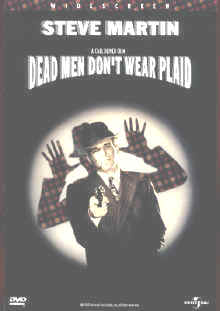 In order to make the modern day footage match the classic footage, the film was shot in black and white, utilizing production and costume designers from the period. Yet none of this would have mattered without a strong backbone, and the writers have come up with a sturdy script that not only supports the gimmick, but can stand alone without it.
Martin is hilarious as Rigby Reardon, a two-bit private eye who has seen better times. When a noted scientist dies, the man's daughter Juliet Forrest (a delicious Rachel Ward) approaches Reardon to prove that her father was murdered. Intrigued and enamored, Reardon takes on the assignment, which leads him from one classic encounter after another, all on his search for the infamous Carlotta's List. It's a lot of fun watching Martin interact with such screen legends as Humphrey Bogart, Ray Milland, Burt Lancaster and Barbara Stanwyck.
Editor Bud Molin and cinematographer Michael Chapman go to great lengths to make us believe these encounters actually take place, and that's half the fun of the film. The other half is watching Martin and the cast tackle the hilarious script with a straight. Instead of playing to the jokes, the cast plays against them, which creates a funnier film.
Reiner is at the top of his game, creating an engaging entertainment that embraces the genre it is spoofing. Technically, the film is a masterpiece of behind-the-scenes talent, from Edith Head's exquisite costume designs, to Miklos Rozsa's affectionate, respectful musical score. Together, all of these elements combine to make a classic comedy that will stand the test of time.
COMPLETE CHECK-UP
VISION: [ X ] 20/20 [ ] Good [ ] Cataracts [ ] Blind
Talk about a fool-proof digital transfer. Here's a black and white film that has been aged so the classic film clips match the new footage. Therefore, anything other than an outright bad transfer would be negligible. The 1.85:1 widescreen transfer looks sensational, with strong black and white images that are sharp as a tack. There may be some compression artifacts, but they would be hard to distinguish from the intentional aging.
HEARING: [ X ] Excellent [ ] Minor Hearing Loss [ ] Needs Hearing Aid [ ] Deaf
A no-brainer 2-channel mono soundtrack creates the feel and texture of an old film. There's not much here to stand up and cheer about, but it more than gets the job done. Functional yet simple. The dialogue mix is especially strong.
ORAL: [ X ] Excellent [ ] Good [ ] Poor
Closed Captions in English for the hard of hearing, subtitles in French and Spanish.
COORDINATION: [ ] Excellent [ X ] Good [ ] Clumsy [ ] Weak
The DVD features handsome main and scene access menus, cast and filmmaker's bios and filmographies, production notes, and the original theatrical trailer. Hidden in the talent bios are theatrical trailers for "Sgt. Bilko" and "That Old Feeling."
PROGNOSIS: [ X ] Excellent [ ] Fit [ ] Will Live [ ] Resuscitate [ ] Terminal
There's no mystery here. The laughs come fast and frequent in this timeless spoof.
VITALS: $24.99/Rated PG/89 Minutes/B&W/18 Chapter Stops/Keepcase/#20523
ATTENDING RESIDENT: John Larsen
PATIENT: DEAD MEN DON'T WEAR PLAID
BIRTH DATE: 1982
HMO: Universal Studios Home Video