Dark Water
Ever since childhood, Dahlia Williams (Jennifer Connelly) has been dealing with abandonment issues. She dreams about her alcoholic, inattentive mother coming and going, never being there for a frightened little girl sitting alone in the rain. Unfortunately for Dahlia, when it rains, it pours, and her recurring childhood June gloom is about to engulf her only chance at happiness.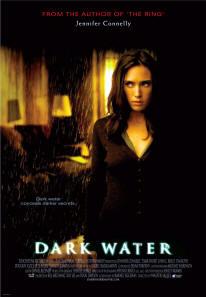 Based on Hideo Nakata's Japanese film, Dark Water is an atmospheric study in psychological horror. Despite it's classy pedigree, the film seems to have lost something in translation. Director Walter Salles (The Motorcycle Diaries) and writer Rafael Yglesias (Fearless, From Hell) are to be admired for avoiding traditional horror trappings, relying on strong performances, innocuous locations, and virulent sound design to create an uneasy undercurrent of suspense.
It= s all there on the screen. What's missing is a payoff worthy of the set-up.
From the first frame, Dark Water submerges the audience in depressing imagery, captured with perfect doom and gloom by director of photography Affonso Beato. Bad weather, like her childhood memories, seem to follow Dahlia around. It may never rain in Southern California, but Dahlia's personal weather report always calls for rain. Lots of it.
Which explains why Dahlia constantly seems to be under the weather, a fact not lost on her soon-to-be-ex husband Kyle (Dougray Scott), currently locked in a nasty custody battle over their young daughter Ceci (Ariel Gade). Defiant to make Kyle's life difficult and desperate to find suitable, affordable housing, Dahlia moves Ceci to New York's Roosevelt Island. Though their apartment is dark, dank, and constantly dripping, it's close to a good school and just far enough away to inconvenience Kyle.
It= s apparent Dahlia has a lot on her mind, which she is afraid of losing when ghostly apparitions invade her dreams and then reality. Or is it all in her mind? Don't ask Ceci, who has developed a disturbing relationship with an imaginary friend, or the building's superintendent (Pete Postlethwaite), constantly hiding something.
The script and Connelly do an excellent job of chronicling Dahlia's spiral into madness (is the apartment building haunted, or is Dahlia going crazy), and even though we know better, buy into her confusion and paranoia. Gade is powerful as Ceci, a performance that defies her age and resume. Gade endears and engages us with her honesty, a little girl with a big spirit and smile, which makes her journey over to the dark side all the more disturbing.
Like Nakata, Salles takes his time unraveling the mystery, which isn't really much of a mystery. The slow burn works in the film's favor, allowing the actors to realize rather than play the characters. We get a keen sense of a fractured family unit where love has been replaced by routine and paranoia. We feel sorry for Ceci, an angel being ripped apart at the wings by parents using their daughter as ammunition.
Filled with disturbing images, the most troubling thing about Dark Water is the director and writer's inability to satisfactorily close the film. The ending, like the rest of the film, is thoughtful, but it's too little too late. Why would the filmmakers expose us to a constant deluge of water just to leave us high and dry? There's lots of Dark Water in the film, oozing from walls, dripping from the ceiling, shooting from the fixtures, all metaphors for Dahlia's fragile mental state, and clues to what lies below the surface.
I imagine Dark Water will engross people dealing with mildew issues, but it won't scare them. Japanese horror directors have mastered the soggy ghostly girl genre (The Ring) to perfection. In their attempt to remain faithful to the original, the filmmakers fail to make Dark Water their own. It's a copy, a good copy, but a copy none the less.
That Sinking Feeling
Good Performances Surface in Murky Thriller
Dark Water
Jennifer Connelly, Ariel Gade, John C. Reilly, Dougray Scott, Tim Roth, Camryn Manheim, Pete Postlethwaite. Directed by Walter Salles. Rated PG-13. 100 Minutes.
Larsen Rating: $5.00